We love Grown-ish, the spin-off of the popular sitcom Black-ish, which follows the eldest daughter of the Johnson family as she goes off to college.
Zoey, played by Yara Shahidi, is the spoiled daughter who goes off to college and realizes that not everything is perfect in the real world. However, no matter the obstacles she's facing, Zoey serves us MAJOR looks. Here are 7 times Zoey Johnson gave us killer style inspiration:
Blue striped mini dress and a high braided ponytail
I'm in LOVE with this midi dress! This look works because Zoey keeps the dress the central focus of her outfit. With a slicked-back braided ponytail, simple earrings and a red bag to add a pop of color, she looks effortlessly put together.
High-waisted shorts with a statement, off-the-shoulder top
I absolutely love this look. The detail and embellishment on the high-waisted denim shorts adds another element to this pretty simple outfit. Off-the-shoulder tops are definitely in right now, and pairing a busy, patterned shirt with solid pair of shorts finishes off the whole ensemble.
This '90s inspired schoolgirl look
Who wore it better, Cher Horowitz or Zoey Johnson? The sweater vest over the oxford shirt could seem a little serious, but the addition of fun pom-pom hoops adds a playful element to this outfit.
Statement jewelry ALL THE WAY
Layered necklaces are definitely in right now, but if you haven't quite gotten the hang of the look, follow Zoey's lead. She keeps her necklaces the focus of attention, and she's wearing simple drop earrings here. Zoey really knows how to accessorize!
Tracksuits are making a HUGE comeback
This tracksuit features a cropped flare leg, which Zoey pairs with a nicer, structured top. The addition of a structured top compared to a tank top or a t-shirt gives this suit a polished look. Dust off your Juicy Couture tracksuits everyone, tracksuits are BACK!
It doesn't have to be cold out to rock a scarf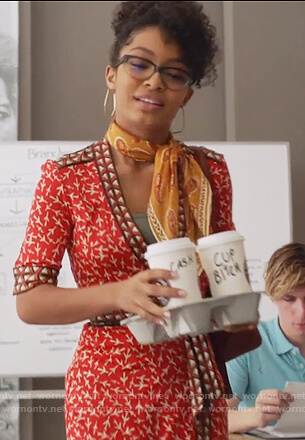 I never knew I wanted to rock a mini square scarf until now. Zoey is definitely inspiring us to go for a color story in our outfits instead of just being "matchy-matchy." The patterned red dress paired with an olive green undershirt and a mustard yellow (also patterned) scarf shouldn't work this well, but it does. Paired with cat-eye glasses and a '60s-esque updo, this is one of my favorite Zoey Johnson looks.
ruffle Statement pants
Zoey pairs these tan ruffle pants with a black and white striped sweater. Returning to the idea of doing color stories instead of simply matching, Zoey takes this outfit to the next level by sticking to a neutral color palette. If she had paired this sweater with black pants, it would've been basic!
If there are any major takeaways from Zoey Johnson's closet, it's to always accessorize and to take risks in the color schemes of your outfits. Right now, Grown-ish season one is almost over. No worries though, because Freeform just renewed the show for season two! That's another whole season of fashion and style inspiration, and I can't wait.