Did you tune into the MTV Video Music Awards last night? As usual they were full of over-the-top performances, designer-laced red carpet appearances and new and exciting looks from so many of our favorite celebrities. Even if you don't have a red-carpet appearance booked for the next few months, you can still draw inspiration from some of the hair and beauty looks we saw last night. Check out some of our favorite combinations below!
1. Nicki Minaj
Even beyond her subtle two-toned hair, Nicki's glowing, nude makeup reminded us that highlighting your natural beauty is fun for red carpets, too.
2. Paris Jackson
Paris takes a stand at every chance she gets. This year, she spoke out about how the youth can work together to support each other despite our current administration. And she's not only making a statement on stage, she also sported this bold green bottom liner, which was the perfect accessory to make her eyes pop.
3. Amber Rose
Amber's bold berry lip had us begging for fall.
4. Yara Shahidi
Yara's outfit was clearly a source of inspiration for her beauty look. Her bronze glow served us summery goodness.
5. Fifth Harmony
The girls of Fifth Harmony all served us looks. Although they all showcased their own style, one thing everyone demonstrated was how to perfectly pair your beauty with your hairstyle for an event. Dinah served old Hollywood glamour, Ally gave us beachy waves and a bronze glow, Normani paired a bold top-bun with a gorgeous smoky eye and Lauren's red lip and bold brows perfectly complemented her long, sleek hair.
6. SZA
SZA'S bold blush and classic nude lip (thanks to Urban Decay's classic '1993' shade) were the perfect partners for her glowing auburn hair and brows.
7. Joan Smalls
Joan Smalls brought the perfect fall color — berry — up into her eyes for an unpredictable smoky eye. And peep the glitter liner and bold lashes — we love it! Not to mention the glossy nude lip, a super wearable option for your next event.
8. Lizzo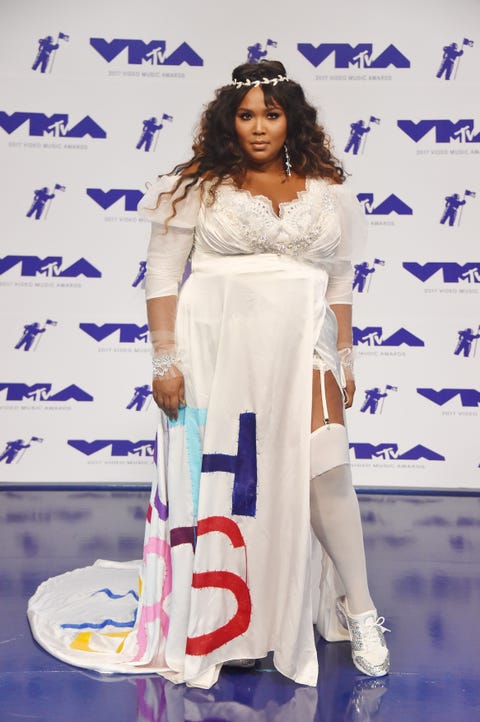 Lizzo looked like royalty with her crown on the red carpet, and her glowing makeup look and "Truth Hurts" dress looked "Good As Hell."
9. Cardi B
Cardi's all-white jumpsuit made her look like a superhero and let her glittery cut-crease eye look pop alongside her asymmetrical bob.
Which looks were your favorites from the 2017 MTV VMAs? Let us know! Tweet us @21Ninety.