Black mothers are national treasures that should be honored and celebrated. As the lifelines supplying nonstop love to our children, Black mothers are the unsung heroes for the Black community's future. But to be a Super Mom can sometimes be overwhelming. After all, motherhood is a busy, never-ending list of demands from dinner-making, carpooling, homework-helping, and errand-running — just to name a few. Add a thriving career into the equation, and the pressure of motherhood only increases.
Fashion and beauty blogger, Trina Small, is all too familiar with the demands of motherhood. As a wife and mother of two children, she learned to balance motherhood and a career by simply doing what she loves — parenting and blogging. Her website, Baby Shopaholic, is a platform designed for mothers to learn fashion, beauty, and parenting tips to incorporate in their everyday lives.
In honor of Women's History Month, we partnered with Trina on a 7-Day Beauty + Wellness Challenge to provide Black Mommas with essential tips and tutorials to ease their struggle with motherhood.
I had the pleasure to speak with Trina on what inspired her to create Baby Shopaholic, how she balances motherhood with her career, and what kind of legacy she hopes to leave behind for her children.
Check out our exclusive interview with Trina Small below.
21Ninety: How did the concept for Baby Shopaholic come to be? What inspired you to create an online platform centered around beauty, fashion, and motherhood?
Trina Small: I originally started Baby Shopaholic when I didn't understand what blogging was, I just wanted to conveniently share my, then, 6-month-old daughter's outfits to family and friends. After a few months into blogging, I started sharing posts about things that made my life as a new mom easier and stylish.
Photo: Trina Small x Kaylin James
21N: As a mother, in your humble opinion, why is it important for Black Moms to have a community to engage with other mothers and share parenting methods?
TS: It's so important to have communities for Black moms to engage in because our lives and struggles are just different. When I first started blogging, I could not find other Black moms to save my life. So, I decided to make my blog one that I wanted to read as a Black mom.
21N: Can you describe a typical day in the life of Momma Trina Small?
TS: My entire house is up at 6 AM. My oldest gets on the bus at 6:45 AM. I have two hours before I have to take my 3-year-old to her toddler pre-K class. So I use this time to check emails, eat breakfast, and get us ready to be out the door. After I drop her off, I try to hit the gym for an hour. I return home to shower, and try to get a few things done for the blog — like taking pictures, editing photos or conference calls. And just like that, my 4 hours of free-time is up. Both girls are home by 2:30 PM. I let them chill out for about 15 mins and eat a snack before they start on homework. They are usually involved in activities, so we're usually changing and running out the door. I also cook dinner early to get it out the way. After dinner, I usually let the girls play while I get back on the computer. My husband usually gets home around 7:30 PM. The girls play with him until bath time at 8:30 PM. Once they are asleep, I straighten up the house and get back on the computer to work on my blog content. I try to go to bed no later than 11 PM. Sometimes, I'm so tired, I go to sleep when the girls do. I just listen to my body. If I have an event to attend, I usually start getting ready early. I make sure my hair and makeup are done before they get home. My husband works downtown Atlanta and traffic can be crazy, so when I have an event or meeting, I bring the girls with me to meet up with my husband at the event's location because they are usually close to his office. I don't attend events as much as I used to because it's so much work.
Photo: Trina Small x Kaylin James
21N: Is motherhood something you've always desired?
TS: Before I got married, I didn't think being a mother is something I wanted. I thought babies were cute but I was like, I'm good. I saw so many young single mothers struggle in my family that motherhood seemed more like a burden than a joy. Even after marrying the love of my life, it still took a few years for me to get comfortable with the idea of being a mother.
21N: In addition to running Baby Shopaholic and being a top Atlanta-based fashion blogger, you also have partnered with Neiman Marcus, Johnson + Johnson, Verizon, Pandora, McDonald's, Carter's and more. How do you actively balance motherhood and your career as an entrepreneur?
TS: Planning out my week in advance is important, but also being able to adjust when things come up is even more important. Even when I get busy, I try to make sure I give each of my girls at least a few moments of my undivided attention each day. We also do at least one thing a week as a family, like going out for dinner or a movie. My husband and I have committed to at least one date night a month. That can be a struggle due to lack of childcare, but we try to make it happen.
Photo: Trina Small x Kaylin James
21N: What has been the most rewarding aspect — as an entrepreneur — since launching Baby Shopaholic?
TS: The most rewarding aspect of an entrepreneur is being able to be home with my kids. My mom struggled as a single mother to find adequate childcare for me while she worked long hours. There were times when I was left at school until night, or would get picked up in the middle of the night to go to the next location. Mind you, this was before cell phones. I joke now, but I say that God had a plan for my life because I didn't show up on the back of a milk carton. Being able to provide for my family while working at home is my biggest reward.
21N: We partnered with you to lead a 7-Day Beauty + Wellness Challenge to provide essentials beauty tips + tutorials for mothers to incorporate in their everyday lives. What are some topics Moms can expect to learn during your challenge? What prompted you to select the tips that you did?
TS: Moms can expect for me to touch on all areas of their life as a Black mom. From easy style tips to getting your home together, I tried to cover it all. While I like to keep things stylish, I also like to keep it simple. Moms are busy, so I like to get straight to the point with tips that will change your life, starting today.
Photo: Trina Small x Kaylin James
21N: As the mother of two beautiful daughters, Peyton and Harper, what kind of legacy do you hope to leave behind for them? What role of motherhood do you aspire to teach them for the day they, too, become mothers?
TS: The legacy that I hope to leave behind is to be kind, respectful and you can do anything when you work hard for it. I tell my oldest daughter all the time, you will get farther in life by being kind rather than being mean. Both of the girls' teachers tell me how kind and respectful they are all the time, and that makes me so proud. My family is heavily involved in my blog work, so they see the work I put into it from start to finish. I tell them my plans for the future and they tell me theirs. I aspire to teach them that you can still pursue your dreams even after motherhood.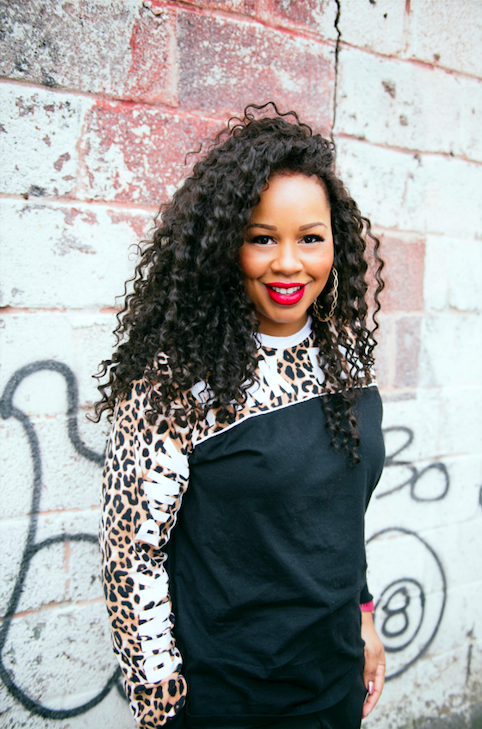 Photo: Trina Small x Kaylin James
21N: Are there any projects you are currently working on? What can we expect to see from you and Baby Shopaholic in 2019?
TS: I have a few projects in the works. All the projects I'm working on are geared to impact Black mothers. I will be hosting live events, as well as, products that will help and encourage our everyday lives.
21N: Do you have any final words of advice or encouragement for Black women struggling to balance motherhood and a career?
TS: Our lives aren't over just because we are moms. We can still pursue our dreams and goals. We just have to go about it a different way and maximize our time wisely. Don't compare yourself to people on social media, especially ones that don't have kids yet. Just focus on being the best mom YOU can be, not what social media makes you think you're supposed to be.
---
Ready. Set. Boss. Our daily email is pouring out inspiration with the latest #BlackGirlBossUp moments, tips on hair, beauty and lifestyle to get you on track to a better you! Sign up today.