Living close to a drugstore poses the issue of unnecessary weekly hauls justified by potential wash days, self-care mask nights, full body exfoliation Tuesdays and whatever else I can muster to make myself believe that buying any more skincare, hair care or body treatments is OK. I notice myself raiding every isle for the new thing that might work, however, when it comes to my hair I stick to the "ethnic section" — you know the one in every pharmacy that carries roughly seven brands that are known to cater to black people. For this very reason, I was a little hesitant to respond to Dove's offer for a hairstyling session with one of their stylists, Cynthia Alvarez. Nonetheless, I took the chance and I can't even begin to tell you how delightful the day was.
As I got to Society Salon in Los Angeles, I began to wonder how it all would turn out. I ran through what I had rehearsed to tell Cynthia about my hair and I was ready to fake a smile in case it didn't turn out okay. I mean, we've all been there, right? I felt Cynthia Alvarez's heart of gold as soon as I entered the room. Cynthia is a Bronx native who is also Dove's multicultural hairstylist and has racked up clients like Angie Martinez, Dascha Polanco, Anika Noni Rose and Maye Musk. As I walked up to her, she embraced me in a warm hug and I instantly felt at ease. We sat down and I began to explain my hair concerns, my no-heat journey and what style she would be willing to do and we agreed that a side-part with cornrows leading into two bantu knots would be our style for the day.
Cynthia co-washed my hair to get out all of the product that was in it to keep my low bun intact and she followed the co-wash with the Dove Nutritive Solutions Anti-Frizz Oil Therapy Hair Mask to smooth and soften my hair. When we walked back to the chair, I couldn't help run my fingers through my hair — it was probably the softest it's ever been. It also smelled amazing because of the hair mask. Cynthia then added the Dove Intensive Repair Leave-in Conditioning Spray and Advanced Hair Series Quench Absolute Creme Serum to prep my hair for braiding. She meticulously parted my hair and got to braiding. While she braided, we spoke all things Dove, hair, Los Angeles and everything in between — she brought me right back to getting my hair done when I was a kid.
21Ninety: Where did you learn to braid?
Cynthia Alvarez: I remember seeing my cousin braiding and I wanted to learn so bad and she refused to teach me, so I taught myself. I just kept practicing and practicing until I got somewhat decent and then my cousin came around and taught me how to perfect it. I'm from the Bronx so I was the girl who was on the stoop braiding everyone's hair. It's funny because I remember braiding one of my friend's hair a long time ago and he recently commented on one of my posts asking me if I remembered braiding his hair back on the stoop.
21N: How did you start working with Dove?
CA: I've been doing hair forever and an opportunity popped up with Dove and luckily my team jumped on it. Now I'm Dove's multicultural hair stylist.
21N: Tell me about your worst hair salon experience in which you were the client.
CA: I remember going to this woman I had been going to for years and I was getting my hair dyed blonde, but I like to do my own drying and blow drying so as I'm starting to do that, I just see wisps of my hair in the air. I look back and I see her hiding the towel. I was so heartbroken to see my hair just falling! I ended up cutting it short and it jump started my wig obsession. I love wearing wigs now, it keeps my hair protected and I get to wear all these amazing wigs all the time.
21N: How do you preserve your hair under your wigs?
CA: I just braid it back and treat it with Dove Quench Absolute Supreme Crème Serum. It keeps my hair healthy and the wigs allow my hair to produce their own oils and relax from constant styling. Photo: @adelfamarr
21N: What's your biggest pet peeve when it comes to your clients?
CA: I think it's when they're on their phones. They get so distracted and their head is all over the place so the one hour becomes an hour and a half and so on. It's not terrible, I just want to do great work and finish on time.
21N: How do you feel about the law in Tennessee that requires a license for hair braiding?
CA: To be honest, I didn't think that was a real thing. It's frustrating because I remember in beauty school, braiding was a one day thing, so it's just crazy that people are being fined for doing something that's really a part of our culture. A part of me thinks that it's a way to get more money, but it's very obvious that there are some racial underlinings in there too.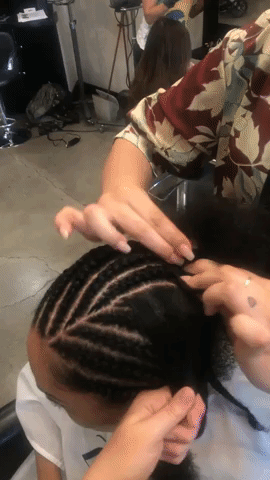 Photo: @adelfamarr
Q: What do you think Dove is doing to be more inclusive when it comes to people of color?
(This was answered by Dove USA's marketing director, Amy Stepanian)
A: Dove is passionate about helping all women realize their personal potential for beauty, which includes creating hair products for all hair types and textures. We leverage our expertise in R&D to ensure our curly and textured hair products delight our consumers, and we continue to innovate in this space.
21N: What are your top three go-to hair products?
CA: My top three would have to be the Dove Quench Absolute Supreme Crème Serum, Dove Style + Care Compressed Micro Mist Flexible Hold Hairspray because it's buildable and the Dove Style+Care Smooth & Shine Heat Protection Spray.
As Cynthia finished my last braid and smoothed out my edges, we shared some of our favorite food in Los Angeles and possible plans for Memorial Day weekend. I left with a genuine smile and an entirely new outlook on Dove's hair products. I've been secure in Dove's performance when it comes to their skin, body and baby products, and I can now also be secure in the performance of their hair products as well. Plus, it's been five days and my hair still feels clean, plus my braids are still looking like it's day one. #yeslawd Photo: @adelfamarr
Join us in ATL for the most magical black girl conference, Summit21. Click here to get your ticket today!