21Ninety's annual Summit 21 convention took over Atlanta this weekend and It was two days of black girl bliss, beauty and boss moves.
1,200 women travelled from around the world to take part in an experience the 21Ninety team specially curated to help them thrive in all aspects of their lives. Broken down into three separate tracks, attendees were able to gather for sessions focused on money, beauty and impact and hear from incredible women who dropped inspirational gems and motivational moments on how we can all be better, stronger and more resilient.
Sarah Jakes Roberts led the dopest black girl prayer session, Angela Rye gave a slow-clap worthy state of the black union and Ashley Blaine Featherson and Robin Theade gave a tear-inducing yet riotous chat on their glow ups, just to share a few of the soul-stirring shenanigans.
For those of you who missed out on the magic, we've rounded up some of the best moments so you can get a glimpse of what went down. Check out the pics below!
Sista, sista vibes with Coco and Breezy.
Power coupling like it's NBD.
Before taking us to church.
All hail the guap guru!
Leading ladies actress Ashley Blaine Featherson and comedians Robin Thede and Franchesca Ramsey.
Hit them folks or go home…
Carefree 'cuz who gon' check us, boo?
You don't say?
Boss Babe Alex Wolf breaks it down.
Comedian Franchesa Ramsey sits down with Blavity's Editor-in-Chief Lilly Workneh to talk about how life comes at you fast.
Stand with black women. All ways. Always.
Robin Thede is clearly shook by Ashley Blaine Featherson and all her wisdom.
When you still get starstruck by the homie!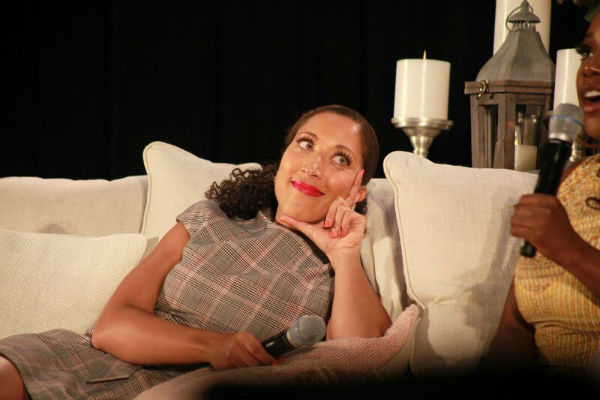 Bossin' up…tell us about it.
Political pundit and attorney Angela Rye chats with Lilly Workneh about the state of the black union.
Black girls deserve a special kind of ohm.
All the Lathams in the place with style and grace.
Muah with Maya Washington.
Black girl cheese.
Stephanie Scott about to dish on building your beauty brand.
Too much bossin' up with CRWN Mag founder Lindsey Day, Blavity CEO and M. ROZE Essentials founder Morgan DeBaun and Lilly Workneh.
Shanti Das tells Amanda Butler and Natalie Tulloch how to make sure your voice heard.
Karen Civil and Sevyn Streeter on being in the hip-hop biz.
Nah, you're crying.