In a perfect world, brushing our teeth twice a day and routine dentist appointments would be all that we need to keep our teeth white and glistening. But unfortunately, that isn't the case. If you're someone who has a serious coffee habit, or likes to indulge in food and drinks that unfortunately stains your teeth, then you know all too well that something extra is definitely going to be needed to keep your pearly whites at their best. That's where at-home teeth whitening kits come in.
Matthew Messina, D.D.S., an Ohio based dentist and spokesperson for the American Dental Association, explains that "Tooth enamel [is] a crystal. If you were to look at tooth enamel under a really powerful microscope, [the structure] kind of looks like chicken wire." Removing stains from within the tooth enamel is like removing dirt from the wire. He further explains, "So what happens in whitening is we want to… open the matrix and bubble out that color, the stain, and then close it back up."
If you're interested in adding at-home teeth whitening kits to your dental routine, it's important to first ensure that your dental health allows for its addition. Dr. Messina advises that "tooth whitening is something that should only be done in a healthy mouth situation. If somebody has cavities or periodontal disease, or some other reason why their teeth aren't white, whitening is not the right choice for them. That's why it's always a good idea to have a thorough examination done by your dentist before starting a whitening program."
So, when you're ready to embark on your at-home teeth whitening journey, here are five of the best kits to reach for.
1. Crest 3D White Whitestrips Professional Effects Teeth Whitening Kit
Crest's 3D Whitestrips are perhaps the most popular at-home whitening kit. It's available in a variety of whitening levels and promises to deliver professional results at-home. Its comfortable no-slip grip allows it to stay put for its duration of wear, and even allows you to eat and drink as normal. These whitening strips promise to give you a one hundred percent "noticeably whiter smile, guaranteed."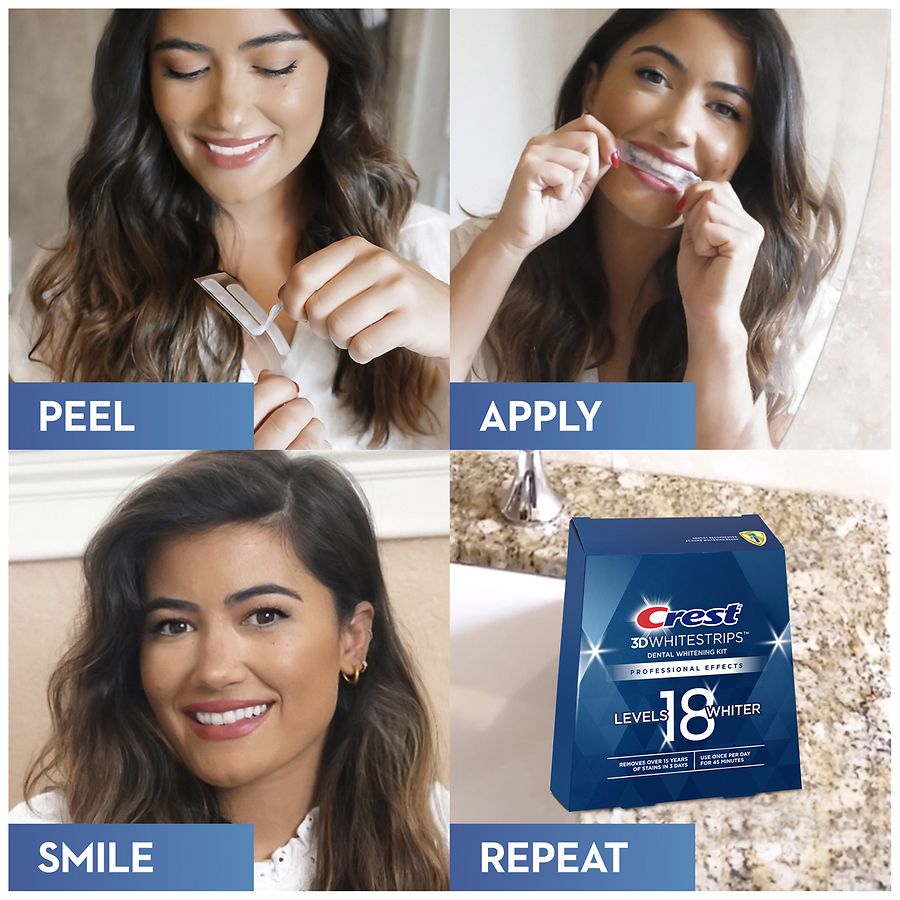 Courtesy of Walgreens
2. CO. by Colgate SuperNova Rechargeable At-Home Teeth Whitening Kit
Colgate's SuperNova Rechargeable At-Home Teeth Whitening Kit promises "a radiant glow up," delivering teeth that are six shades whiter in just ten days. It comes with a rechargeable LED device, and whitening wand, that are good for up to thirty treatments. And the best part is: treatments only take ten minutes.
Courtesy of Ulta
3. Crest White Emulsions Leave-On Teeth Whitening With Wand Applicator
This At-Home Teeth Whitening kit promises better, faster, one hundred percent whiter teeth. It features a tube of Crest's Whitening Emulsion and whitening wand that allows for a "swipe and go" application. This treatment is formulated with active peroxide droplets in a hydrating base that whitens teeth leaving no sensitivity. It also can be applied multiple times a day.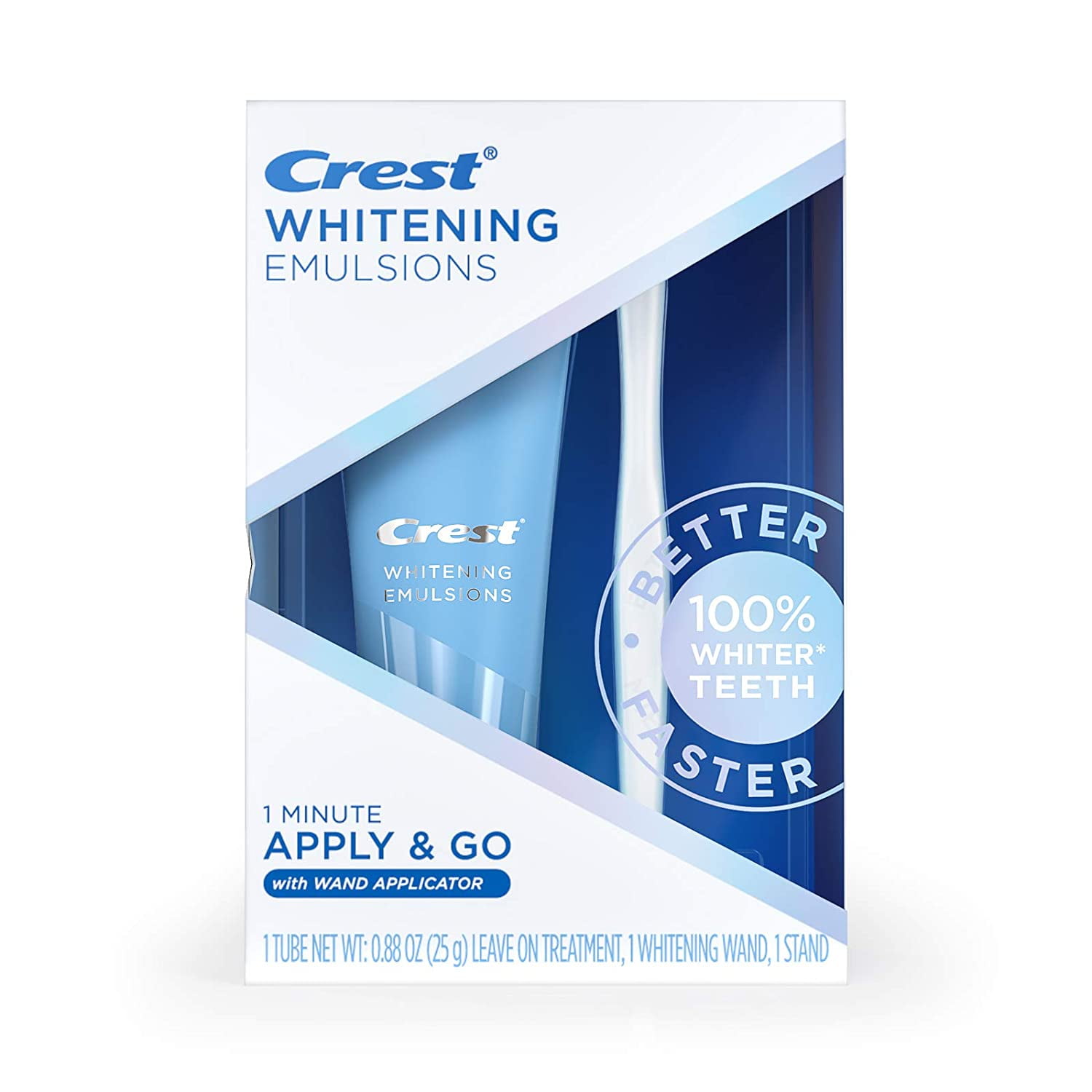 Courtesy of Walmart
4. Colgate Optic White At-Home Teeth Whitening Kit
Colgate's Optic White At-Home Teeth Whitening Kit is also designed to be used for just ten minutes in ten days. It promises to deliver teeth that are six shades whiter and features an enamel safe formula, designed for no tooth sensitivity. This product features a 4.1 rating out of five stars.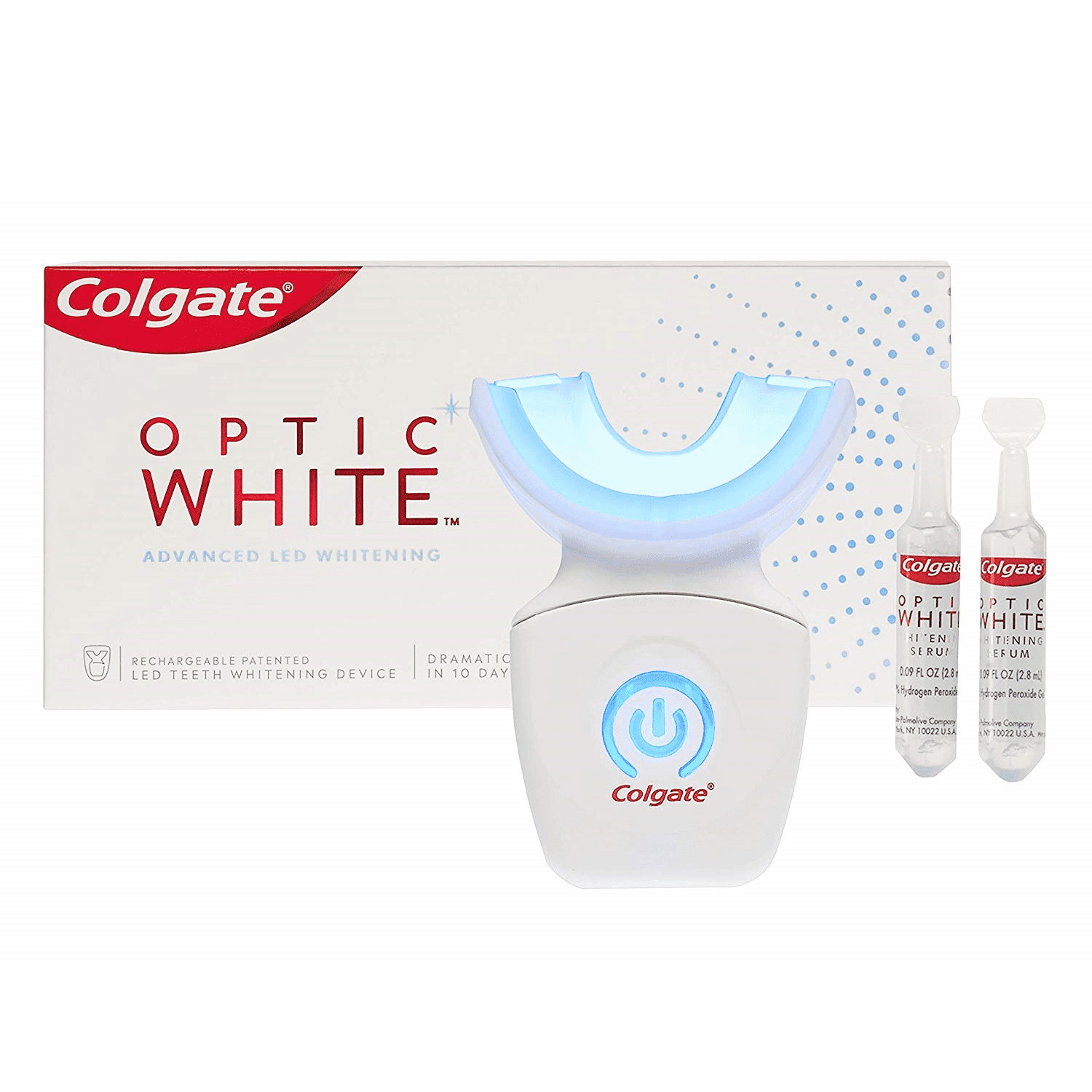 Courtesy of Walmart
5. Spotlight Oral Care Dental Teeth Whitening Strips
Spotlight Oral Care's Teeth Whitening Strips promise to break down stains that have built up on teeths' surface with minimal sensitivity. It features a vegan friendly and cruelty free formula which boasts hydrogen peroxide as its key ingredient; and is meant to be used everyday for a duration of two weeks.
Courtesy of Ulta Beauty