Janelle Monáe's album, Dirty Computer, has so far graced our ears and screens with videos accompanying her two singles, "Make Me Feel" and "Django Jane."
In "Make Me Feel," Monae is caught between long-time friend and rumored partner, Tessa Thompson, and a captivated man before deciding on choosing both of them. Meanwhile, in "Django Jane," she raps about starting a pussy riot and painting the city pink.
Her newest single, "Pynk," shared an Emma Westenberg-directed visual with the world this past Tuesday, which falls right in line with her earlier two music videos. The jaw-dropping video was a pink-hued "celebration of creation, self-love, sexuality, and pussy power," according to the video description.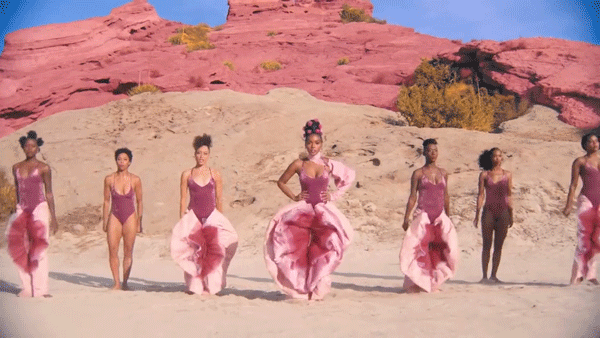 Photo Cred: Courtesy of Atlantic Records
The video features Monáe in an eye-catching pair of pink vagina pants (yes, really!) from which Thompson peeks out of at one point. While the ruffled pink pants are indeed a showstopper, Monáe gives us many other memorable looks throughout the entirety of the video, from "I Grab Back" and "Sex Cells" panties to a hot pink structured dress layered over fuzzy red sleeves, all while accessorizing her space buns with pink flowers and colorful spikes.
Monáe's album, Dirty Computer, will be released April 27th, according to Vogue. Until then, be sure to check out the video below for more of Janelle Monáe's greatness and her stunning all-women crew dancing in really cute, pink-accented outfits.