Meghan Markle has quickly become a household name due to her accomplishments on the television screen in USA network's Suits. Oh, and did we mention she's about to tie the knot with Prince Harry to become a real-life black princess later this week?
But that's not the only thing the busy actress-turned-princess has been up to. Markle partnered with Uber back in September of 2016 — shortly after she began dating Prince Harry — to make a video with makeup mogul Bobbi Brown to try out their Retouching Pencils and Retouching Wands. Bobbi Brown is known to be Kate Middleton's, Markle's soon to be sister-in-law, go-to beauty brand.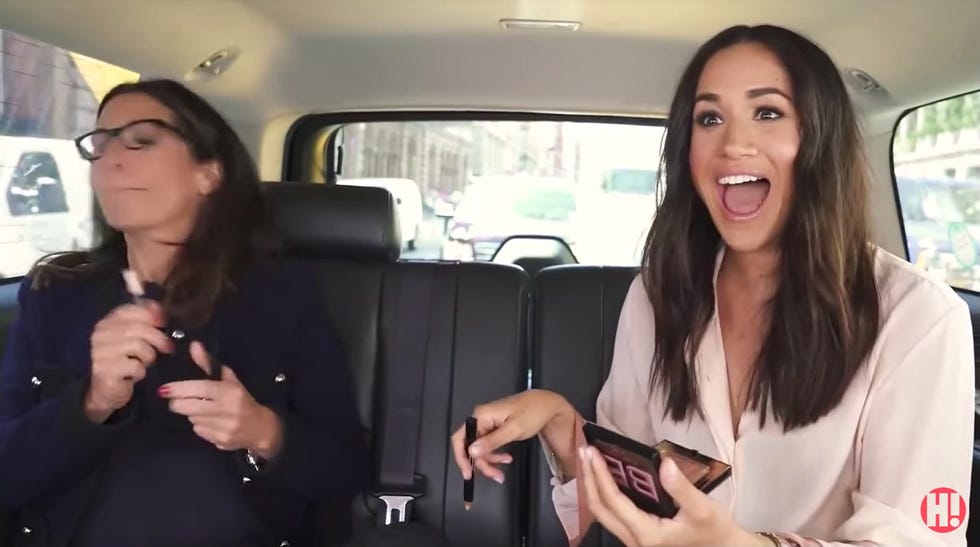 Photo Cred: Youtube
In a fantastic video that makes us love her even more, Markle entered the backseat of an Uber with Brown and mentioned she's heading to a meeting with some producers about a potential film role because she was on hiatus from filming Suits.
Brown proceeded to guide Markle as she used the retouching pencils and wands to quickly touch up before her big meeting, covering spots, brightening her eyes and adding a little bit of extra glow to her face.
Markle's charm does not go unnoticed and it's clear to see why Prince Harry put a ring on it. We can't wait to see Markle in a royal carriage when she gets married on May 19th at the St. George's Chapel at Windsor Castle. According to People, Markle's former makeup artist, Lydia Sellers, said she thinks "Meghan will go with a classic, timeless look similar to what we have seen her wear lately," she said, adding: "Natural, dewy-looking skin, with her freckles peeking through, a sheer pink lip and a daytime smokey eye with beautiful volume in her lashes." We can't wait to see what the decision will be for the final look!
Check out the full video of Meghan Markle and Bobbi Brown below:
Join us in ATL for the most magical black girl conference, Summit21. Click here to get your ticket today!