I've been trying to experiment with ingredients I usually don't use – binging Netflix's Chef's Table will definitely do that to you. I want to get way more familiar with unfamiliar ingredients and create something so delicious with them that I'll fall in love with them.
This Roasted Garlic White Bean Dip definitely falls into that category. When I say creamy, smooth, and most of all easy, that ain't no lie. Looking for a perfect dip for your friends at the upcoming parties or hangouts? Step right up.
I'm all over black beans, chickpeas, and even kidney beans, but I've haven't really used white beans, which is kind of crazy for a vegetarian right? Well, the Mr. has said he wants to eat a lot more vegetarian meals this year and that immediately motivated me to come up with some new knock-it-out-of-the-park recipes. I had to act really cool, "oh wow that's awesome" while my inner self was happy dancing that we would be able to finally go half-sies on meals!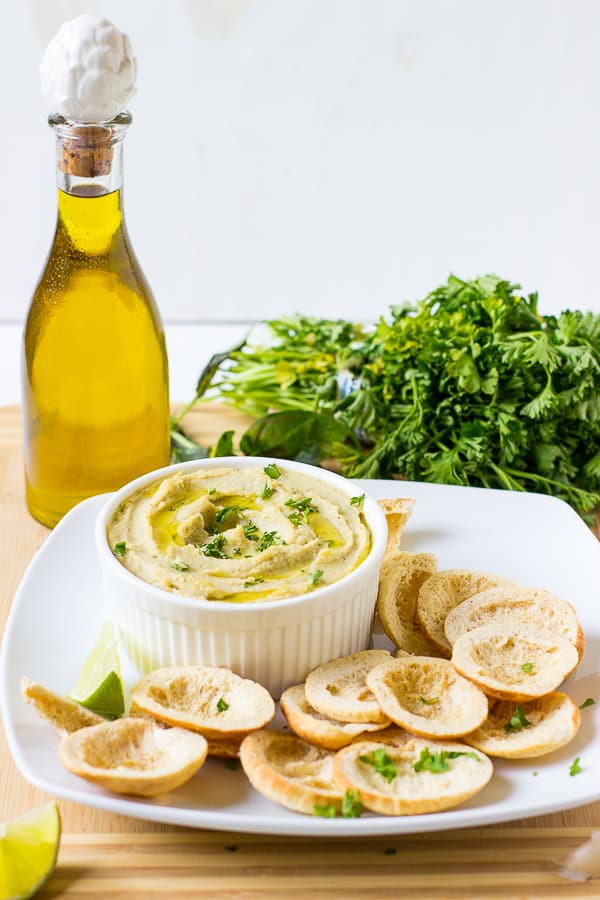 In light of this exciting development, I thought of Super Bowl food. We actually first met at a friend's Super Bowl party, and so always either go to a Super Bowl party or host one ourselves, and I've loved coming up with new and delicious snack ideas. I've always wanted to try a white bean dip and never have, so I got straight to it. Now, my husband is known as the "Sauce King" in the house and I'm definitely "Dip Queen". Bold words yes, but I have to say, this dip really follows up on that title. I started by roasting my garlic, and PS if you've never roasted garlic, you need to do it. NOW. It's so crazy easy.
Cut off a bit off the top of the garlic head, drizzle with olive oil, and then wrap in foil. Stick it in the oven at 400 for like 45-60 minutes. It comes out soft like buttah, it's super mellow and it makes your kitchen smell like garlic bread heaven. Garlic bread heaven? Count me in. Garlic is my favourite spice – like, I should get a shirt that says Garlic-Lover – so if you're crazy like me you can just spread this on toast. If you're like normal people, you can use it in everything under the sun to replace regular garlic. In fact, I used it in a pesto I made later that day, and pretty much everything else for the entire weekend. Do it.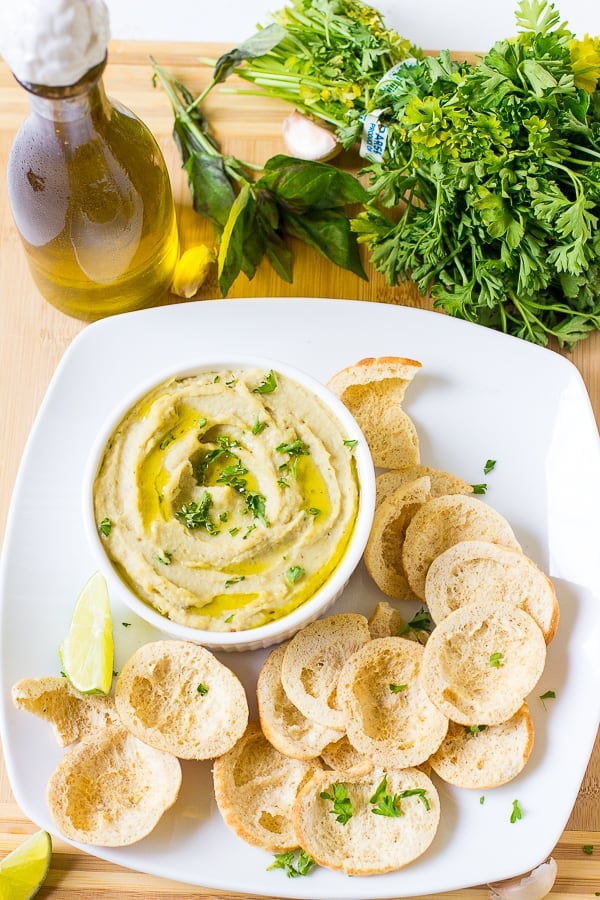 Once your garlic is roasted, just throw all the ingredients into a food processor or high speed blender and blend.
You can mix it up here if you like, but I went with a herbed white bean dip, and so added in fresh parsley, oregano and basil. While dried herbs are really convenient, fresh herbs always give a great flavour profile to your dish, so I would definitely get fresh herbs! Of course, I added my favourite, olive oil, to the mix and a squeeze of a lime (you can use a lemon too). I've been eating this dip for 3 days straight and it just keeps getting better, so I would recommend making this like an hour or two before you need it so all the flavours can really come together. I won't tell if you have a few "taste tester" bites. We're just checking it for everyone else, right?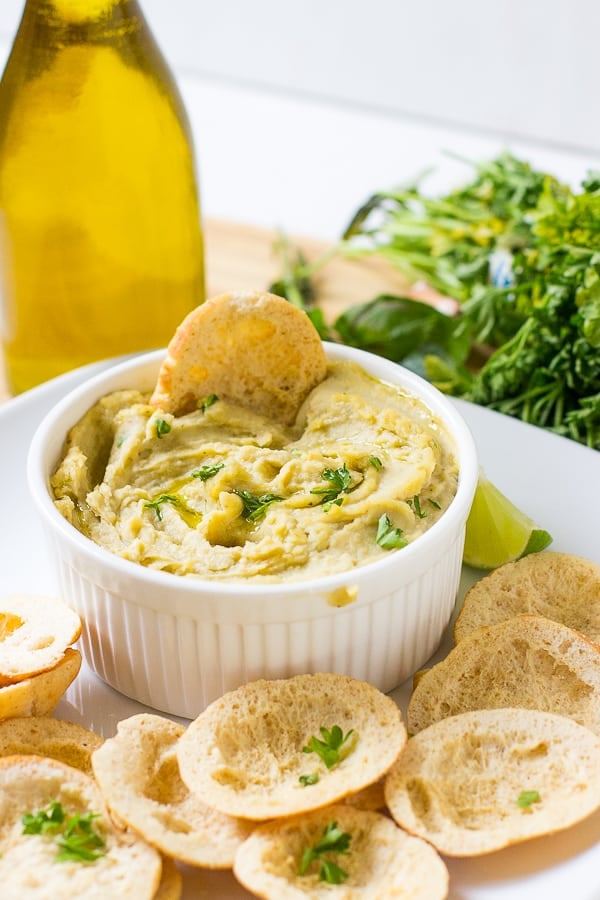 Roasted Garlic White Bean Dip
Ingredients
16

ounces any white beans (1 can) – I used butter beans

3

cloves roasted garlic

1/2

teaspoon sea salt to taste

1/2

teaspoon freshly ground black pepper to taste

3-4

tablespoons olive oil (to taste)

2

tablespoons room temperature water

1

teaspoon chopped oregano

1

teaspoon chopped basil

1

teaspoon chopped parsley
To Serve
Olive oil to drizzle
Parsley to garnish
Instructions
1. Drain the white beans of their liquid and rinse in a strainer. Pat dry.
2. In a food processor, add all the ingredients. Blend until smooth and creamy. You can add more olive oil if you prefer your dip to be even thinner, but add extra seasonings to compensate for the extra liquid.
3. Serve in a bowl, and if possible, allow to chill for 2 hours before serving so flavors can marry together.
4. Drizzle with olive, garnish with parsley and serve with chips and enjoy!
Recipe Notes
You can add more olive oil if you prefer your dip to be even thinner, but add extra seasonings to compensate for the extra liquid. Alternatively, you can add less liquid if you prefer your dip chunkier.
---
This post was originally published on Jessica In The Kitchen. Check out more awesome posts like this here.