Ashley and Tia have been best friends for the last ten years and have embarked on marriage, career and motherhood journeys in parallel lanes. When both of their relationships took a bit of a turn — Tia's marriage began to reach an end while Ashley and her boyfriend decided to take a break to work out some of their conflicts — they decided to move in together with their children to save on a New York City apartment.
Tia, a mother of two boys ages 13 and 3, and Ashley, a mother of a 5-year-old boy, decided that Tia's 3-bedroom apartment in Bed-Stuy would suffice for the five of them and the expenses would be split between the two. In addition, they also agreed to support each other and "be each other's line of defense when dealing with parental ups and downs," as Ashley words it on HuffPost.
The best friends have created a home for their children with two loving, caring and reliable parents in it. The two parents ensured to be each other's backups if one or the other ever needed some extra help. Instead of relying on babysitters and nannies, they make sure to sit down and figure out how to work with each other's schedule to best care for their children and respect each other's time.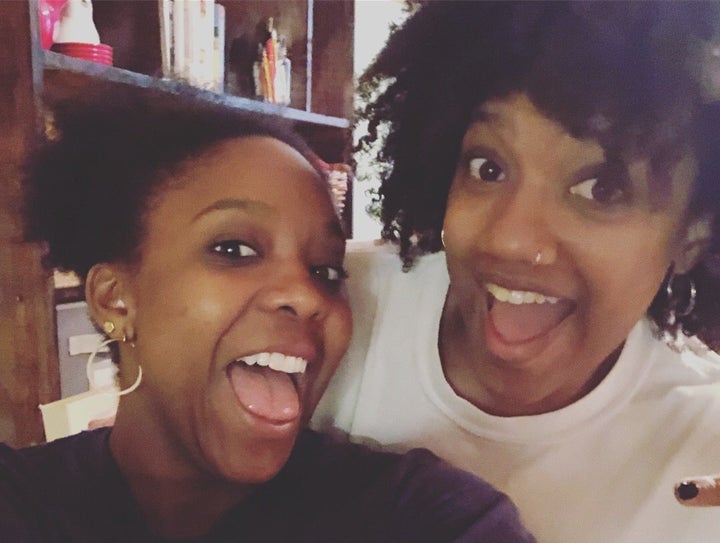 photo: Ashley Simpo
"When I had to figure out childcare for my son during the two weeks between his last day of kindergarten and his first day of summer camp, we sat down and talked about how we could work our schedules around the issue. She offered to take him to work with her for a few hours so I could get work done ― something I might have struggled to figure out had I been going this alone. When she needed to rest after a long night of work and play, I got up and made the boys breakfast," wrote Ashley.
With the ability to pass off the load to the other when one needed some time alone or simply an hour to catch up on work, the women began to work on the raw emotions they were both feeling after difficult relationship issues.
"I was able to reintroduce myself to myself, embrace alone time and create more balance in my life," stated Ashley about the arrangement.
The arrangement also helps break the stigma that single mothers are overworked, overtired and extremely under-appreciated. As women, there tends to be this "piling-on of life" and adding motherhood to it, "it's done to the detriment of a mother's sanity and health."
Ashley encouraged mothers to understand that they need each other. Understanding the day-to-day and the things that go unsaid can be useful whether you're co-mothering or co-existing. The arrangement may seem unusual, but co-mothering is another form of partnership in which the same level of commitment and communication is involved.
"I wouldn't be able to do this without Tia, and I am so grateful for the life I share with her right now," shared Ashley.
Ready. Set. Boss. Our daily email is pouring out inspiration with the latest #BlackGirlBossUp moments, tips on hair, beauty and lifestyle to get you on track to a better you! Sign up today.