Saturday night at approximately 11:25 PM PST, all the way from Indio, California, my invisible wig was snatched, edges obliterated and my goals journal spontaneously combusted because the need for new short-term goals and life goals arose after Queen Bey shut down Coachella.
#BEYCHELLA #TOPFF 🐝 🔑 pic.twitter.com/xrTdt9iLNX

— DJ KHALED (@djkhaled) April 15, 2018
Sorry DJ Khaled, I mean #BEYCHELLA! Beyoncé Giselle Knowles Carter took the main stage and gave those in attendance and millions of at-home viewers the show of a lifetime. From the live marching band to the song selection to the around 250 people on the stage enhancing the HBCU homecoming vibes through dancing, stepping and more, Beyoncé and her team projected black pride, women (specifically black women) empowerment, and the notion that women can do/have it all.
There were so many amazing moments to highlight from this historic two-hour exhibition of black culture and we will get to those in a moment, but allow me a moment to tell you why this was one of — if not the — greatest Beyoncé performance to date. For starters, in the music festivals almost 20-years existence, Beyoncé served as the first black-female headliner. FIRST. BLACK. FEMALE. HEADLINER. IN. ALMOST. 20-YEARS. Let that soak in… At one point in her performance, while thanking the Coachella executives for giving her the opportunity to break this barrier and acknowledging the women before her who have paved the way for her to make this possible, she took a moment to sprinkle in a phrase worth of shade.
"Thank you Coachella for allowing me to be the first black woman to headline. Ain't that 'bout a b–ch?"
And although this is not the first time we have seen her give us an unapologetically black performance, choosing to once again shake-up a predominantly white venue with this level of blackness still has us welling with pride. The 36-year-old star was scheduled to grace the main stage of Coachella last year but her performance took a delay due to her pregnancy with Sir and Rumi Carter. Although fans were disappointed yet understanding last year, this year's monumental performance made up for the year-long wait.
"I had time to dream and dream and dream with two beautiful souls in my belly, and I dreamt up this performance and this is more than I ever dreamt of it being," she said to the crowd. "And thank you guys for sharing this with me. I hoped you all enjoyed the show. I worked very hard."
Her hard work definitely paid off! It was reported that she and her team put in 11-hour rehearsal days to perfect their performance and TMZ also learned a week before the epic show, Beyoncé added a hefty number of dancers to the performance.
So just in case you missed it, allow us to give you 10 golden moments to know as you encounter the #BEYCHELLA recap convos this week:
1. THE ROYAL INTRO
What better place to start than at the beginning!
After a bomb snare solo and whistle to start, the camera lead us past flag holders, pharoah-bodysuit-wearing dancers to a Nefertiti-cape-wearing head-bust-adorned Beyoncé. As she turned around and sashayed towards the main stage, the band gave us New-Orleans vibes. As she made her way down the rundown, she did not utter two words to us, but we were already sold.
2. THE OUTFITS
Since we already started with the Nefertiti-cape, let's continue to explore the custom-couture costumes she wore throughout the show. All four custom fits were designed by Balmain's Olivier Rousteing who recently sat down with Vogue to describe his experience working with Queen Bey.
"B is a perfectionist," Rousteing said to Vogue. "She has such a distinct vision for fashion and for her music, I really learned a lot from this experience and from watching her work in those rehearsals."
In addition to dressing the headliner herself, Rousteing was also tasked with dressing the 200-some dancers on the stage and the two other powerhouses of Destiny's Child, Kelly and Michelle. Yes! Destiny's Child! But hold on, let me just finish this point before we dive into that. The stand out pieces included: "… the Egyptian-inspired gold-and-black cape with intricate embellishments; as well as a hologram-fabric black jacket and bodysuit; a collegiate-style embellished yellow hoodie with 'BA[K]' [which uses the Greek-letter delta as an "A"] written on the front; a camouflage and mesh minidress; and a top decorated with a 2018 Beyoncé crest that shows a bee, a raised fist, a panther, and an Egyptian goddess."
Aside from her perfectionist performing style, through the platform of designing, Rousteing was also able to get an insight of the mother side of Beyoncé.
"I think the thing I will always remember is sitting on the floor with B and cutting fabric," he shared with Vogue. "Blue comes in and runs over to B, and B holds her in her arms while talking to us about the cuts and silhouettes. To me, it was just such a beautiful moment because here you are with this megastar but also, she is a strong woman and a loving momma to her daughter."
3. THE DESTINY'S CHILD REUNION WE'VE BEEN HOLDING OUR BREATH FOR
Destiny's Child reunited on the Coachella stage to give us the reunion we've been waiting for. Although the cherished girl group performed together in 2013 during Beyoncé's SuperBowl performance, when an Instagram page popped up for the group in 2016, the rumors began to swirl regarding whether Beyoncé, Kelly and Michelle would join forces again on stage.
When Destiny's Child reunites, it should be a national holiday #Beychella pic.twitter.com/y5wPbJz56F

— afrobeats (@afrobeatstoday) April 15, 2018
The trio hit us with "Lose My Breath," "Say My Name" and "Soldier." Will we see more of them on Beyoncé and Jay-Z's On The Run II tour this summer? Who knows, but it made our hearts smile to see them all together.
4. JAY-Z AND BEY GAVE US DÉJÀ VU, LITERALLY
Speaking of Jay-Z, the ride-or-die couple took us back to 2006 with their performance of "Déjà Vu."
When JAY-Z came out. #Coachella pic.twitter.com/UmlGWkNpje

— JAY-Z Daily (@JAY_Z_Daily) April 15, 2018
While some people gave Jay a hard time:
Jay-Z backstage after performing with Beyonce at #Coachella2018. Buddy was out of gas! 😂 pic.twitter.com/nqMNd4Gp0V

— King Âvę 🤴🏾 (@j_avery) April 15, 2018
Beyoncé performed almost 2 hours and still sounds amazing… jay-z has to rap 12 lines and sounded like he was about to have an asthma attack… men really are pathetic…

— jovan (@ehjovan) April 15, 2018
Ugh. I didn't wanna see Jay-Z today. I'm a long time fan (musically) but not in the mood for him the person right now. LMAO. pic.twitter.com/Iq23VNqeop

— 🆃🆁🆄🅳🆈 (@thetrudz) April 15, 2018
Others appreciated seeing the power duo on stage together ahead of their anticipated joint tour:
Beyoncé and Jay-Z performing Deja Vu. I love their chemistry. This song will forever be a bop #BeyChella pic.twitter.com/8AajdvPkLX

— . (@goddessyonce) April 15, 2018
How are fans of Beyoncé & Jay-Z not called BeyHova's Witnesses? We all just wanna spread the good word. #Beychella

— Sharron Paul (@Sharronica) April 15, 2018
Jay-Z slander will not be tolerated

— Naya (@7for_Omankind) April 15, 2018
5. SOLANGE AND BEYONCÉ SHOWED US HOW THE KNOWLES SISTER GET DOWN
Solange Knowles came out onto the stage to "drop down low and sweep the flo'" with her big sister. As if Jay-Z and Destiny's Child wasn't enough, Beyoncé made this a full-fledged family affair.
Beyoncé and Solange dancing to Get Me Bodied. I never knew how much I needed this until now. I love these legendary sisters. #BeyChella pic.twitter.com/qptNpH7iNj

— . (@goddessyonce) April 15, 2018
The blonde baddies danced to "Get Me Bodied" and had everyone wanting to join in on the fun! Solange also reposted this moment when Beyoncé jumped on stage with her in 2014 during her own Coachella set:
there is nooothing like having a thuu thuuu ❤️ the hug at the end is my mood for the rest of #beychella https://t.co/y9a5iLwrSJ

— solange knowles (@solangeknowles) April 15, 2018
The sisters sure know how to make their moves look flawless!
6. THE NOD TO BLACK GREEK LIFE
As mentioned above when touching upon her outfits, not only did Beyoncé wear a hoodie with Greek letters across the front, her "bug-a-boos" also gave a little taste of what could be considered a probate (or new members' presentation). There was a lot of stepping, chanting, and to make it even sweeter, actual Divine 9 members were part of the show!
Some of the Black fraternity and sorority members who performed in Beyoncé's show last night. #Beychella pic.twitter.com/PPEVlSuwoX

— Watch The Yard (@watchtheyard) April 15, 2018
While many Black Greeks felt pride in seeing Black Greek Lettered Organizations (BGLO) highlighted in such a way and acknowledged on a stage that may have never been introduced to the Black Greek Culture, others couldn't get over Beyoncé's usage of the Greek Alphabet.
Y'all finna act like Beyoncé ain't use these Greek letters COMPLETELY wrong? pic.twitter.com/7kmv0sIFq8

— ETSU Ques (@ThetaZeta_Ques) April 15, 2018
Don't be getting Greek letters just cause Beyoncé did it. Get hemmed up with the quickness pic.twitter.com/QHHXSwJPDe

— D'Challa❄️ (@Justme_DJ3) April 15, 2018
While many Greeks appreciate everyone's excitement around Black Greek culture due to this performance, it's also important to keep in mind that although these great men and women of the National Pan-Hellenic Council (NPHC) participate in public displays of their rich traditions and customs, they are several layers to BGLOs beyond stepping that are sacred, earned and should be respected as such.
But something both sides of the coin can agree on is having this level of representation in an area such as Coachella is something to be excited about.
7/11 remix ❤️ #Beychella pic.twitter.com/c4QsGTP6uS

— JERE오빠 '起' JINFLUENCE🎗 (@JaJan7892) April 15, 2018
7. THE MARCHING BAND, DANCERS AND ENTIRE CAST
When you think of an on-stage cast of 200-some people you might think that is too many to keep up with, but Beyoncé's on-stage companions were an essential part of this magical experience.
That swag surf was so clean lol #Beychella pic.twitter.com/vJ6XRNw0JS

— 🌹XII.VIII.MCMXCIV🌹 (@_ForevrBlushing) April 15, 2018
Comprised of HBCU alumni and led by Don P. Roberts, the drumline helped to keep that homecoming vibe pumpin' throughout the entire show. From acting as a background to Beyoncé's melodic voice or keeping the crowd energized through the interludes, the drummers, trumpet players, violinists and the whole band kept the party going. In addition to the music, let's not overlook the majorettes, Beyoncé's tried-and-true dancers/dance captains, male dancers and steppers. And did we mention the revival of the Les Twins side-by-side with the Queen B!
BEYONCE X LES TWINS #Beychella ONLY THE BEST. pic.twitter.com/gDSQNgz9ps

— . humble . (@MindMe_Bri) April 16, 2018
8. SHE PAID HOMAGE TO BLACK HISTORY
Not only did she use the piercing words of Malcolm X on the Black Woman, she also took a moment to allow two graceful dancers to Nina Simone's Lilac Wine. Her tribute to Simone was very fitting because Simone was recently inducted into the Rock and Roll Hall of Fame. And continuing with this brazen display…
9. Y'ALL, SHE SANG THE BLACK NATIONAL ANTHEM AT COACHELLA
Lift every voice and sing
Till earth and heaven ring
Ring with the harmonies
of liberty
Let our rejoicing rise
High as the list'ning skies
Let it resound
loud as the rolling seapic.twitter.com/Sii6iozITw

— Keith Boykin (@keithboykin) April 15, 2018
As a black man or woman, if that moment did not make your eyes tear just a touch, you must not have realized what that moment meant for us. Since 1900, Lift Every Voice and Sing by James Weldon Johnson has served as a relic in black American tradition. It represents perseverance, strength, unity and the fight for freedom. Although some audience members did not recognize this because it wasn't a chart-topping Beyoncé hit, others were spellbound.
10. LAST BUT NOT LEAST, HER SUPPORT OF HBCUs WAS NOT SIMPLY FOR A SHOW
After the show, a new BEYGOOD initiative came to life entitled the Homecoming Scholars Award Program. According to Beyoncé's website, BEYGOOD announced "four schools to receive the newly established Homecoming Scholars Award Program for the 2018-2019 academic year. The universities, Xavier, Wilberforce, Tuskegee and Bethune-Cookman, are all Historically Black Colleges and Universities (HBCUs)."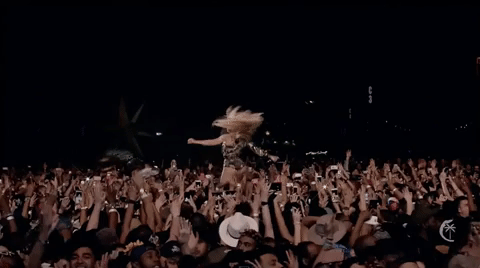 The description also went on to explain the inspiration behind this scholarship: "The show, with its homage to excellence in education, was a celebration of the homecoming weekend experience, the highest display of college pride. The energy-filled production put the spotlight on art and culture, mixing the ancient and the modern, which resonated masterfully through the marching band, performance art, choir and dance. It was the impetus to mark her second scholarship program."
One recipient from each college/university will receive $25K for the upcoming 2018-2019 school year.
It's not a coincidence she's called the Queen. If you missed her performance and have tickets to Coachella weekend 2 — don't miss it! But if Coachella live was not in your budget this year, watch the full performance here.