Are you looking to spice things up in your romantic relationship? Well, there's no better place to start than fun sex games in the bedroom.
It's been proven that sex games are a great way to kick the action of foreplay up a notch. Here are some fun sex games that will leave you and your partner wanting more of one another.
Strip Twister
Take "Twister" up a notch and make things extra spicy. Play this game with your partner, and whenever someone makes a wrong move, take off an article of clothing. Whoever ends up naked first has to pleasure the other person in whichever way they'd like.
Dirty Jenga
Grab yourself a box of Jenga and get ready for a hot and steamy night. Write a dirty dare on the back of each block, and whoever manages to knock down the structure has to do the dare.
A Vibrating Night On The Town
Grab a pair of vibrating panties or wearable massagers for you and your partner. Throw them on before heading out for a night on the town, and give your partner control of the remote. Whoever orgasms first has to pick up the tab, or do whatever task you both decide on.
ARTAGIA's Talk, Flirt, Dare Game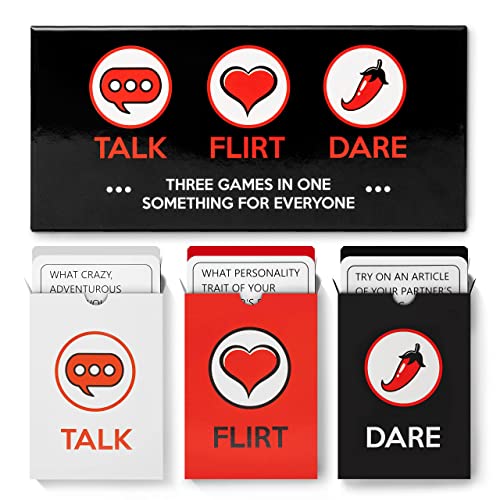 Photo Courtesy of Photo credit: Amazon
If you are looking for a fun game that will deepen the intimacy level between you and your partner, then this is it. The Talk, Flirt, Dare game has three games in one is the perfect way to reignite the romance. The flirt and dare cards specifically are essential during those spicy nights.
Grab A Kama Sutra Deck Of Cards
Grab a kama sutra deck of cards and get to playing the card game. Both you and your partner will learn new positions that you'll be able to demonstrate in the moment.
The 30 Day Position Challenge
If you and your partner are feeling overly ambitious, then why not challenge each other to thirty days of sex? To make things extra spicy, everyday has to have a new position. This challenge is bound to keep things fun and steamy in the bedroom.
Eat Them Up!
Grab your topping of choice and decorate your partner's body with it. The part that you'll both enjoy is licking everything off at the end.
Why Don't We's Spice It Up
Photo Courtesy of Photo credit: Amazon
It is time to spice it up in the bedroom with your partner, and these are the perfect cards to do it. The card game includes three different levels: mild, medium and spicy. It is the perfect date night game to spice up you and your partner's love life. They not only spice up your love love and deepen your intimacy levels, but also provide the opportunity for couples to build a stronger bond.
Roll The Oral Dice
Grab a pair of dice and get to rolling. The amount of dots that appears dictates how many minutes you have to pleasure your partner orally.
Flavored Lube on the Body
Grab a flavored lubricant of your choice and dab on it different parts of your body. Then, ask your partner to locate the spots you dabbed the lube on with their mouths.
Work on a Yes/No/Maybe List
Sit down with your partner and write down sexual activities you'd both like to explore, stay away from or consider. This activity will help you both get a sense of what you enjoy. It also may help identify some new kinks you may have never known your partner would like.
Naked Cooking
Steam things up in the kitchen. When dinner time rolls around, you and your partner should prepare a meal naked. Once its in the over, set the timer and begin your foreplay. The goal is to finish things off before the timer goes off. Ready, set, go!
Fade To Black Sex Game
Photo Courtesy of Photo credit: Spencer's
Fade to Black is a fun filled game that offers 6 unique shades of sexual fulfillment: Shades of Intimacy, Shades of Seduction, Shades of Temptation, Shades of Arousal, Shades of Fantasy and Shades of Pleasure. The categories contain 15 cards that will allow you and your partner to explore your deepest desires.