Does your smoothie game need to go up a level? We've got you. Whipping together the perfectly combined smoothie recipe is an art and it takes time to get right. An 'easy' smoothie is usually easy to remember (and therefore easy to replicate), not too ingredient-heavy, and contains easy-to-source ingredients. Where possible, it is always a good idea to source local, seasonal foods. Many of the ingredients listed will be easy to find in your local farmers' market, seasonally.
Easy doesn't mean lazy though. As far as these recipes go, we've kept them minimal but full of creativity. The bases are interchangeable, whether you're into milk (plant-based if that's your thing) or yogurt. The main thing is that you'll be eager to experiment and create smoothies that leave you wanting more. Ready to try 3 of the easiest smoothie recipes that you can always count on?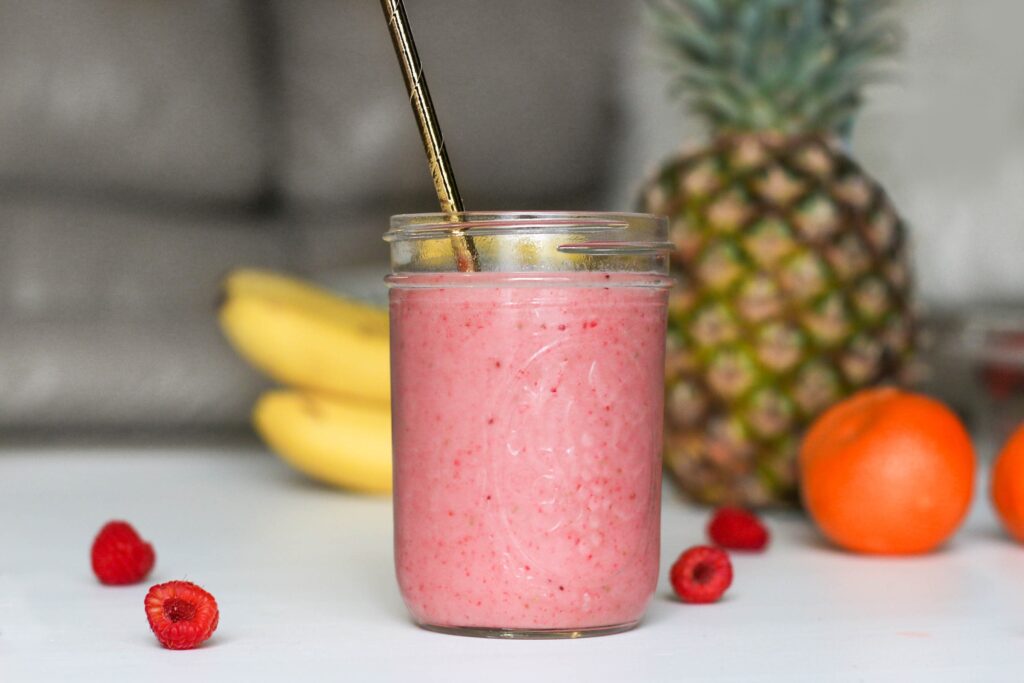 3 easy smoothie recipes
*Add ingredients according to your preference and serving quantities. Always consider allergies and any medical histories before trying new recipes.
Green Smoothie
There is nothing like keeping it green. Convert your favorite green juice into a smoothie with a few minor adjustments. You can't go wrong with spinach leaves to get your daily dose of leafy greens. Yogurt (including non-dairy options) will make the taste creamy and bring out the fruitiness of this smoothie. Adding spirulina powder to the mix is great for a detox and a healthy liver. Midday energy boost pending.
Ingredients:
Spinach leaves
Yogurt
Blueberries
Kiwi
Extra health kick: a dash of spirulina powder
Immune system boosting
A smoothie for the health conscious (or the sick who just want to have a good time). There is such a thing as a healthy smoothie and this immune-boosting smoothie proves it. The combination of mucus-expelling pineapple and infection-fighting ginger will do great things for your immune system. The best thing is that the combination of coconut, banana, and pineapple makes for a gorgeous tropical taste. An immunity-friendly, smoothie-fied piña colada. Turmeric is a great anti-inflammatory herb to add in small doses to not overpower the delicious concoction.
Ingredients:
Pineapple
Coconut water
Coconut milk
Banana
Freshly chopped ginger
Extra health kick: a dash of turmeric
Crowd-pleaser
You just can't go wrong with a peanut butter smoothie. The combination of chocolate, peanut butter, and banana is always a crowd-pleaser. The sweetness makes it ideal for those with a sweet tooth. Having guests round or want to surprise the family? This smoothie would be ideal. Not only will the tastebuds approve, but the chocolate (cacao or cocoa powder) is a mood booster. For an extra health kick, sprinkle in a dash of ground cinnamon for some added anti-oxidants. The cinnamon will add extra warmth and give the smoothie another layer of flavor. Rich and tasty is the way to go!
Ingredients:
Peanut butter
Milk
Banana
Cacao/cocoa powder
Extra health kick: a dash of ground cinnamon
What you'll need for these easy smoothie recipes
Once you've memorized your smoothie recipe, you're all good to go. Equipping your kitchen with a few life-saving items will make smoothie-making even smoother. We recommend you choose a blender that works perfectly for you so that it remains an enjoyable experience.
Also, why not invest in some glasses to make the smoothie pics look all the more desirable?
Related: These 5 Best Blenders Will Put You In Smoothie Heaven
Our editors love finding you the best products and offers! If you purchase something by clicking on one of the affiliate links on our website, we may earn a commission at no extra cost to you.