We are finally seeing depictions of therapy on television, including storylines on Insecure and Queen Sugar. Even Jay-Z talked about therapy during the Tidal Rap Radar podcast interview. For people who have never been to therapy and whose only point of reference comes from TV, they might not know what to expect. Here are ways you can prepare:
Know Your History
Before your appointment, gather as much information as possible to help the therapist understand your current situation and your past.
Record the name of your current medications and doses. Remember your insurance card, driver's license or identification card and co-pay card (if applicable). Do you know your family medical history? It will be helpful to know if someone in your family has had any mental health concerns. If you don't know, this might be a good time to start having conversations to learn more.
Bring Notes to Help You Answer Questions
Speaking your truth is hard. Now add revealing it to someone you don't know. It won't be easy at first, but keep in mind the therapist needs to gather information about you. In such a new and sometimes nerve-wracking experience, it might help to bring some notes.
Keeping a journal to track your moods for a few weeks before the appointment can help you answer the intake questionnaire. Even doing this after the first appointment can help track what's working and what you need assistance with.
Dior Vargas, Latina Feminist Mental Health Activist, suggests, "It would be helpful to write notes before your session about what happened since you met last and questions that you'd like answered."
Research the Different Types of Therapists
Therapists have specific training, qualifications and specializations. If you know what you need assistance with, that can help you find a better fit. If you're not sure, that's okay too. Consider calling before your initial appointment to get to know the person and discuss your needs. For example, if you know you are experiencing Post Traumatic Stress Disorder (PTSD), make sure the therapist is specialized in assisting someone with that form of trauma.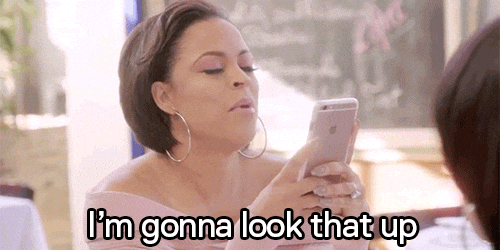 Photo: Giphy
Ask Questions
Therapy is a conversation. You can come with questions. You can ask about their experience and education, about what type of approach they take with clients (i.e. cognitive behavioral therapy) and their experience working with someone with your type of personal experiences. At the end of the session, ask for resources such as recommended websites or books.
Understand Your Expectations
For most cases, it will take more time to understand personal circumstances before any diagnosis can happen. In other words, don't give up after the first visit. Invest the time in learning and growing. Finding a therapist has been compared to dating. Remember, it's okay to move on. You want to have someone you feel a connection with and where you can be 100 percent honest. Continue researching and asking questions until you find the right one.
If you're seeking financial assistance, check for places that offer sliding scale fees.
Photo: Giphy
Tips were provided with the help of Renita C. Gabriel, Psy.D.
If you need someone to talk to before a scheduled appointment remember The National Suicide Prevention Lifeline, call 1-800-273-8255. The Lifeline provides 24/7, free and confidential support for people in distress, prevention and crisis resources for you or your loved ones, and best practices for professionals.
---
Keep up with the latest in beauty and lifestyle news and sign up for our 21Ninety Daily Email.