1. FIND YOUR MISSION AND PURPOSE
Your mission and purpose should rarely exhaust you because it's something you enjoy, and it is in your heart to do. That does not mean you won't become tired because we grow tired at some point, but your tiredness, in this case, contributes to your purpose. If you find yourself worn-out a majority of the time, it's important to recognize that you may not be in your mission and purpose.
2. FAIL FAST
It's essential to learn how to fail. Those who don't know what it feels like to fail have a difficult time coping when it does happen. Get acquainted with failing because it is inevitable. The faster you fail, the quicker you learn what does not work. Failing is an advantage of restarting the process. If you fail and give up, then success is not for you. An unfortunate childhood could be seen as an advantage as well. Hear me out — you could have the drive to want a better life. For this to become an advantage, you will need to have substantial intrinsic motivation. Consistency is a quality to maintain success. You have to follow through! Some people start the process but have no follow through. And a result, success is not for them.
3. WORK ETHIC
Work can often be a time sacrifice. So remember that success starts after 8hrs, after your 9-5 or whatever your work hours are. You must go the extra mile and commit.
4. SELF-RECOGNITION AND VALIDATION
Recognize yourself first. Do not seek recognition and validation from anyone outside of God (a higher power) and yourself. Judge the situation accordingly, but sometimes, do not even seek validation from your parents, close family, and friends. Your inner voice and self-recognition have to be louder than anyone else.
5. BRAVE GOALS
Develop the confidence to accomplish your big goals. Visualize where you want to be even if no one else sees it for you.
6. PLAN AND TAKE ACTION
There's a difference between dreamer and doers. Take action steps to move towards your goals. Depart from anything that is a time-filler or that does not contribute to your ultimate goal.
BONUS
Forgiveness is a powerful key to attract your personal success. It's apart of the process, and trauma can sometimes block us from our future. It can sometimes be difficult and takes time, but it is one of the ultimate keys.
Your mother and father gave you life with the help of the creator. This gives you the opportunity to serve your purpose. Be sure to check out more goals and manifestation tips at @Chupcoco on Instagram. A free Goal Manifestation Guide awaits you.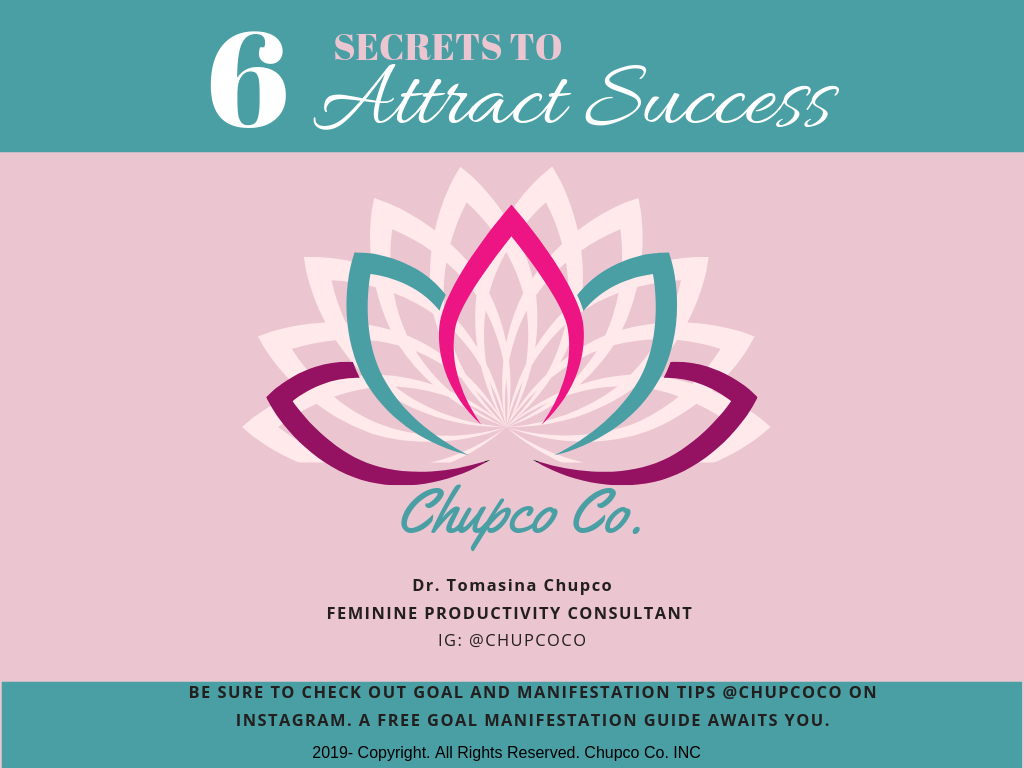 Photo: Dr. Tomasina Chupco
---
Ready. Set. Boss. Our daily email is pouring out inspiration with the latest #BlackGirlBossUp moments, tips on hair, beauty and lifestyle to get you on track to a better you! Sign up today.