Every Christmas dinner celebration with the fam needs a delicious end, right? You can go for cookies, fudge, a pie, maybe truffles, or whatever else your heart desires, as long as your holiday meal ends with an amazing dessert.
Whether this year's dinner celebration is at your place or you're returning to Grandma's house, these holiday desserts are sure to impress your loved ones at first glance and in taste.
CHRISTMAS WREATH COOKIES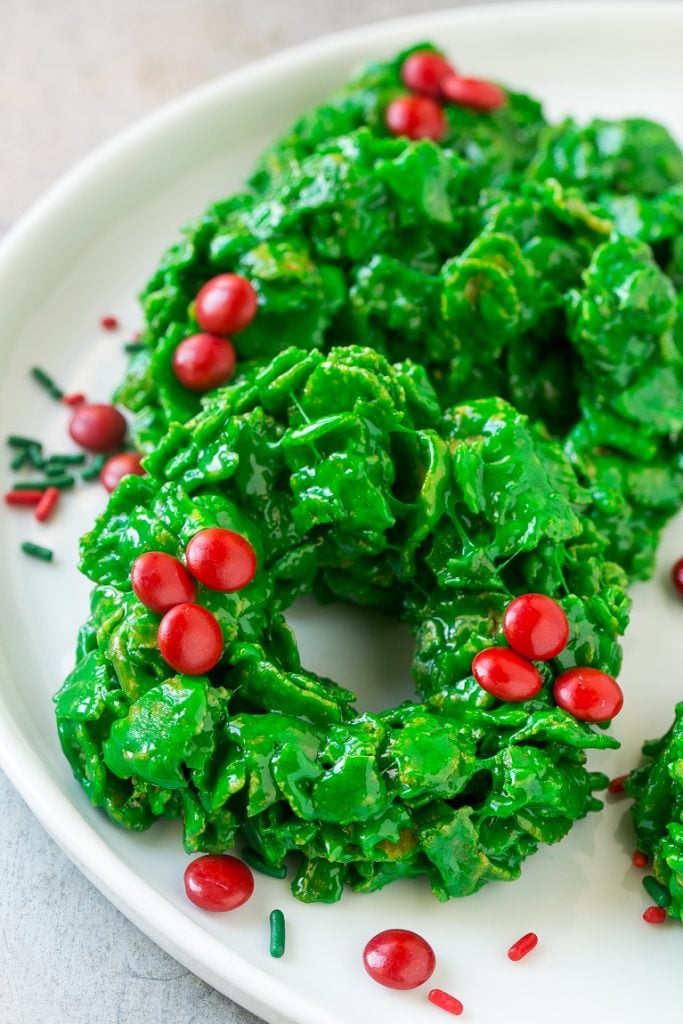 Photo & Recipe: Dinner At The Zoo
Ingredients
– 1 stick of butter (1/2 cup)
– 30 large marshmallows
– 6 Teaspoons Drops of Green Gel Food coloring
– 1/2 Teaspoon Vanilla Extract
– 5 Cups Cornflakes
– 1/2 Cup Red Mini M&M's
– Cooking spray
Directions
1. Line a sheet pan with parchment paper or a silicone baking mat.
2. Place the marshmallows and butter in a large bowl. Microwave in 30-second increments until melted.
3. Add the green food coloring and vanilla; stir until the marshmallow mixture is smooth.
4. Add the cornflakes to the bowl and gently stir to coat the cereal evenly with the marshmallow mixture.
5. Pack the mixture into a greased 1/4 cup measuring cup and turn out onto the sheet pan. Use your fingers to make a hole in the middle to form a wreath shape and decorate with red candies. It's easiest to form the wreath holes if your fingers are damp or coated in cooking spray.
6. Cool completely until firm and serve!
PEPPERMINT OREO TRUFFLES
Photo & Recipe: Sweetest Menu
Ingredients
– 25 Plain Oreo Cookies
– 1/2 cup Full Fat Cream Cheese
– 1/2 Teaspoon Peppermint Extract
– 1 and 1/3 Cup Dark Chocolate
– 3 Peppermint Candy Cane
Directions
1. Line a baking tray with baking paper. Crush your candy canes using a mortar and pestle or similar.
2. Add Oreo cookies to a food processor and whiz until they turn to fine crumbs. Add cream cheese and peppermint essence whiz again. The mixture should start to stick together.
3. Roll small teaspoons of the mixture into balls using your hands and place onto prepared tray. Place in the fridge for 30 minutes to chill.
4. Meanwhile, melt chocolate in the microwave, stirring every 20 seconds, until smooth.
5. One at a time, dip the balls into the chocolate and gently remove using a fork. Shake off the excess chocolate and place back onto the tray. Sprinkle each truffle with crushed candy cane.
6. Once the truffles are done, pop them back into the fridge for 30 minutes to set.
Chewy sugar cookies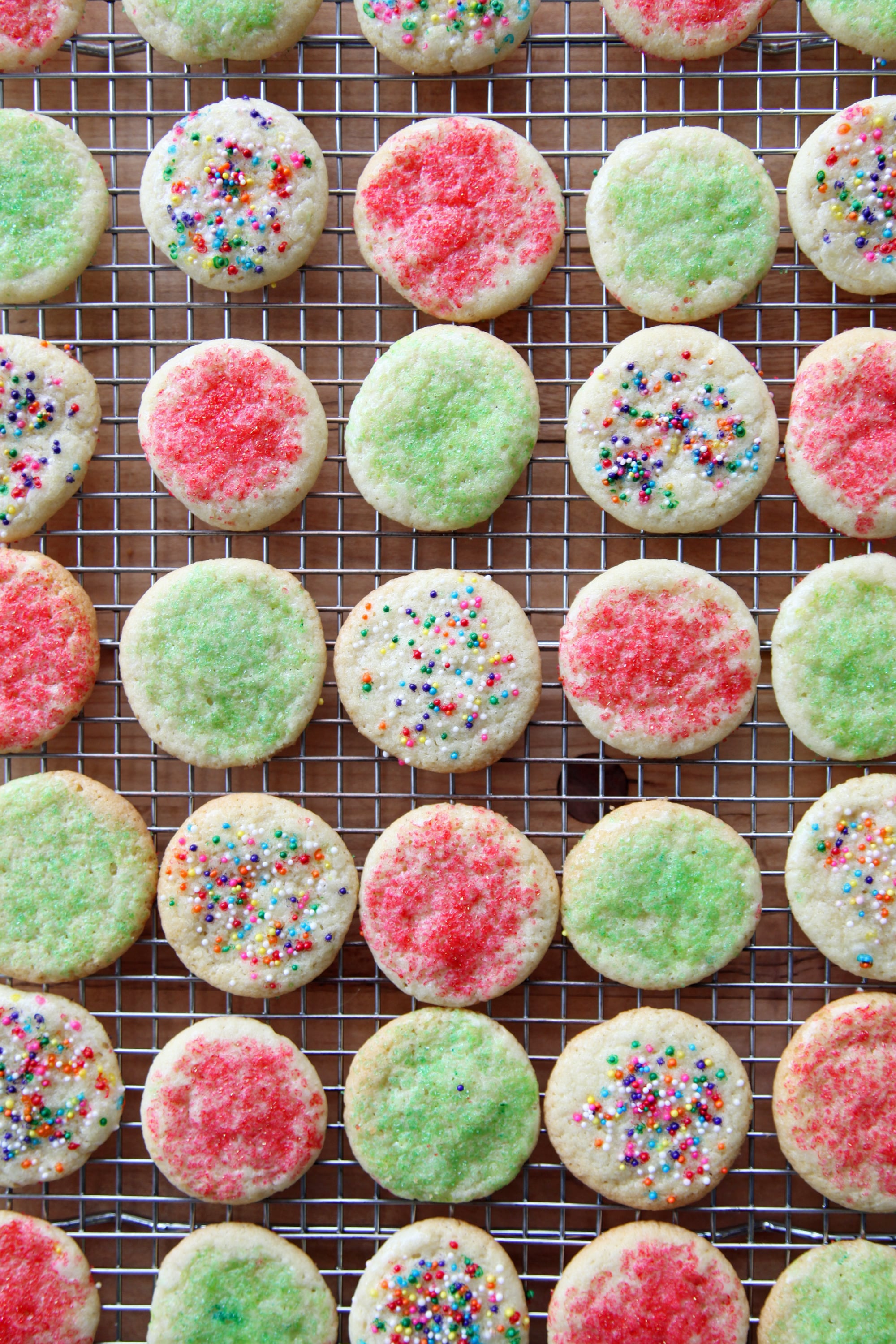 Photo & Recipe: Popsugar
Ingredients
– 2 3/4 Cups All-Purpose Flour
– 1 Teaspoon Baking Soda
– 1/2 Teaspoon Baking Powder
– 3/4 Teaspoon Kosher Salt
– 2 Sticks Softened Butter
– 1 1/2 Cups White Sugar
– 1 Large Egg
– 1 Teaspoon Vanilla Extract
– 3 to 4 Tablespoons Buttermilk, Plus More For Brushing Cookies With
– Sprinkles or Colored Sugar For Decorating
Directions
1. Preheat oven to 375°F.
2. In a small bowl, stir together flour, baking soda, baking powder, and salt.
3. In a large bowl, cream together butter and sugar until light and fluffy. Beat in the egg and vanilla. Gradually blend in dry ingredients. Add enough of the buttermilk to moisten the dough and make it soft, not wet.
4. Roll rounded teaspoons of dough into balls, and arrange them on an ungreased cookie sheet, 20 cookies to a cookie sheet (they will spread considerably). With a pastry brush, moisten the top of each cookie with buttermilk, and slightly flatten the top of each cookie.
5. Sprinkle with colored sprinkles.
6. Bake for 8 to 10 minutes or until just barely golden at the edges. Let stand for 2 minutes before carefully removing to cool on a rack.
Gingerbread Flan
Photo & Recipe: Dessert For Two
Ingredients
– 3 Tablespoons Granulated Sugar
– 1 Large Egg + 1 Large Egg Yolk
– 1/2 Cup Half and Half
– 2 Tablespoons Molasses (not blackstrap)
– 1/4 Teaspoon Ground Ginger
– 1/4 Teaspoon Ground Cinnamon
– Dash of Ground Cloves
– Dash of Freshly Grated Nutmeg
– 1/4 Teaspoon Vanilla Extract
Directions
1. First, preheat the oven to 325. Have ready 2 6-ounce ramekins and 1 8" square baking dish, preferably made of ceramic or a heavy material (not metal).
2. In a small saucepan, add the granulated sugar. Cover the pot, and turn the heat to high. After 2 minutes, remove the lid and tilt the sugar gently to help it melt. Set the pan back on the heat and monitor it until all the sugar melts and turns an amber color. Keep a close eye on it–it goes from caramel to burnt very quickly It should take 5-7 minutes.
3. Once the caramel is amber colored, immediately pour it into two awaiting 6-ounce custard ramekins. It will harden immediately.
4. Next, whisk together the whole egg, egg yolk, half and half, molasses, spices and vanilla extract. Whisk it well, but you don't want to create too many bubbles. Let the custard set for a few minutes if too many bubbles appear.
5. Next, strain the mixture into a glass measuring cup with a pour spout. Gently pop any bubbles on the surface, or let it set until most of the bubbles pop.
6. Pour the custard mixture over the caramel in the ramekins.
7. Set the ramekins in the baking dish.
8. Turn the sink tap to HOT, and carefully pour 3 cups of hot tap water in the baking dish. It should come half way up the sides of the ramekins.
9. Bake the custards for 33-36 minutes. The edges will set, and the middles will be ever-so-slightly jiggly. Jiggly like jello, not like milk.
10. Let the ramekins cool in the water bath for 10 minutes, and then wrap them in plastic wrap and refrigerate overnight. The longer the custards sits, the softer the caramel will get so it easily pours over the plate when un-molded.
11. When ready to serve,run a thin knife around the edge of the ramekins. Quickly turn the ramekin upside down on the plate. Let it sit for a few minutes. If caramel doesn't begin to run out, gently use a knife to pry the custard out.
12. Serve chilled.
Sister Pie's Salted Maple Pie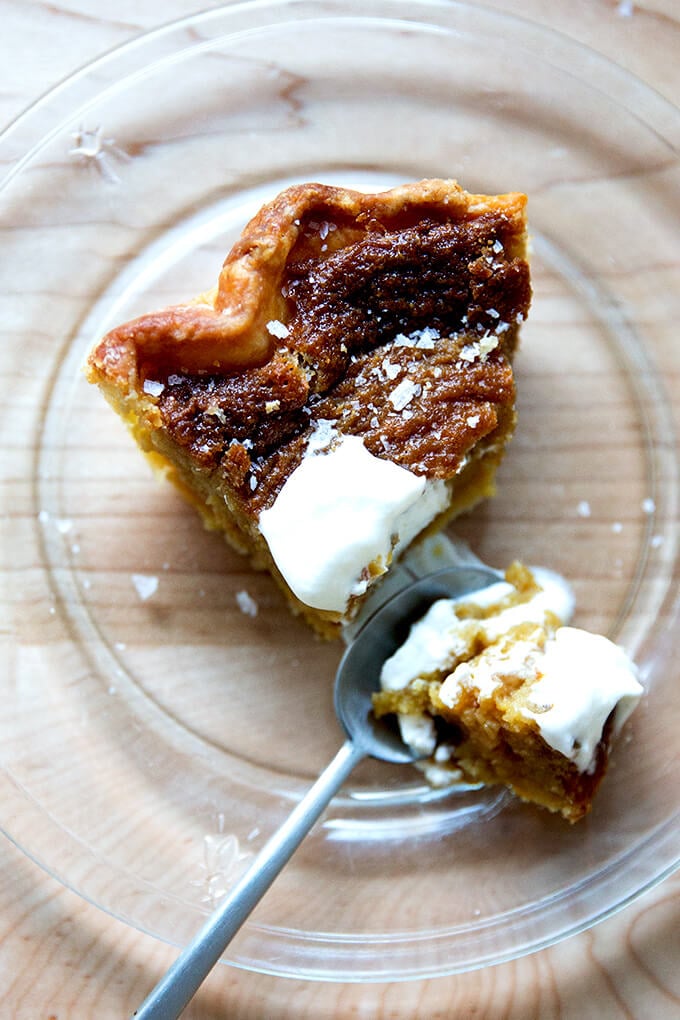 Photo & Recipe: Alexandra's Kitchen
Ingredients
– 1 Round Pie Dough, Rolled Out to 11-12 inches
– 1⁄2 Cup plus 2 Tablespoons (1 1⁄4 sticks) Unsalted Butter, Melted and Cooled
– 1 Cup Maple Syrup
– 3⁄4 Cup Packed Light Brown Sugar
– 1⁄4 Cup Fine Yellow Cornmeal
– Heaping 1⁄4 Teaspoon Kosher Salt
– 3 Large Eggs
– 1 Large Egg Yolk
– 3⁄4 Cup Heavy Cream
– 1 1⁄4 Teaspoons Pure Vanilla Extract
– Flaky Sea Salt
– 1 Cup Heavy Cream
– Sugar
Directions
1. Preheat your oven to 350°F. Fit the rolled out pie round into a 9-inch pie plate. See video guidance for trimming the excess dough and crimping it to make a nice fluted edge: in sum, trim excess dough, fold edge back and underneath, pinch to create the fluted edge.
2. Make the filling: In a medium bowl, combine the melted butter and maple syrup. Whisk in the brown sugar, cornmeal, and kosher salt.
3. Crack the eggs and yolk into another medium bowl. Add the cream and vanilla and whisk until combined.
4. Slowly pour the egg mixture into the maple mixture and whisk just until combined.
5. Place the pie plate on a parchment-lined baking sheet. Pour the filling into the pie shell.
6. Transfer the baking sheet with the pie on it to the oven and bake for 45 minutes to 1 hour, until the edges are puffed and the center jiggles only slightly when shaken. It will continue to set as it cools.
7. Remove the baking sheet from the oven and transfer the pie to a wire rack to cool for 4 to 6 hours. Once fully cooled and at room temperature, sprinkle generously with flaky sea salt, slice, and serve.
8. To make the whipped cream, beat the heavy cream with a wire whip or in an electric mixer until soft peaks begin to form. Sprinkle in a small handful of sugar and a pinch of sea salt and beat until peaks begin to get firmer. Taste. Add more sugar and salt to taste. Beat until peaks begin to hold their shape or until they reach a texture you like — I like billowy, not-quite-stiff peaks. Store in fridge until ready to serve.
9. Store leftover pie, well wrapped in plastic wrap or under a pie dome, at room temperature for up to 3 days.
CANDY CANE FUDGE
Photo & Recipe: Cookies and Cups
Ingredients
– 3 Cups White Chocolate Chips
– 1 (14- ounce) Can Sweetened Condensed Milk
– 1/2 Teaspoon Peppermint Extract
– 1 1/2 Cups Crushed Candy Canes
– 2 Drops Red Food Coloring
Directions
1. Line an 8×8 dish with foil and coat lightly with nonstick spray. Set aside.
2. In a heat-safe bowl placed over a pot of simmering water melt the white chips and sweetened condensed milk together, stirring very frequently. Remove from over the heat when the chips are just melted. Stir in the peppermint extract until combined, and then stir in the candy canes.
3. Add a drop or two of red food coloring and swirl it through.
4. Press the mixture into the prepared pan and chill for 2 hours until set.
5. Cut into pieces.
6. Store airtight at room temperature for up to 5 days.
Chocolate Wafers with Ginger, Fennel and Sea Salt
Photo & Recipe: Food and Wine
Ingredients
– 1 1/2 Teaspoons Fennel Seeds
– 1/4 Teaspoon Sugar
– 7 Ounces Bittersweet Chocolate, Chopped
– 16 Wafer-Thin Crispbreads, such as Finn Crisp (1 1/2-by-3 inches)
– 2 Tablespoons Minced Crystallized Ginger
– Maldon Sea Salt
Directions
1. Line a baking sheet with parchment paper.
2. In a small skillet, toast the fennel seeds over moderate heat until fragrant, about 2 minutes.
3. Add the sugar and cook, stirring frequently, until the sugar is melted and coats the seeds, about 15 seconds.
4. Scrape the candied fennel seeds onto a plate and let cool. Crumble any clumps to separate the seeds.
5. Put the chocolate into a microwave-safe bowl and microwave in 30-second bursts until almost melted.
6. Stir the chocolate until completely melted and an instant-read thermometer inserted in it registers 90°F.
7. Working very quickly, dip a crispbread in the chocolate and use an offset spatula to spread the chocolate in a very thin layer so it completely coats the crispbread.
8. Transfer to the prepared baking sheet and sprinkle with some of the fennel seeds, ginger and sea salt.
9. Repeat with the remaining crispbreads, chocolate and toppings.
10. Refrigerate the chocolate-covered crispbreads until just set, about 5 minutes.
11. Serve!
---
Ready. Set. Boss. Our daily email is pouring out inspiration with the latest #BlackGirlBossUp moments, tips on hair, beauty and lifestyle to get you on track to a better you! Sign up today.