A long distance relationship is a true test for any relationship, including your friendships. Long distance friendships are some of the strongest due to the effort each person has to put in to maintain it rather than let it wither away.
Life can pull each of us into so many directions as we grow. But despite the many distractions and responsibilities we manage on a daily basis, making time for our friends is vital to our work-life balance.
If you feel you and a close friend drifting apart, or are looking for some ways to spend time with your long-distance bestie, here are 8 ways you can strengthen your friendships no matter how far apart you are.
1. Take A Girls Trip
GIF: Giphy
Taking a much-needed vacation with your girl gang is always a great way to relieve stress. No one knows you better than your best friend and if it's been a while since you've hung out, then a getaway is the perfect choice to help you catch up on all the tea you've been holding in. Finding an affordable vacation is now easier than ever with apps like Hopper and Skyscanner, or you can just buy some tickets to an upcoming music festival and let the adventure begin. The trip will bring you and your friend closer together and provide new memories you both can laugh at in the future.
2. Go Visit Your Bestie
GIF: Giphy
Give yourself a break from your city and go visit your BFF. Taking a mini-vacay to go spend time with your bestie allows you to travel and enjoy a different city while turning up with your friend. It also gives your friend a reason to plan a weekend of fun-filled events. That way you get a true vacation experience without the hassle of spending money on a hotel. Your bestie's couch will do you just fine!
3. Send Them Gifts
GIF: Giphy
If you and your BFF don't already send each other birthday and Christmas gifts, you should start. It's one of the sincerest ways of showing someone you care about them and are thinking of them no matter the distance. There are so many affordable options to gifting including fashion, home decor, or even a gift card. You're already a boss, so allocate a couple of your hard earned dollars to buy something nice for your friend. Maybe even surprise her with a gift just because you love her! That will surely keep your friendship intact despite how far apart you two live.
4. Call Instead of Text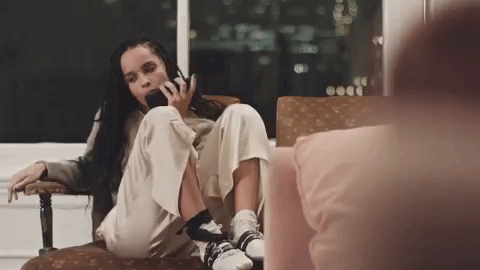 GIF: GIphy
Many of us millennials often forget the value behind a personal phone call. We can get so caught up with texting, DMing, and WhatsApping that we lose track of the last time we actually heard our friends voice. Your friend might not reveal everything they're stressing over through text. But a good phone session will give both of you the open space you need to speak more openly and honestly. So pick up the phone and call your bestie. She misses the sound of your voice.
5. Communicate In New Ways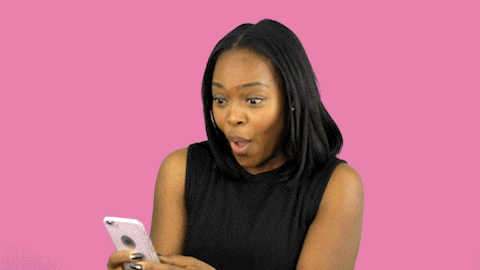 As technology continues to grow and expand, so do the forms of communication. Whether you schedule weekly Google hangouts, Facebook video chats, or FaceTime sessions, or choose to start your own BFF Live session on Instagram or Facebook, there are plenty of ways for you and your bestie to stay connected. Figure out what forms of communication work best for both of you and stick to it. It's 2019 and technology is on your side. So there is no reason you can't make time to speak to your long distance friends.
6. Check Their Social Media
GIF: Giphy
Social media provides all the tools you need to stay on top of your friends. Checking your friend's social media is a great conversation starter and the perfect way to stay in the know of your friend's major life events. If they share that they started a new job, congratulate them and ask them how their first day was. Did they recently attend a concert? Check their Facebook/Instagram Story and comment on some of the videos.
Maybe you'll even find that your friend has been posting some somber quotes and memes and you're picking up on cryptic energy. Reaching out to them to see how they're doing might give them the reassurance they need to know that they're loved and cared for.
Engaging with your long distance friends on social media lets them know that you care and are still involved with their life despite the distance between you. It's okay to stalk your friends online when it's out of genuine love.
7. Discuss Books, TV Shows, & Movies Together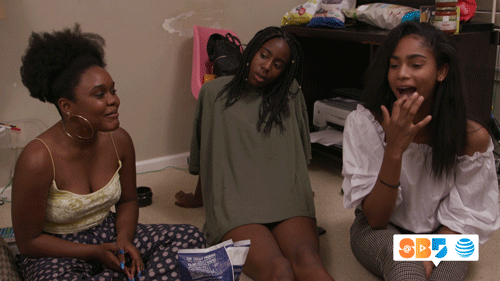 GIF: Giphy
You don't have to watch your favorite shows alone. Your bestie is the perfect person to review entertainment with. You can start your own book club or conduct your own movie and TV reviews together. This will keep you and your long distance friends speaking on a regular basis, especially if you're doing weekly reviews on your favorite TV shows.
8. Tell Them How Much You Care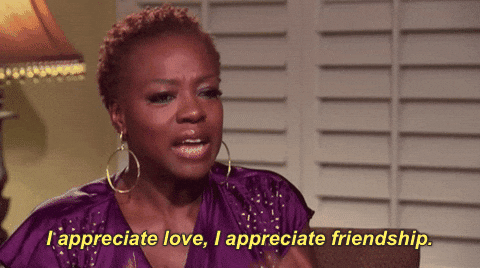 GIF: Giphy
There's nothing like being reminded of how much someone cares for you. Simply reaching out to your friend to tell them how much you miss them will surely put a smile on their face. If you're feeling neglected by your friend, send them a text telling them how lonely you feel. Be honest about your feelings. Don't hold back, especially with someone you consider a close friend.
Summary
If these eight tips resonated with you, then it might be time to start planning some quality time with your BFF. She misses you and you definitely miss her. A solid friendship is too valuable to let go. Do your part at keeping your friendships strong and intact.
---
Ready. Set. Boss. Our daily email is pouring out inspiration with the latest #BlackGirlBossUp moments, tips on hair, beauty and lifestyle to get you on track to a better you! Sign up today.