Queen Bey has spoken, ladies: Ivy Park is coming back! In a groundbreaking move for the athleisure industry, Beyoncé has teamed up with Adidas to develop new signature footwear and apparel. "This is the partnership of a lifetime for me," Beyoncé stated in a press release. "Adidas has had tremendous success in pushing creative boundaries. We share a philosophy that puts creativity, growth and social responsibility at the forefront of business. I look forward to re-launching and expanding Ivy Park on a truly global scale with a proven, dynamic leader."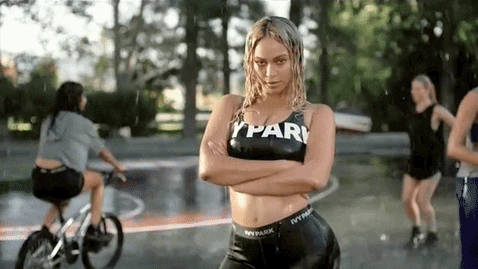 GIF: Giphy
This deal marks Beyoncé's first step into the footwear market. Before partnering with Adidas, Bey co-founded her activewear brand, Ivy Park in 2016, with former partner Philip Green. Last November, Bey cut ties with Green after being accused of sexual harassment — resulting in the songstress taking full ownership of Ivy Park. Adidas fully respects Beyoncé's ownership, and reports that Bey will retain complete ownership of Ivy Park as she continues "her journey as one of the first Black women to be the sole owner of an athleisure brand." Dope AF!
There's no news (yet) when the new Ivy Park and Adidas gear will be released, but the Beyhive is already hard at work generating revenue! According to The Fashion Law, Adidas stocks have already "rose by 1.35 percent immediately after the announcement." Big mood, sis. That's how we support our own!
We're super excited to see what comes out of this partnership. Stay tuned for more details from this story.
---
Ready. Set. Boss. Our daily email is pouring out inspiration with the latest #BlackGirlBossUp moments, tips on hair, beauty and lifestyle to get you on track to a better you! Sign up today.