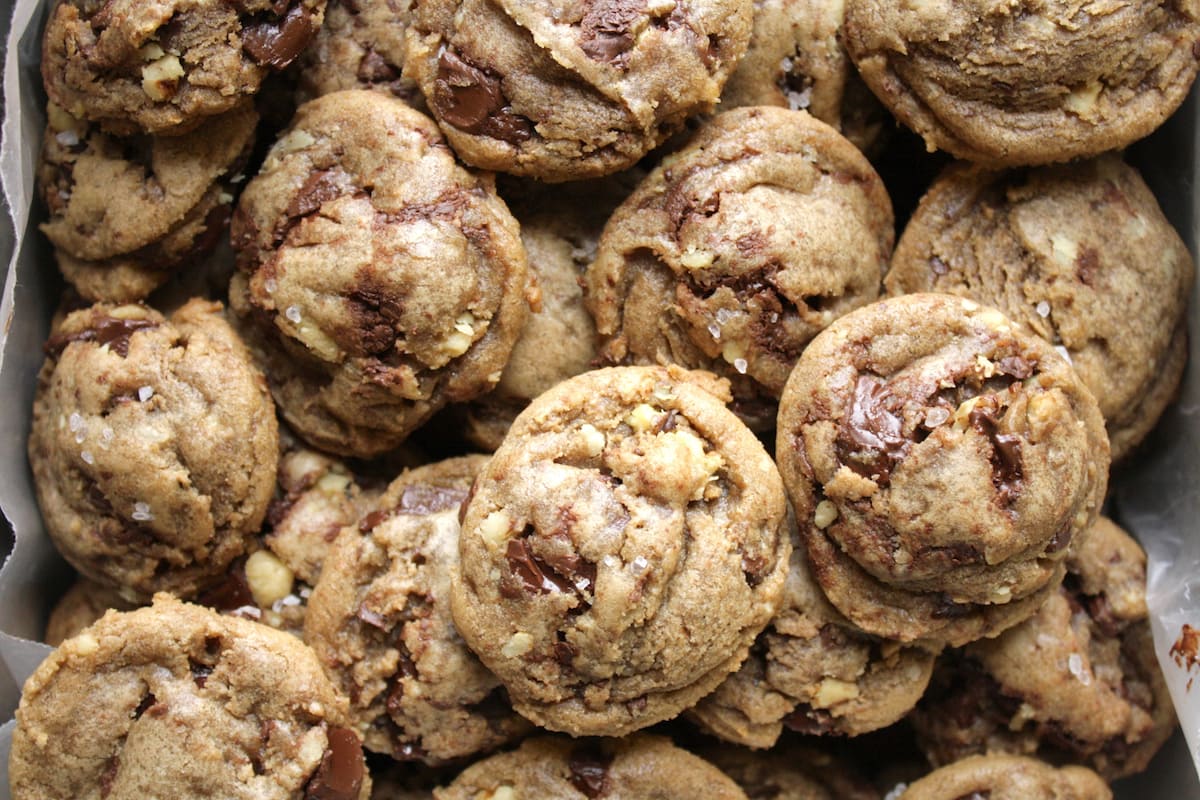 Photo: The Hungry Hutch
Last winter, I decided to revisit my beloved
chocolate chip cookie recipe
and turn it up a notch. I started by browning the butter to add a flavor that is unparalleled in desserts.
Brown butter also brings a nuttiness, which is enhanced here by hazelnut liqueur and chopped walnuts. Last but not least is a sprinkle of sea salt to round everything out and bring it over the top. The salty-sweet combo is one of my favorites! As in my base recipe, the ingredients are listed by weight and my trusty
OXO food scale
was put to good use. (If you are serious about baking, then I highly encourage you to invest in a food scale. If not, here's an
online conversion tool
for you to use.) This recipe makes a relatively large batch, so consider cutting it in half if you don't want to be tempted to eat 60 cookies by yourself. I wouldn't judge, but they're also great for sharing.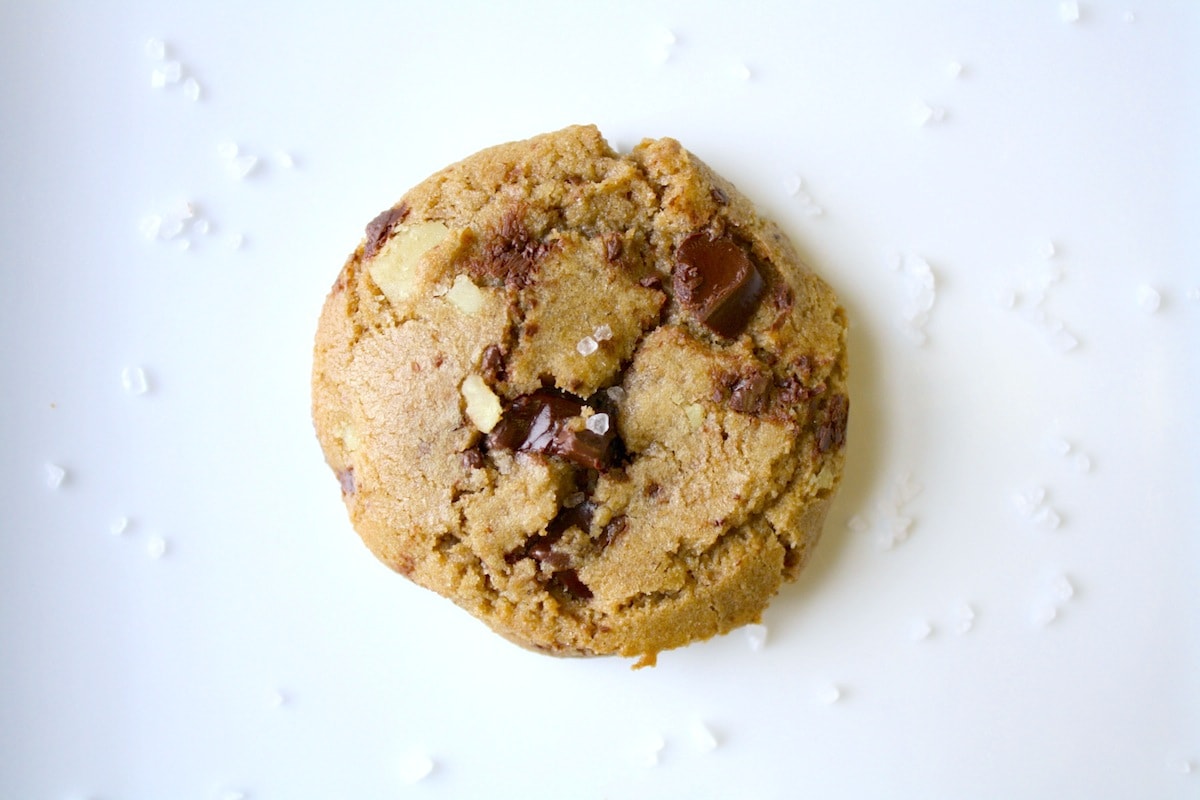 Photo: The Hungry Hutch
Ingredients:
(yields approx. 5 dozen cookies)
1/2 lb. unsalted butter
1 lb. (dark) brown sugar
1/2 lb. white sugar
2 eggs
1 tbsp. hazelnut liqueur (vanilla extract would also work)
13 1/4 oz. all-purpose flour
1/4 oz. salt
1/4 oz. baking powder
12 oz. bag semisweet chocolate chunks
4 oz. walnut pieces
sea salt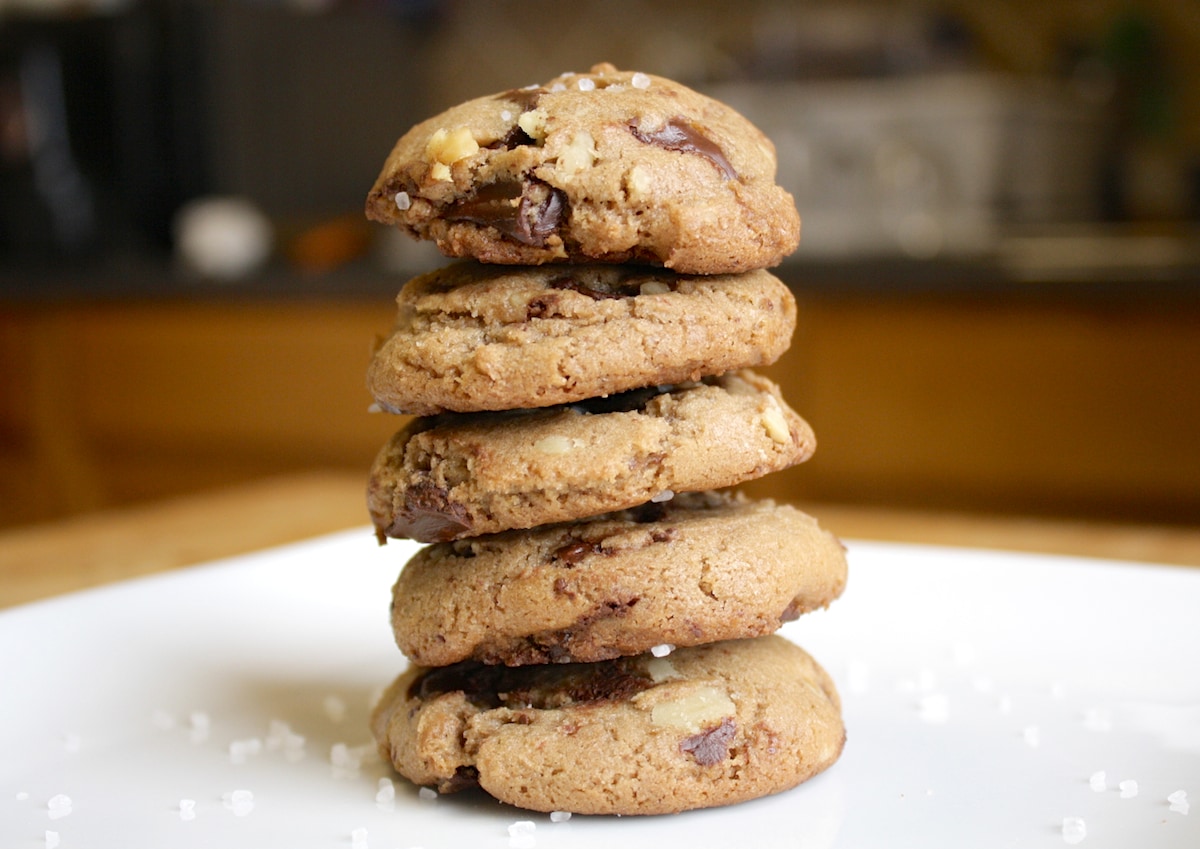 Photo: The Hungry Hutch
Procedure:
Make brown butter. You can watch this video from America's Test Kitchen to get a visual for these instructions. Place butter in a skillet over medium heat. Constantly stir until butter foams up and starts to darken. It starts to smell like popcorn when it's about done. Remove butter from pan immediately once it reaches the desired color or else it will keep cooking and can burn. Set aside to cool slightly.
Combine butter and sugars until evenly incorporated. (Yes, you can do this while it's melted.) Add in the eggs and liqueur next. Be sure to scrape down the sides of the bowl to make sure it all gets mixed in.
Combine all of dry ingredients (flour, salt, and baking powder) in a bowl. On low speed, add to the butter-sugar-egg mixture. Lastly, mix in the chocolate and walnuts until evenly distributed. At this point you can either refrigerate the dough overnight for richer flavors or move right along to baking. If you do wait, let the dough come to room temperature for about an hour or so for easier scooping.
Preheat the oven to 350˚F.
Scoop dough onto a lined cookie sheet and sprinkle with sea salt. Bake for 10-11 minutes. Let cool on the cookie sheet for a couple of minutes before transferring to a rack to finish cooling completely.
This post was originally published on The Hungry Hutch.