If you're a regular reader of The Hungry Hutch then I'm sure you're well aware of my sometimes purely carnivorous tendencies. But I've been known to make meatless dishes before and I'm always up for a challenge. Personally, one vegetarian dish that I love and never even miss the meat in is a good black bean burger. For my black bean burger recipe, I add in some end-of-the-season corn for a little sweetness and added texture. In my eyes, the combination of corn and black beans can't be beat for their balance of sugar, salt and earthiness. As a side, I used delicata squash to make "fries" as an alternative to potatoes. One buying tip is to avoid produce with a wax coating, which you are likely to find in your general grocery store. But you can always just peel it off before cooking if that's all you can find (or don't feel like going to another store that day). The meal gets rounded out with spiced lime Greek yogurt sauce that pulls double duty as a condiment for the burger and as a dip for the fries. Ingredients:
2 medium sized delicata squash
vegetable oil
salt
ground black pepper
1 15.5 oz can black beans, drained and rinsed
1 ear corn
1 egg
1/4 cup breadcrumbs
1 tbsp. + 1/2 tsp. ground cumin
1 cup Greek yogurt
1 lime, juiced
1/4 tsp. cayenne pepper
2 burger buns
Tools:
sheet tray
mixing bowls
sauté pan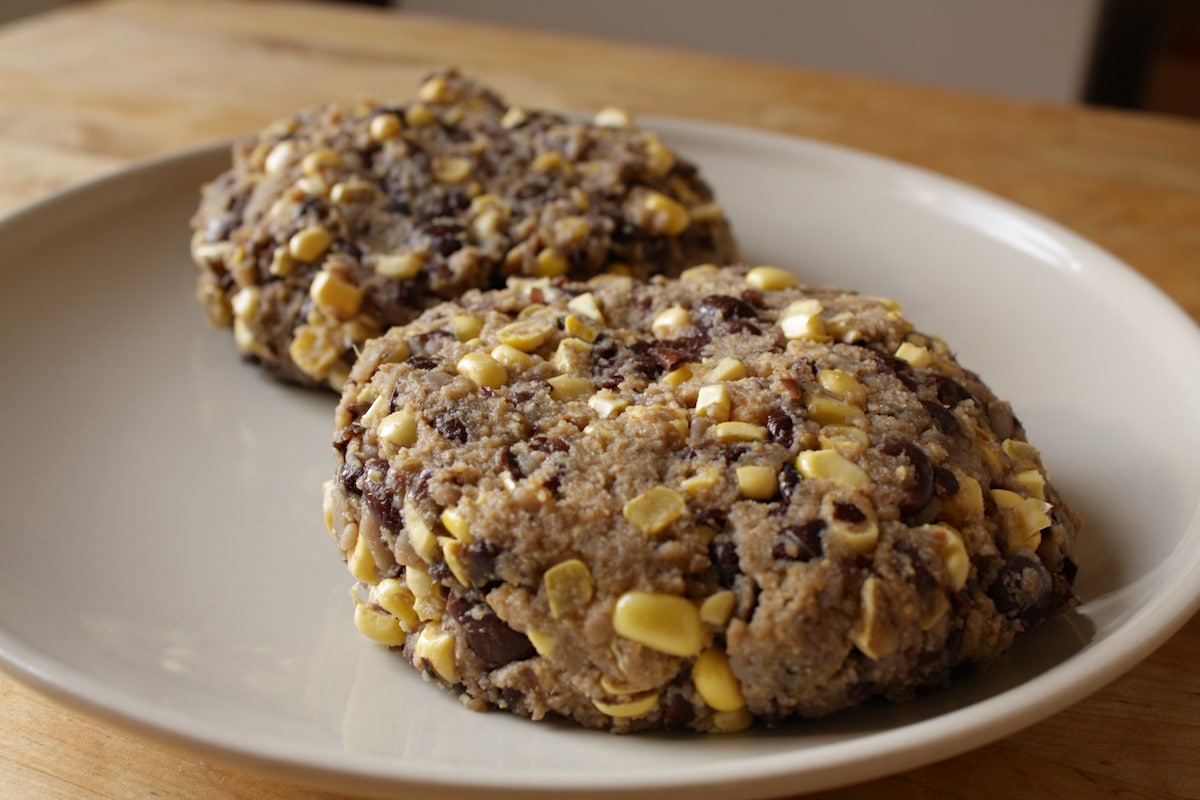 Photo: The Hungry Hutch
Procedure:
1. Preheat oven to 450˚F.
2. Trim tops and bottoms off of squash. Cut in half lengthwise and remove seeds with OXO fruit scoop. Cut into sticks. Toss with 3 Tbsps. oil, 1 Tbsp. salt, and 1 tsp. black pepper. Lay out evenly on a sheet tray and roast in the oven for 15 minutes.
3. Lightly mash the beans with a fork, leaving some whole. Peel corn directly into bowl, and add egg, breadcrumbs, 1 tsp. salt, 1/2 tsp. black pepper, and 1 Tbsp. cumin. Thoroughly mix and form into patties. Let rest in the refrigerator for 5-10 minutes, or until you need them. (Allowing the patties to rest helps them retain their shape and keep from falling apart.)
4. For the sauce, whisk together yogurt with lime juice, cayenne pepper, and 1/2 tsp. cumin.
5. To cook the burgers, heat 2 Tbsps. oil in a (preferably non-stick) sauté pan over medium heat. Cook 2-3 minutes per side until nicely browned.
6. Assemble burgers, plate up fries, grab your sauce, and you're ready to go!