When you were a younger, what was your dream job? Was it to become a doctor or a teacher or an artist or a businesswoman? Who did you look up to in your field of interest? Can you remember her name or what she looked like or how she made you feel when you saw her living your dream? With all that in mind, can you imagine if you were given the opportunity to meet her? What would that moment have done for you?
Refinery29 recently invited four black girls to meet four black women working in their field of interest and ultimately living the young ladies' dreams IRL.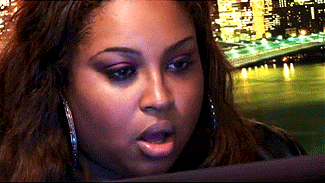 PHOTO: Giphy
The pairings include: Sydelle Noel, actress in Netflix's GLOW, and Paris Pristell-Clark, a 13-year-old aspiring actress; Chiney Ogwumike, WNBA star, and Nevaeh Moore, an aspiring 11-year-old pro; Moshoodat Sanni, makeup artist, and Mathilda Bruny, 18-year-old high-school grad; and Dr. Catherine Adams, psychologist, and Sandy Jacquet, a 16-year-old clinical psychologist to-be.
Each established woman and her mini shared how what they do/want to do shapes their lives and why it is important to them. Here are some motivational quotes from the ladies to raise your spirits and remind you why you should never give up on your dreams:

PHOTO: Refinery29
"I feel like when I perform, people start liking me, and it doesn't matter what I look like… Being a Black girl means to be strong and be clever; a girl who accepts herself for who she is, and who tries to make her dreams come true." – Paris Pristell-Clark
"I basically want to be the female version of The Rock. Right now, we don't have an African-American female that you can go to and say, 'She's my action hero.' I want to break the barrier… Be yourself — because yourself is unique and it's enough." – Sydelle Noel

PHOTO: Refinery29
"I enjoy sharing my dream. For people that don't know what they want to be yet, it might just show them what they want to be." – Nevaeh Moore
"Sometimes as a professional athlete, people try to define you by your last game or your statistics. That's just one portion of who you are. I'm passionate about my heritage. I'm not just a statistic. I'm a girl with a voice." – Chiney Ogwumike

PHOTO: Refinery29
"When I started telling people I want to do makeup, a lot of them said, 'Oh, it's really hard to get into…' But when I have a passion about something, I don't give up on it. Dreaming is what makes you, you." – Mathilda Bruny
"Sometimes in life, you've got to see what is worth fighting for. Makeup was one of those things for me… First you learn the rules, then you break the rules, then you add rules." – Moshoodat Sanni

PHOTO: Refinery29
"I enjoy helping people, listening to their stories, helping them with their struggles, and helping them to be confident in themselves even when they're feeling low… Having a dream is important because you have something to look up to; you have something to support you." – Sandy Jacquet
"To be able to talk to someone who has been there, done that, is something I never really had… People tend to underestimate themselves, but you never really know what you can do unless you try." – Dr. Catherine Adams
To read more about the ladies above and their #blackgirl magic click here!
Ready. Set. Boss. Our daily email is pouring out inspiration with the latest #BlackGirlBossUp moments, tips on hair, beauty and lifestyle to get you on track to a better you! Sign up today.