Growing up as a kid, I used to be quite wary of brushes. But when I first started brushing my naturally curly hair, the knots that I thought were permanent residents in my strands vanished almost immediately, all because I began using the right brush for my hair type.
And I know I am not the only one struggling with this. Over the years, I have had so many friends complain about having to wear a slicked-back bun or high pony all because they don't know the proper way to brush, blow-dry, or style their natural, textured curls.
Detangling thick curly tresses is arguably one of the most painful parts of caring for our natural hair. In fact, I'm sure we have all experienced, at one point or another, those rough childhood moments of resting in between our mother's legs as she tugged through our hair, which often ended in tears and a sensitive scalp to match. But don't fret, sis. If you have the right products and lots of patience, detangling should become second nature to you.
Here are five brushes to help get you started on that natural hair care journey:
Photo: Naturally Curly
Try this brush to help detangle and un-clump those curls. The Flexy Brush has soft, elastic silicone bristles for sensitive heads and stubborn tangles. Another cool feature? It helps to exfoliate the scalp while detangling stimulates blood circulation and minimizes hair loss. According to the site, it can be used on wigs, extensions and natural hair types.


Photo: Beauty of New York
Sometimes thicker, coarse hair needs a traditional boar-bristle brush to help detangle and refresh. Let your natural texture shine through without damaging it from styling tools with this Aqua brush. Trust me, it will hold up against your healthy locks.
Photo: ULTA Beauty
This product was created specifically to be used on wet hair alone and is a great one to keep on hand when detangling in the shower. Plus, the bristles have tiny balls that are mini detanglers as well, making this a double-duty product.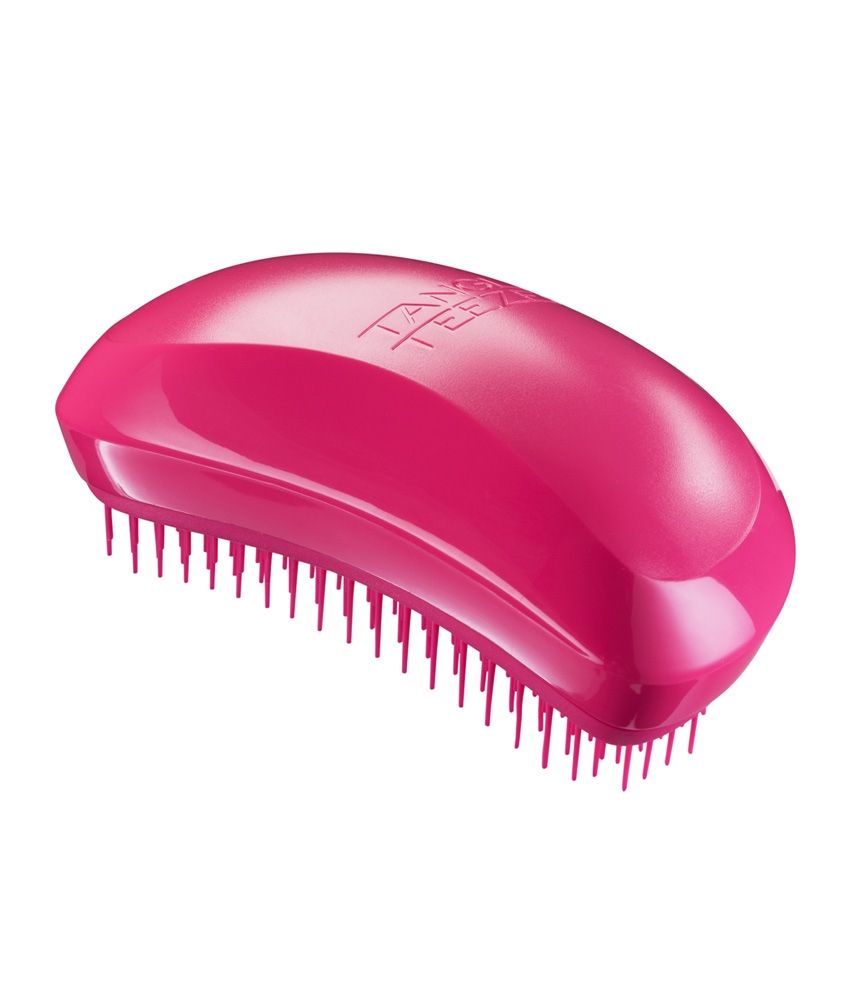 Photo: Tangle Teezer
This palm-shaped brush consists of two tiers of bristles which aid in providing smooth hair cuticles, reduction of frizz and minimized hair breakage. Not to mention, it's compact —which means it's great for traveling #BossBabes on the go.
Photo: Denman
Hailed as a holy grail for many natural hair types, this brush can add definition and help detangle hair when wet. This brush is made with nylon pins and an anti-static rubber pad it's great for combing through knots and tangles with ease.
If you need additional ideas to help detangle, we got you covered, sis. Here are a few tips to try when detangling that gorgeous hair of yours:
– Section your hair using clips or bands so that you can focus on one section at a time
– With wet hair, use your fingers to detangle gently. If you have severe knots, try an oil, like coconut oil, before you use the conditioner to help coat the hair
– Always apply a detangler or conditioner to help hydrate your curls to avoid breakage and help run the comb or brush through those curls
– Always start from the ends and slowly begin working section upwards, in parts
Whether you detangle before you apply that shampoo, while you're conditioning, or as part of your styling routine, one of these tools is bound to streamline your detangling process.
---
Ready. Set. Boss. Our daily email is pouring out inspiration with the latest #BlackGirlBossUp moments, tips on hair, beauty and lifestyle to get you on track to a better you! Sign up today.