Our favorite fresh-faced beauty and Scandal gladiator Kerry Washington has just released two palettes with Neutrogena that are sure to enhance your everyday makeup look.
Since 2013, Washington has served as a Neutrogena brand ambassador and creative consultant. She was also very influential in the brand expanding its foundation shades in 2016 to include options for the diverse consumers who use their products. As you might imagine, it was only a matter of time before Washington launched her own palettes.
The Essential Eye Palette consists of five neutral shades with 12-hour coverage and, get this, a built-in primer to help prevent your shadow from smudging and creasing throughout its wear. According to People, Washington was involved in every step of the palette's creation, including perfecting the shades and naming each one. With names like Brilliant, Confident, Flirty, Focused and Powerful, your makeup will not only appear effortless but it will "empower, enhance and highlight your beautiful features so you can own your look." The Essential Eye Palette retails for $12.99 at Ulta exclusively.
The Essential Cheek Palette includes a bronze (Grateful), blush (Captivating) and highlight (Elegant) to add a healthy glow to your face. Not only is it designed to blend evenly over your skin, but its also dermatologist-tested and sure to enhance your natural features without harming your skin. The Essential Cheek Palette retails for $9.99 at Ulta exclusively.
Washington proved that her palettes will not only make your everyday look pop but that the colors are also totally red carpet-approved. Her makeup artist Carola Gonzalez used both palettes to create her fresh and sultry look for the 2018 Vanity Fair Oscar Party (pictured above). The palettes have also made their debut on Scandal.
"It should feel like a bit of luxury in your life, but it shouldn't be hard. That's where the idea of the Essential palettes comes from: It's something that you can put in your purse and know that you've got what you need," Washington told People.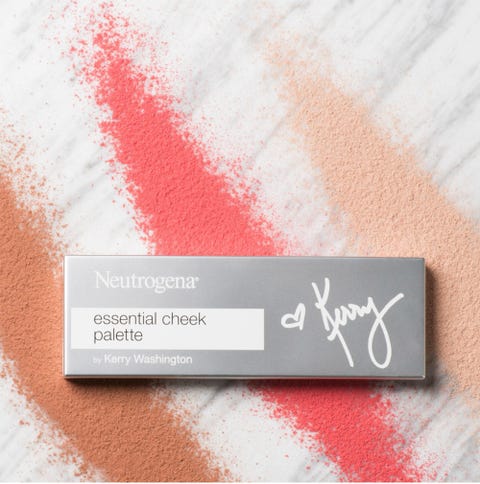 You can order the palettes on Ulta.com or pick them up in person starting on April 22nd.