Searching for an ensemble that embodies practicality, comfort and class? Looking for a top and bottom to throw on and effortlessly command attention in your workplace? Or just searching for a fun way to add a pop of color into your wardrobe? Well, look no further, because all you need is a statement suit.
Women's fashion was forever changed in 1966 when Yves Saint Laurent introduced the "Le Smoking" tuxedo – the first suit for women that featured a classic black design, plaid accents, and satin silk fabric paired with a white collar shirt. The tuxedo's adaption for women came at a time when it was strongly believed "that women should not appear with long pants in public" but the suit challenged the "absurd gender regulations" and supported Saint Laurent's belief that "women should feel empowered by the clothes they choose for themselves."
Over a half a century later and the suit ensemble's popularity has not wavered; so much so, that its coined the name "statement suit." Largely due to its availability in a variety of colors, patterns, textures, and silhouettes. And rightfully so, as they never fail to deliver a fashion moment.
Here are some of our favorite celebrity statement suit looks, if you need some inspiration picking your perfect ensemble.
1. Beyoncé's Sparkly Number for Her First Pregnancy Reveal
We can never forget the iconic pop culture moment when Beyoncé performed "Love On Top" at the 2011 VMAs and opened the jacket of her suit to reveal her growing pregnant belly. The singer wore a pair of black stretchy dress pants and paired it with a sparkling, sequined, purple Dolce and Gabbana blazer, a white button up and black platform heels.
Photograph taken by Kristian Dowling for Getty Images
2. Zendaya Rocks a Barbie Neon Suit
While on a press run to promote the new film Spider-Man: No Way Home, Zendaya rocked a neon pink, double-breasted, matching trouser tailored set from Alexander McQueen. She paired the look with black pumps, and rounded silver hoop earrings – a statement indeed.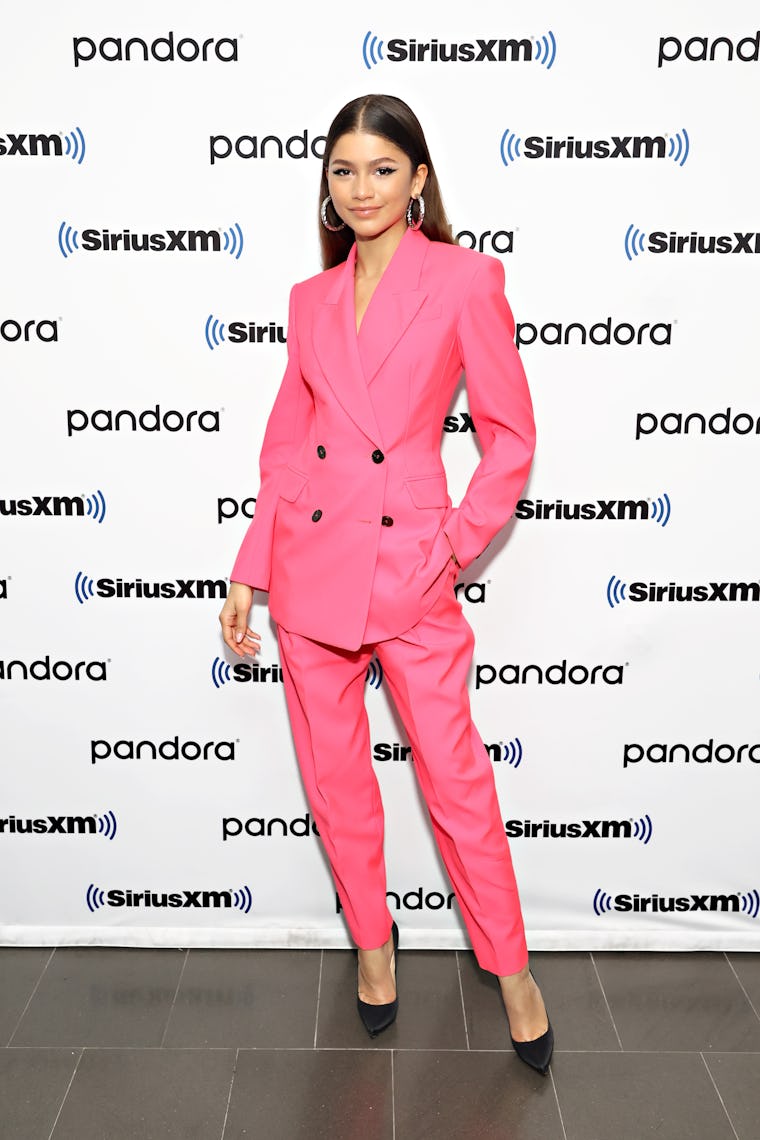 Photograph by Getty Images
3. Lori Harvey Steps Out in Animal Print
Lori Harvey proved that you can never do too much with a statement suit when she rocked a red, sequined, Tom Ford leopard print suit for a night out. She paired the jacket and pants with a black bralette, black heels and black Hermes Mini-Kelly crocodile purse. This suit was also rocked by artist, Lil Nas X, who paired it with a black button up, black belt and matching dress shoes.
4. Kelly Rowland Stuns in Gold
Kelly Rowland definitely made a statement when she rocked this stunning gold suit to the premiere of What Men Want in January of 2018. She paired the ensemble with a black top, white heels and diamond necklace.
Photograph by Getty Images