In the second installment of our life and home design series with Williams Sonoma, Inc., LoveBrownSugar's Christina Brown shares how she uses the new Pottery Barn Modern Baby products with her millennial mom style in Los Angeles.
Pottery Barn Modern Baby is a high-style, curated collection from Pottery Barn Kids, designed to better meet the needs of young parents seeking nursery décor that reflects their personal style. The five statement-making aesthetic styles that take modern to a new level are Glam Modern, Hip Modern, Natural Modern, Casual Modern and Minimal Modern.
Below, Brown shares directly with 21Ninety about her must-have new feeding products:
* * *
When I first discovered I would become a mom, a few fears raced through my mind. The first: Will I be a good mother? I think every mom out there can attest to this same anxiety. The second: Will I live in mom jeans and no longer be chic? Yes. Real fears.
As a fashionista who uses style and beauty as a way to express myself, this was a REAL concern for me. Before becoming a mom, I saw motherhood as this thing that was beautiful but inconsequentially robbed you of your sense of style. Mom jeans. Minivans. Rainbow-colored everything. It would seem that all that comes with motherhood was the antithesis of style.
Well, thankfully, there are some amazing companies and collections like Pottery Barn Modern Baby that are challenging that stereotype. There are options for hip and modern moms like myself to make baby gear an extension of our stylish lives, like super chic nursery decor and fashionable and functional strollers.
As a young mother of two, I look for products that are multifunctional, elevated in design so that they fit in well with my personal style and are of course, safe and healthy for my kids. I am loving this new collection because it is a curated collection of trend-forward items that fit seamlessly into the modern parent's home.
Now that Colton is officially 6 months old, I knew I needed a high chair and feeding items like bowls, plates and spoons. So, I partnered with Pottery Barn Modern Baby to capture a few snaps of Colton and myself at home during snack time with some key items from the new collection.
One of my favorite items from the collection is the Mima Moon High Chair. I'm obsessed! Not only is it super chic and a welcome addition to our overall home aesthetic, it's also a 3-in-1 solution because it transitions from a newborn lounger to a feeding high chair to a junior chair for kids. It's super sleek and modern, comfy for baby and it will transition with him as he grows.
Colton is transitioning to solids, so I've been giving him fresh pureed fruits and veggies, as well as first food baby cookies for teething. We'VE been particularly excited about the Avanchy Organic Bamboo Plates, Spoons and Bowls. The plates and spoons have suction on the bottom, so when Colton gets creative with his food, he doesn't knock the entire thing over (yes, this has happened). I love the design of the bamboo and the fact that the plates and bowls are lightweight, no-slip, antibacterial, water-resistant, organic and biodegradable. Literally all the things a mama could ask for in feeding utensils.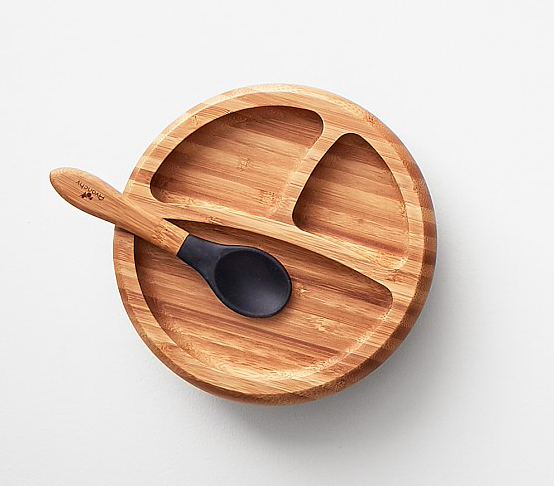 I'm so excited about this new collection and I can't wait to acquire more pieces from Pottery Barn Modern Baby as my little ones continue to grow.
* * *
In addition to the specially designed modern nursery furnishings and decor, the Pottery Barn Modern Baby collection also offers must-have essentials, including practical baby gear, strollers and more with a focus on functional and modern style.
The collection is available exclusively at Pottery Barn Kids stores nationwide, and online at pbmodernbaby.com. Join the conversation on social media at @pbmodernbaby for more modern design inspiration, follow Christina Brown at @lovebrownsugar for more lifestyle insights, and read the rest of our home styling series with the Williams-Sonoma, Inc. family of brands.
Ready. Set. Boss. Our daily email is pouring out inspiration with the latest #BlackGirlBossUp moments, tips on hair, beauty and lifestyle to get you on track to a better you! Sign up today.