When you imagine a woman who does not look like what she's been through, Octavia Yearwood may come to mind. The 2016 American Express Emerging Leader awardee is an arts educator, motivational speaker, choreographer and entrepreneur.
Although her professional life reflects her passions and years of dedication, Yearwood's childhood proved to be a source of trauma for her which she uses to help others today.

PHOTO: Fluff Magazine
Simply putting her story in a summary would not do it justice, so 21Ninety got a chance to talk to the foster-care system survivor about how she is using her past to empower her present:
21NINETY: Art — a simple three-letter word with a huge impact on your life. What does "art" mean to you?
OCTAVIA YEARWOOD: Art to me is a shorter way of saying expressionism. To me, we are in a consistent space of expressing parts of ourselves to the world around us — or at least I am, which is why answering the question "who do you do?" with art means freedom. It means the freedom to be whoever you are in the moments that you are there and expressing that at your highest capacity.
21N: Take us back with you. What was it like growing up in the New York City foster care system?
YEARWOOD: It was super emotional and what seemed to be a never-ending journey of trying to find what you don't have but always want. New York is amazing in that it's almost like the city itself is preparing you for this ride that's filled with transfers, rerouting, strangers and watching yourself watch places pass you by. The system itself is a perpetuation of that person at work that you don't want to work with because they never do sh*t and you'll be left exhausted because you'll end up doing all the work but they still get paid. Growing up in the system is a huge roadblock that in no way supports you; It has no signs or real directions. It resides only in your mind, so the rest of the world looks at you wondering why you aren't moving forward, but they can't see that enormous thing standing in your way. The whole thing is a title you don't want to wear, but you got to keep it moving. It forces you to be independent in so many ways, it teaches you (if you accept the challenge) how to move around people and how to maneuver in spaces. For all of the turmoil, the city and the system gave me what I need more than what I wanted, but I swiftly learned that (was) my job.
21N: If you could pick a song, to sum up that time in your life, what song would it be and why?
YEARWOOD: Sheesh! I wanna say a song for that time doesn't exist, but I could also say Cardi B's "Be Careful" has the energy of that time. When she said "You even got me trippin'. You got me looking in the mirror different, thinking I'm flawed because you ain't consistent." Yessss, mom — and pops that I don't know — and the people that put these titles on you matched with notions. Even when she says "Hurt me to hate you but loving you's worse" which is how I felt about my biological mother for so long or "Guess you actin' out now you got an audience," which is how foster youth and youth in programs and shelters feel when you're with these families or at the agency. They start putting on a front for the people, funders and the camera.
21N: Emerging from that place, what methods have helped you heal from that time?
YEARWOOD: Meditation, reading books from spiritual leaders, changing my diet to more vegetarian-based and most importantly, doing what I loved doing. This is not all but just a few. My artistic practice is also a huge part of this because it gave me a voice which was something I lacked in my youth. I'm a conceptual artist so whether I'm writing a book, choreographing a piece or putting together a performance arts activation, I am releasing a part of me into (the work) every time. That release creates more space for more to come to me and that creates the flow for healing to happen. After my artistic practice, my friend unit and community are my lifelines. If I didn't have the friends, I would be dead. Having people around that take the time to understand the context of your life (which I had to learn first) and support you through the stages of healing and self-discovery is vital because there is NOTHING easy about "doing the work." I understand every day why people choose not to.
21N: You went from New York to Florida, what inspired your move to the Sunshine State?
YEARWOOD: I had a vision. I was sitting in my friend Sylvina's basement, where I lived, and saw my life in a hamster wheel type cycle where I worked, where the contracting company I was placed in was broke, every time, the same time — and had money, every time, the same time. When I came out of the vision, I was like "WOOOOOW I HAVE NO CONTROL OVER MY LIFE!" Like, I was literally just living with no purpose at all. It was scary. I heard Atlanta at the time had the most self-made millionaires per capita in the U. S. and was like "I wanna be a millionaire. I'm going to Atlanta." I had the vision in September, chose to move (in) October, bought a car in November and hit the road in December. It was very abrupt, but that's pretty much how I move when I figure something out. I just do. My original place to go was Atlanta, but in the interim of settling in, in Atlanta, I took a trip to Miami for a friend's birthday. It was love at first sight, but it was like meeting someone off the chain — AMAZING — right after starting a relationship with someone new. My biological family is from Panama, so Miami's culture had me awestruck. Then there's the sun and palm trees; yes, please. I gave that new relationship with Atlanta a chance, but after a month and a half I got an interview in Miami, packed up what I could fit in my car and went to my new boo. We've been the illest power couple for the last 6 years.
21N: Tell us more about "Team Ohhh." What led you to create the dance and visual arts enrichment program?
YEARWOOD: I was living as a dancer and choreographer in New York City, the cattiness was wild, and it always turned me off. The power that teachers have over their students is unreal. I didn't realize my potential until a parent came to me about her son misbehaving in class during school. I was only his after school dance teacher, why was she coming to me? She asked me to talk to him because she had been unable to reach him because of changes in the home. I spoke to him that day. I knelt down to him and asked him what he was doing, why he was doing it and let him speak his piece. I then firmly told him that if I heard about him disrespecting his teachers again, he wouldn't be able to take my class and would have to sit and watch the class only. The kid was the student of the month the following month. That marked the day that I realized I needed to somehow (find) words to describe what I was doing and use art as a tool to support empowerment that would far exceed the dance floor. I realized that art helped boost self-esteem, self-efficacy, encourage social skills, provide a positive role model and so much more. It was also important for me to create something that could economically stimulate the artist(ic) community.
21N: What has been one of your biggest accomplishments since creating "Team Ohhh?"
YEARWOOD: Team Ohhh in its essence is me. (I'm) someone who is not one dimensional, has a lot to give and expresses that as much as possible for the world to benefit from, so my biggest accomplishment was recently being named best author in Miami by the Miami New Times. The most significant gift I can give to anyone is helping them realize they are everything and to bask in what that looks like to you. I remember being young and not liking to read. I remember how hard it was to write this book and to scrape the first draft only to start over in June and finish in August. I remember all the people rooting (for) me on along the way and keeping that energy on reserve for when I needed it most.
21N: In your opinion, how has your organization impacted the lives of the youth you serve?
YEARWOOD: What's most (substantial) is that it impacts the youth and adults alike. What's unique about it is that the philosophy on how to be a better person is rooted in the work. You are not going to come into a class with me and just learn about art, you are going to be practicing how to be better for humanity. Art is the vehicle I use. I have something called "The Team Ohhh Playbook," which is a play on how sports teams use playbooks. The concept behind Team Ohhh is to operate as a franchise team. You can be with us one season or for a year, but their core values and the playbook is a fixture in that. The plays are actually philosophies, things like "We never say can't. We tell our bodies what to do…" or " We always help our teammates," etc. The program brings structure, ideas (and) fun, (calling) for the youth to take responsibility of their world and the world around them while there. That's a powerful practice, and since it is a practice it shows up in other parts of their life. The impact of the program lies in the reprogramming that it does. Adults (are influenced) because (of) my engagement with the youth and what I am able to pull out of them shines through way beyond me. I think the root of all teachers is actually (the desire) to make our youth better people.
21N: In Miami, what other endeavors do you participate in that allow you to serve others while simultaneously helping you heal and express yourself?
YEARWOOD: One of my favorite projects right now, outside of scaling my book out into a curriculum, is my performance art pop-up called "LIBATIONS." LIBATIONS is so, so unique because the concept came to me when thinking about my grandmother, Amy Yearwood (and families that are POC) and how she would have friends over for drinks and conversation. She would always pour a bit of her drink out (which is giving libations using libations) before anyone drank and then all night they would share stories and laugh and vibe. A lot of my work (revolves) around storytelling because to me it's a powerful tool; it's something our ancestors would use to pass on pride, help build a moral compass and teach lessons. So LIBATIONS shifts what would generally be a casual social space into a transformative connective space using storytelling and art. The whole pop-up is completely engaging and starts way before the day of the event using photography and video, then there's an art installation that I do, my spirit chooses who would be right to be at the table and then magic happens. LIBATIONS is truly something you have to experience to grasp, but that's how life is meant to be. I am also able to pay homage to my grandmother, who even in her spirit form is still supporting me on this earth. Other than that, writing more.
21N: Why did you want to write a self-help manual?
YEARWOOD: When you are in a foster home or any space that will cause trauma, the one thing you lack most is support. To me, bigger than my story, the most valuable thing I could bring to anyone who is not where I am, is a bit of a blueprint or guidance on what helped me. Also, (I want to) to drive the point of you needing to do the work. When you are in the victim space, whether you know it or not, you are looking to be saved, even though the system has shown you ain't nobody about to save you. You still create a space in your mind that you've been wronged and now you are entitled to be helped as a result. None of that could be further from the truth. My book is meant to help you come back to self and take your power back: help your damn self. I needed to write a no-holds-barred book to my peers about getting into this work so that we as a collective can save the world. I needed to remind my peers that adversity births legends. I needed to tell my peers that I been there and then give them the tools I used to get me to where I am today. I needed to let my peers know that I know it's not easy but to show them that it's possible.
PHOTO: Octavia Yearwood
21N: What feedback have you received about How The Hell Did You Do That?! and how has it been helping your readers?
YEARWOOD: The book is a call to action, but to be honest, I had no clue that it would have the impact that it's having on grown folks in the way that it has. I've had an 80-year-old call me after reading my book to tell me that I had been so inspired it pushed her to finally file for her patent on a cream she had been working on. Another person that works in fashion DM'd me to let me know she booked a one-way ticket to Paris, and the book inspired her to go for it when the opportunity to live there came up. Almost monthly, people are reaching out to me to tell me how the book is making them move differently, and more boldly. One teenage girl read it and told me it made her see how much work she had to do. A young man said it helped him begin to work through his pain. There is a private university professor currently utilizing my book in her course. I didn't even go to college. It's mind blowing but also very aligned with everything I believe in. I knew my intention for (it), but the book is also a channeling from my spirit guides and ancestors; I am currently working on the audio-book, and sometimes I read and am taken aback (thinking) wow that was good, who wrote that? The book has been met with rave reviews, and I can't say that any responses to it were what I expected, but I can say that it shows me that my message is getting across.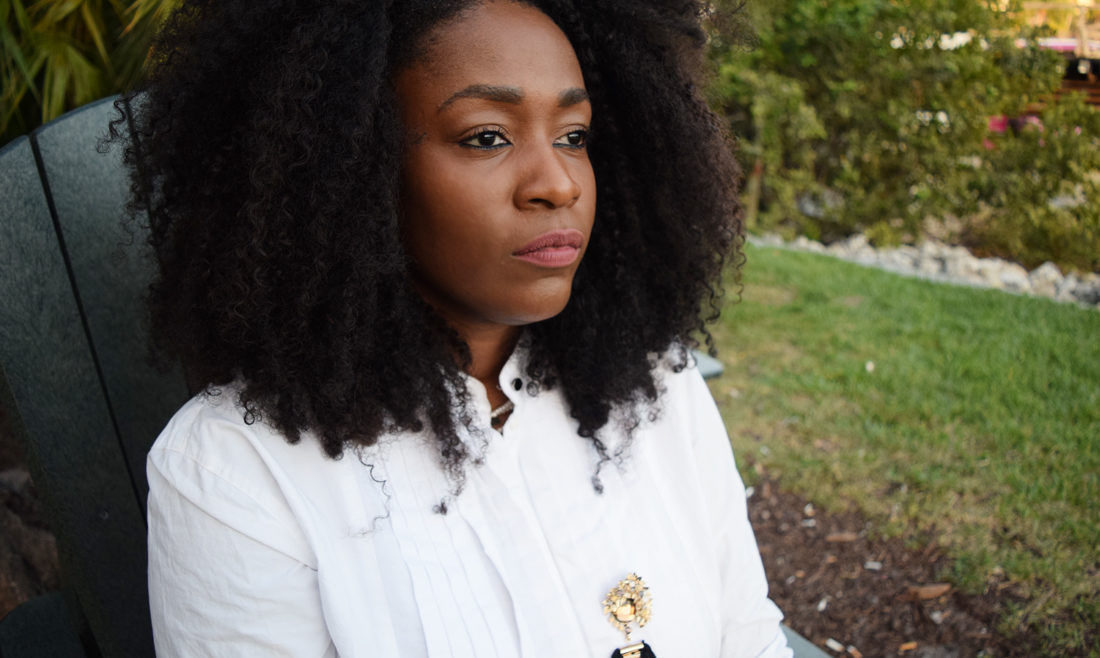 PHOTO: Girl's Club
21N: What's next for Octavia?
YEARWOOD: Getting the How The Hell Did You Do That?! book curriculum is the single most important thing that I am doing right now. Our youth are depressed, and going through so much and what school offers young people needs to change. So it's my mission now to make sure I do my part to make emotional and mental support a fixture within the school system and (I'm) using my book's interactive curriculum to do that. I have a team of some super educated and intentional folks that are taking the ride to change this world. I, of course, want to scale out "LIBATIONS" and release several other books, but this is most important to me at this moment.
21N: Anything else you would like to share with our readers?
YEARWOOD: I love you. Please be bold because we need you. Support ya local artist, activist and educator. Support your friends, too. Showing up is the first step. There is nothing more powerful than helping someone realize their dreams and passion. You have the power to change someone's life, do it!
To keep up with Octavia's journey, visit her website by clicking here or follow her on Instagram.
Ready. Set. Boss. Our daily email is pouring out inspiration with the latest #BlackGirlBossUp moments, tips on hair, beauty and lifestyle to get you on track to a better you! Sign up today.