Natural and organic ingredients are becoming more prevalent than ever in the beauty industry — and for good reason! The clean beauty revolution is healthier for you and the environment and there are certain ingredients found in nature that are much stronger than anything man-made. A healthy body looks as healthy as it feels, from head to toe. So choosing the right hair care is an important step to get beautiful hair and accurately portray your own beauty and wellness. In the words of Camille Rose founder, Janell Stephens, "our lives are a beautiful twist of style and sophistication." And what better way to prolong our style and sophistication than by taking care of ourselves with natural and organic ingredients? When it comes to proper hair care, Camille Rose is more than a brand — it's a lifestyle. Check out some of the benefits of the ingredients Camille Rose proudly and consciousnessly uses in their hair products:
Photo: Camille Rose
Ingredients:
"Deoinized water, aloe vera juice, butyrospermum parkii(shea)butter, cocos nucifera (coconut oil), behentrimonium methosulfate (BTMS) cetyl alcohol, theobroma cacao (cocoa)butter, mangifera indica(mango)seed butter, cannabis sativa(hemp) seed oil, di panthenol, mel(manuka)honey, vegetable glycerin,camellia sinensis )green tea) extract, simmondsia chinensia(jojoba) seed oil, rosa canina(rose hip) fruit oil, bitis vinifera(grape)seed oil, oenothera biennis(evening primrose) oil,phenoxyethanol and capryly glycol(optiphen), blue green algae, dimethyl sulfone (msm), biotin, tocopheryl acetate(vitamin E), mentha piperita (peppermint)oil, scent and LOVE!"
Benefits of Jojoba Seed Oil:
Jojoba Oil is extracted from the seeds of a jojoba plant. According to Healthline, the oil-like wax composition is best used as a hair moisturizer, dandruff treatment, and hair growth nourishment due to its richness in vitamin C, B vitamins, vitamin E, copper, and zinc.
Photo: Camille Rose
Ingredients:
"Helianthus Annus (Sunflower) Seed Oil, Prunus Amygdalus Dulcis (Sweet Almond) Oil, Linum Usitatissimim (Linseed) Seed Oil, Carthamus Tinctorius (Safflower) Seed Oil, Ricins Communis (Castor) Seed Oil, Citrius Aurantium Dulcis (Orange) Peel Oil, Mauritia Flexuosa (Buriti) Fruit, Rosamarinus Officinalis (Rosemary) Leaf Extract, Fragrance."
Benefits of Sunflower Seed Oil:
As Era Organics reports, sunflower seed oil is rich in fatty acids that work as antioxidants to make excellent natural, hair care products. This added ingredient improves scalp health by supplementing hair growth and preventing hair breakage, in addition, it eliminates frizzy hair and provides softness and shine to your beautiful mane.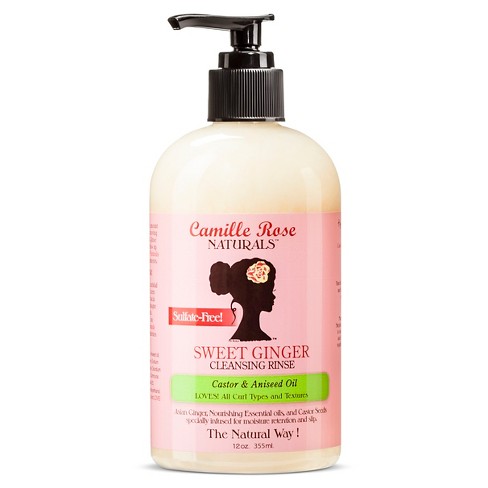 Photo: Camille Rose
Ingredients:
"Water, Infused Ginger Root, Aniseed Oil, Cassia Oil, Cocamidopropyl Betaine (Derived from Coconuts), Sodium Cocoyl Isethionates (Coconut Cleanser), Glycol Distearate (Cream Emollient), Disodium Cocoamphodipropionate (Derived from Coconuts), Ricinus Communis, (Castor) Seed Oil, Polysorbate 20, Polyquatemium-10, Citric Acid, Phenoxyethanol, Caprylyl Glycol, Essential Scents and LOVE!"
Benefits of Ginger Root:
Ginger has long been known for its healthy use in traditional/alternative medicines. According to Healthline, the "unique fragrance and flavor of ginger come from its natural oils, the most important of which is gingerol. Gingerol is the main bioactive compound in ginger, responsible for much of its medicinal properties." The warming and stimulating effects of ginger work to increase the scalp's circulation and encourage healthy hair growth. In addition, Ginger also is a great hair conditioner, due to its richness in minerals and essential oils, it makes hair more manageable, softer and shinier.
Photo: Camille Rose
Ingredients:
"Distilled Water, Cocos Nucifera (Coconut) Water, Cetearyl alcohol, Cetyl Alcohol, Behentrimonium Methosulfate, Cocos Nucifera (Coconut) Fruit Extract, Althaea Officinalis (Marshmallow) Leaf/ Root Extract, Linum Usitatissmum (Flax Seed) Oil, Butyrospermum Parkii Glycerides (Shea Butter), Butylene Glycol, Vitis Vinifera (Grape) Seed Oil, Camellia Sinensis (Green Tea) Leaf Extract, Cannabis Sativa (Hemp Seed) Oil, Helianthus Annuus (Sunflower Seed) Oil, Phenoxyethanol and Caprylyl Glycol (optiphen ND), Aloe Ferox Powder, Marshmallow Root, Yucca Root, Blue Cohosh, Scent and LOVE!"
Benefits of Coconut Water:
Coconut water is incredibly hydrating and helps keep your hair conditioned and prevents it from breaking. According to Healthline, coconut water contains potassium, magnesium, sodium and calcium to maintain a proper hydration balance. Your body isn't the only thing that needs electrolytes, sis. Your beautiful hair does too!
Shop the full Camille Rose, the recipe for beauty, collection now, sis! #CamilleRose #CamilleRoseBeauty
---
Ready. Set. Boss. Our daily email is pouring out inspiration with the latest #BlackGirlBossUp moments, tips on hair, beauty and lifestyle to get you on track to a better you! Sign up today.