Nothing is worse than waking up only to realize that you have less than 20 minutes to get yourself presentable and out the door. When your morning (or afternoon) starts like this, knowing how to do a quick 5-minute makeup routine can really save the day.
How you use those few precious moments can be a factor in whether you walk in late looking like you have had a rough night or you walk in looking like you've had a full morning to get glam and slay the day.
Here are some quick tips for your 5-minute makeup routine:
Photo: Pexels
Have your products organized
Keep your makeup stash organized all in one place (like your bathroom, dresser or desk), so you can quickly grab the items you need without having to search your entire apartment. I like to organize my products by item. For example, I will have my blushes and bronzers in one drawer and my eye palettes and lip colors in another. I also like to keep my brushes clean and stored in a jar or vase nearby.
Another tip is to not wait until the last minute to restock essentials – finding out, right before you're supposed to walk out the door, that you just used the last of your favorite mascara (and you only have one eye done) is a terrifying way to start off your day.
PHOTO: Pexels
Simplify your base
Instead of applying moisturizer, primer, foundation, and concealer, opt for a tinted moisturizer or BB cream. Both are hydrating while offering a considerable amount of coverage so you can get the same results in just one easy step. My absolute favorite at the moment is the Marcelle BB Cream in Golden Glow. It almost looks as if you are actually wearing a foundation and concealer, all-in-one.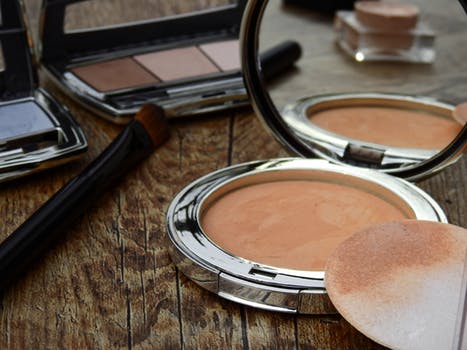 PHOTO: Pexels
Use bronzer as both a contour, eyeshadow AND a blush
Bronzer is one of my favorite makeup staples because it makes you instantly look like you have returned from a breezy, tropical vacation all-year-round. It can also be a very versatile product. Build it up in the curves of your cheeks and on your temples for a bit of a contour and/or dust a little on the apples of your cheeks to add a bit of color to your face.
You can also use bronzer as a beautiful base color for the eyes. No need for all that extra glitz and glam when you are in a rush! Most brown hues in bronzers compliment all eye colors very well.
PHOTO: Pexels
Go Minimal
When time is of the essence, attempting to create a smokey eye or blending out your crease color really isn't a top priority. Instead, ditch the eyeshadows, primers and falsies and opt for a traditional liner and some mascara. Line your waterline and apply a few coats of lengthening mascara to give the appearance of bigger eyes and fuller lashes with hardly any effort at all.
PHOTO: Pexels
5. Tint it up
Correctly applying lip liner and lipstick (make sure to always check the teeth) can be too tedious in the morning. Instead, using a tinted lip balm or lip gloss will not only give your lips hydration but will also give them a gentle, natural wash of color that is perfect for work or a weekend get together with friends.
PHOTO: Unsplash
Bonus Tip
Forget trying to fill in brows promptly. Use a tinted brow gel or even do a quick sweep with a makeup spoolie lined with hairspray for quick, no fuss brows that look natural and groomed.
Ready. Set. Boss. Our daily email is pouring out inspiration with the latest #BlackGirlBossUp moments, tips on hair, beauty and lifestyle to get you on track to a better you! Sign up today.