We don't deserve Viola Davis. From her incredible on-screen performances to her powerful statement-making speeches, she continues to give us genuine talent, inspiration and characters we can learn from. So, naturally, when she made her appearance at the 2018 Golden Globes, she did not disappoint.
Her best accessory at the Globes was no doubt her beautiful natural hair, which she rocked out in a 'fro that serves as the only inspiration we need to slay 2018. Seriously, just look at her: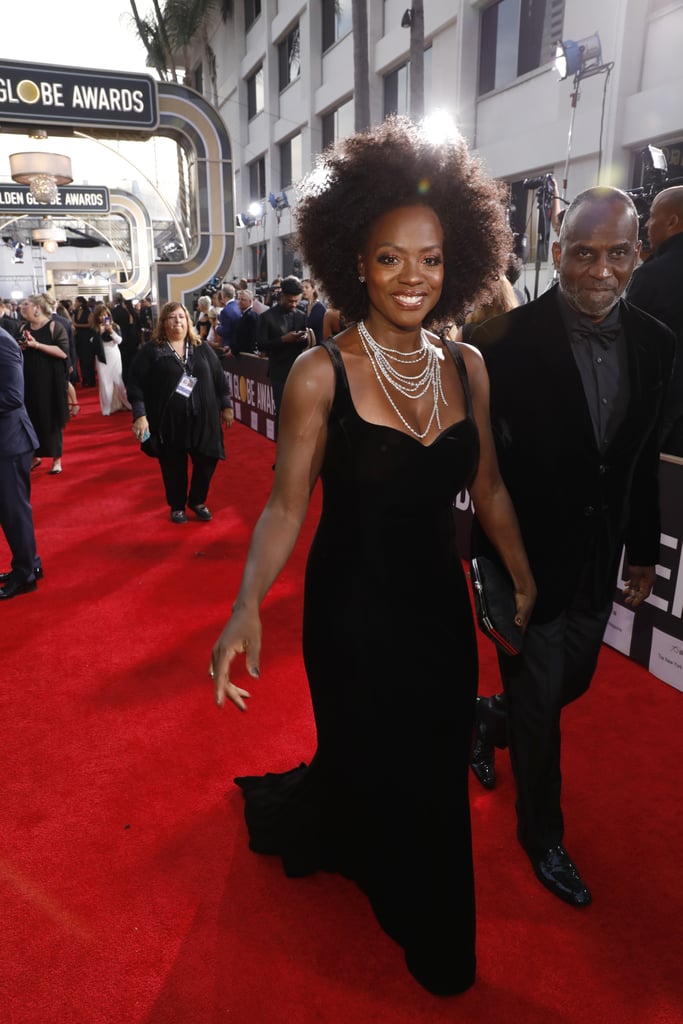 Photo: Steve Granitz/Getty
She even finished off the look with Seeing Stars, a sparkling mahogany nail polish shade with golden shimmer from Essie's Desert Mirage collection.
you saw it here first babes: @violadavis looking FLAWLESS before hitting the #GoldenGlobe red carpet in #seeingstars from the new desert mirage collection! ✨ snag it: https://t.co/KT286ypwuV pic.twitter.com/RY11eED1EN

— essie (@essie) January 7, 2018
We also got our lives from her long, fluffy lashes, sleek black dress and perfectly-draped necklace.
GOD IS A BLACK WOMAN AND HER NAME IS VIOLA DAVIS #GoldenGlobes pic.twitter.com/vyfobiAsP8

— v woolf (@nicolskidman) January 7, 2018
And even though her look was important — she sported black in honor of the Time's Up initiative and her 'fro is representation for all of the young black girls with their own natural hair — her words were the most inspiring part of her appearance.
"I think the people kind of feel like Hollywood can be out of touch at times," she said. "But for me, I'm here because I hear the voice of women who said 'Me Too,' which one of them was me. I hear those voices, those people who are nameless, faceless every day, who don't have a platform.
She continued, "There's no prerequisite to worthiness. You're born being worthy, and I think that's a message that a lot of women need to hear. The women who are still in silence because of trauma, because of shame due to assault, they need to understand it's not their fault."