Let's be real, there's no single list that will ever fully capture the power, talent, and inspiration of what Black female authors have brought to bookshelves.
The vast literary contributions from Black women span from fiction, nonfiction, poetry, and more. But in that vastness lies the beauty of what makes every Black woman — our variety. The heart and soul of this compiled reading list to follow is the essence of every Black woman: magic.
These brilliant women (in no particular order) are only a fraction of authors who illuminate us through their inspiring work and leave an indelible mark on our souls.
Photo: Crown Publishing Group
No introduction needed for this phenomenal woman. But for those who don't know, our Forever First Lady recently released a memoir revealing private moments of frustrations and fears. According to The Atlantic, Obama "writes with a refreshing candor, as though her keen awareness of her celebrity is matched only by her eagerness to shed the exhausting veneer that helped enable her husband's political rise".
Sing, Unburied, Sing by Jesmyn Ward, 2017
Photo: Simon & Schuster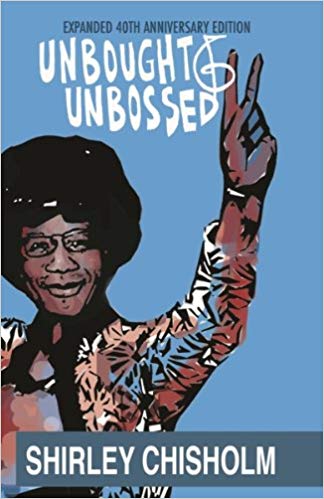 Photo: Amazon
Auntie Chisholm's signature campaign slogan, "Unbought and Unbossed," was as much a statement about who she was as it was a catchy and effective message that helped her become the first Black woman elected to Congress. And now, with Viola Davis set to produce and star in an upcoming Chisolm biopic, this book — according to Goodreads —lays the foundation "how she took on an entrenched system, gave a public voice to millions, and sets the stage for her trailblazing bid to be the first woman and first African-American President of the United States".
The Hate U Give By Angie Thomas, 2017
Photo: HarperCollins
A compelling advocate for race, privilege and the killing of unarmed Black people, Angie Thomas pulled from her passion and channeled it all into a fiction novel. The Atlantic ranks Thomas's debut novel as one of the greatest young adult pieces of literature, stating Thomas "offers an incisive and engrossing perspective of the life of a black teenage girl as Starr Carter's two worlds converge over questions of police brutality, justice, and activism".
Photo: Knopf Doubleday Publishing Group
A classic so beyond comparison that the encyclopedic resource, Brittanica, describes the novel as a "work examines the destructive legacy of slavery as it chronicles the life of a black woman named Sethe, from her pre-Civil War days as a slave in Kentucky to her time in Cincinnati, Ohio, in 1873. Although Sethe lives there as a free woman, she is held prisoner by memories of the trauma of her life as a slave".
All About Love: New Visions by bell hooks, 2000
Photo: HarperCollins
Undeniably, bell hooks (all lower-case) is the most influential feminist theorist, cultural critic and writer to represent our race. From this book, in particular, Publishers Weekly praised hooks for her ability to "blend the personal and the psychological with the philosophical in her latest book--a thoughtful but frequently familiar examination of love American style [...] She proposes a transformative love based on affection, respect, recognition, commitment, trust and care, rather than the customary forms stemming from gender stereotypes, domination, control, ego and aggression".
Photo: Penguin Random House
Known for her "Black street" dialect and sharply drawn characters, Kirkus Reviews describes "this is a fine collection of short stories by a young black author, filled with that incredible health, cultural zing, and joyful irony of people whose bodies keep pace with their minds".
Photo: Amazon
A personal favorite of mine for Hansberry's ability to capture the ongoing struggles Black America endures in the face of racism. According to The Guardian, the "power and craft of the writing make A Raisin in the Sun as moving today as it was then. Entrenched attitudes about race make the challenges its characters face still relevant".
Already a winner of numerous poetry awards, such as the Whiting Writer's Award and the Metclaf Award in Literature, Sinclair offers lyrical precision and texture with each word she transfers to a page. In an interview with the New York Times, poet Ricky Laurentiis, hails Sinclair's debut book as "a devastating and beautiful renegotiation — on her terms — of the English language. She's interested in the many violences English and those who spoke it perpetrated either against themselves or especially against the black and brown peoples they colonized, and pushes into this history in all her work, be it poetry or prose".
Photo: Open Road Media
Recognized among the bravest and talented Black writers of the late 20th century, Butler transcended the science fiction category for all those to follow. The New York Times writes "Butler's narrative skills are impressive. We follow the rise and fall of Earthseed's first communal home through a chorus of voices that jump around in time, giving us contrasting perspectives on the heartbreaking events that test the faith and will of the founding mother, her family and her adherents".
Who are some Black female authors on your reading list?
---
Ready. Set. Boss. Our daily email is pouring out inspiration with the latest #BlackGirlBossUp moments, tips on hair, beauty and lifestyle to get you on track to a better you! Sign up today.