With more and more Black women wearing their hair natural, Cantu, a beauty line dedicated to all natural hair types, created a new, four-piece collection of hair masques for women who desire to use products with fewer harsh chemicals.
The Cantu collection is designed to have high-quality formulas that nourish and protect hair from styling damage. With no mineral oil, sulfates, parabens, silicones, phthalates, gluten, paraffin and more. What can be better? Well, sis, all of Cantu for Natural Hair products benefit from 100% pure shea butter for added moisture and nourishment for all hair types.
So, what does my hair have to say about it?

In general, I love the smell of all the masks, and I love that two of the masks incorporate the use of charcoal. The use of activated charcoal helps to reduce dandruff, redness and oily scalp, pulling out toxins and purifying hair. After using this mask once a week for two weeks, I already notice a significant difference in hair growth, softness and oil buildup. I also really enjoyed the Rhassoul Clay Masque, which left my hair super hydrated and frizz free. But, I have to say my favorite of the masks had to be the Bentonite Clay Masque because it left my curls defined, hydrated, soft and shiny as the mask said it would.
Try these four new masks by Cantu today and find your new favorite:
Photo: Cantu
Photo: Cantu
Made with pure shea butter, it helps protect your style from sweat, chlorine, and UV rays, refreshing and reviving curls so we can all be active without sacrificing style.
Benefits + Features:
• Sweat protection style protector.
• Made with charcoal.
• Helps protect against sweat, UV rays and chlorine
Styling Tip:
Focus on roots to redefine your style and protect your hair from sweat. If using for swimming, wait 5-10 minutes after application before going into the water to allow the product to absorb into the hair for full protection.
Photo: Cantu
Provides in-depth, intense moisturization to hair and scalp, revealing frizz-free curls and a nourished scalp.
Benefits + Features:
• Deep nourishing hair and scalp masque.
• Made with rhassoul clay.
• Intense moisture to combat dryness, frizz & scalp flakiness.
Styling Tip:
Use during winter months and if you have dry skin to infuse your hair and scalp with added moisture to help fight dryness and flaking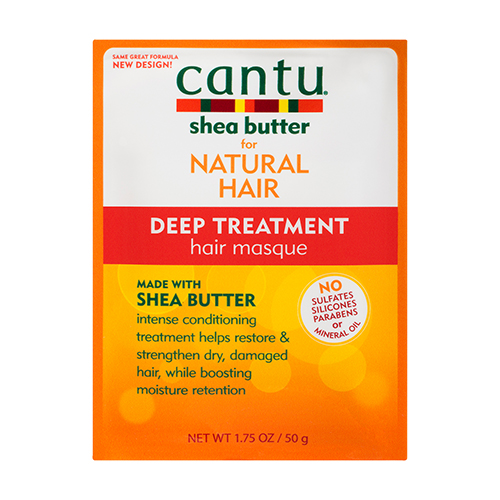 Photo: Cantu
Provides shea-butter infused moisturization to hair for an intense treatment to help strengthen dry, damaged hair.
Benefits + Features:
• Deep treatment hair masque.
• Made with shea butter.
• An intense conditioning treatment helps restore & strengthen dry, damaged hair while boosting moisture retention.
Styling Tip:
For intense conditioning of dry, damaged hair apply generously to clean, damp hair. Cover hair liberally with a plastic cap and use a moderate heat for 15 minutes. Rinse thoroughly with cold water.
Photo: Cantu
Removes buildup and impurities, leaving hair and scalp purified and moisturized.
Benefits + Features:
• Clarify & renew hair & scalp masque.
• Made with bentonite clay.
• Hair & scalp masque to clarify & renew without stripping natural oils, with added vitamin nourishment for elasticity & shine.
Styling Tip:
Use periodically and after protective styles to clarify the scalp of product buildup and debris.
*Disclaimer: Cantu Beauty was kind enough to send me over some masks for review. This post is not sponsored, and all of my opinions are my own.
---
Ready. Set. Boss. Our daily email is pouring out inspiration with the latest #BlackGirlBossUp moments, tips on hair, beauty and lifestyle to get you on track to a better you! Sign up today.