It is a well-known fact that a warm cup of tea can make mornings sweeter, and even the longest of winters seem shorter. Detoxification and digestion go hand-in-hand, sis. Many of us think of the liver and kidneys when we feel the need to detox, but the intestines are one of the body's central elimination pathways. If digestion proves difficult, we can have a hard time processing certain waste and impurities in our bodies. So, to support healthy digestion, we sometimes have to take matters into our own hands.
All natural remedies, like tea, can help to alleviate a multitude of ills from the emotional to the physical — no prescription required. By choosing one or two medicinal herbs and infusing them into your day, you can reap the health benefits of stomach and digestive support.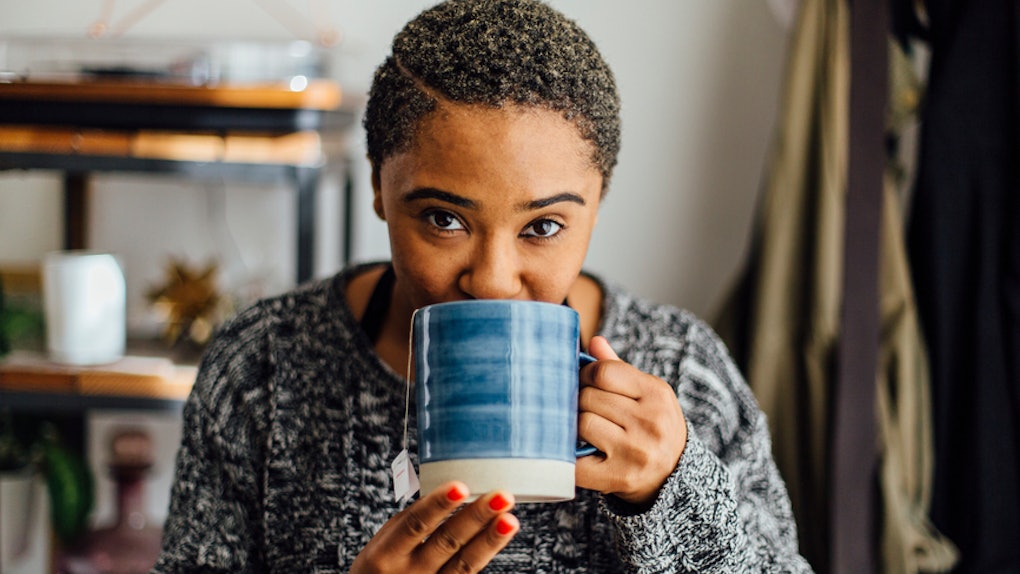 Photo: Jayme Burrows / Stocksy
Here are four of our favorite tea blends to try now:
1. Roasted Dandelion Root tea
Photo: Kiss Me Organics
When you think of a dandelion, you probably only recognize it as a common weed that you pluck out of the ground and play with, but dandelion root has many hidden benefits. It is often used to stimulate the liver and support healthy digestion. It is also known for having a bitter taste, to aid digestive juice and bile production which helps break down fatty foods and composite fibers, according to experts.
2. Peppermint tea
Photo: Just Tea
Like you might guess, peppermint is a refreshing, minty, not to mention it's rich in essential oils. It also makes an excellent tea for that time of the month, since it helps soothe the belly and alleviate digestive discomforts like cramps and nausea. So, if you are craving something slightly sweet before bed, this is the perfect way to finish off dinner.
3. Green Tea
Photo: Kusmi Tea
Let's start with one of the healthiest drinks that can fill up your cup, sis. This antioxidant-rich, metabolism-boosting liquid packs a severe nutrient punch. Green tea is packed full of all-natural antioxidants that help curb cell damage as well as reduce the formation of certain free radicals in the body that have a direct correlation to aging and disease. Drinking green tea is can also boost metabolism and help with weight loss. Who doesn't want a glass of this light and lemon drink? It's perfect for enjoying throughout the day.
4. Ginger Tea
Photo: Yogi
Got aches, pains, maybe even cold symptoms? Then ginger tea has you covered. This is one of my go-to's because it is so versatile and has so many benefits. From ginger peach to lemon ginger, this powerful root tastes excellent solo or as part of a blend. If you're battling a stomach bug, ginger tea can help combat nausea and relieve any nasty congestion you might have. It's also known to aid with blood circulation and reduce inflammation. All in all, it is an ideal travel companion when you're on the go. Sip it slow, and enjoy all the benefits ginger has to give.
---
Ready. Set. Boss. Our daily email is pouring out inspiration with the latest #BlackGirlBossUp moments, tips on hair, beauty and lifestyle to get you on track to a better you! Sign up today.