I'm always surprised that there is a natural remedy out there for virtually any ailment. Even cellulite, sis. Let's face it, we all have our lumps and bumps — and this simple homemade scrub and body oil will not only help improve the appearance of your skin, but it will do so without the use of any harsh chemicals.
How does it work? First, let's start with some essential oils to help beat cellulite.
Grapefruit
Photo: Healthline
This oil contains the anti-inflammatory enzyme bromelain, which helps to break down cellulite.
Cedarwood
Photo: UpNature
Cedarwood essential oil's active compounds include cedrol, beta-cedrene and thujopsene, which are known to have diuretic, anti-inflammatory and astringent properties that may help to improve cellulite's appearance on your body.
Lemongrass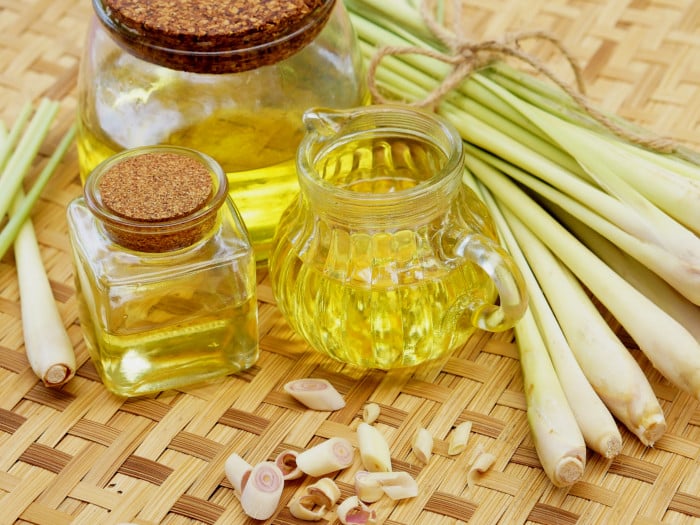 Photo: Organic Facts
Not only can this essential oil reduce stress and relax muscles, but it holds circulation-boosting properties — and helps to correct the appearance of cellulite. As with all of these essential oils for cellulite, you can mix lemongrass oil with a carrier oil and apply it topically. You can also use a pure, high-grade version of the oil internally by adding a drop or two to your favorite beverages or recipes.

Juniper
Photo: Maple Holistics
Juniper oil may help to reduce the appearance of cellulite thanks to active components like alpha-pinene, sabinene and juniperene. Its scent is often described as woody yet refreshing.
geranium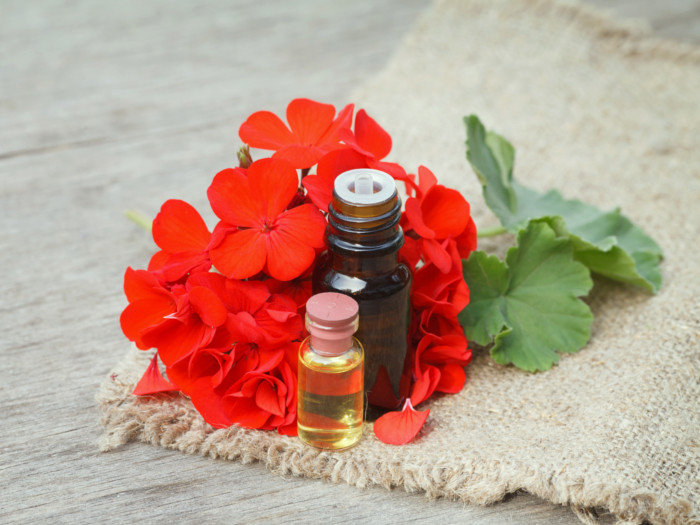 Photo: Organic Facts
This oil, with an invigorating, flowery scent, contains many powerful components, including a-pinene, myrcene, limonene, menthone, linalool, geranyl acetate and citronellal. Known as a natural diuretic, geranium oil can help discourage fluid retention that makes cellulite worse on the skin.
Rosemary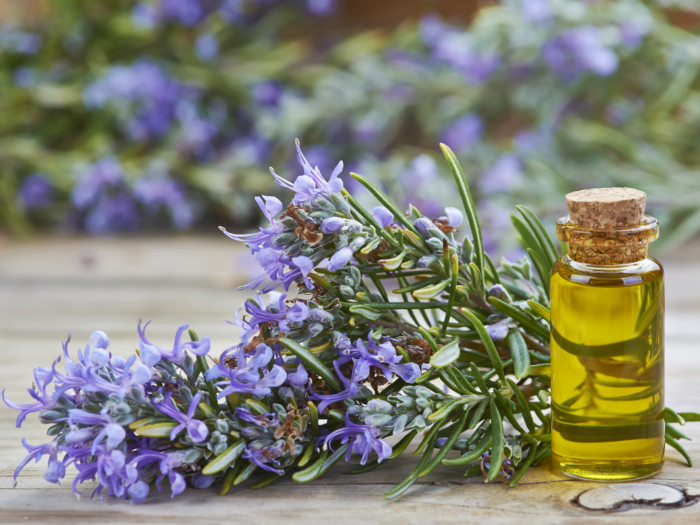 Photo: Organic Facts
This essential oil is pretty well-known for its ability to help hair growth. But, it also makes this list for another common concern: cellulite. If you like woody, evergreen scents, then rosemary is a solid choice for you. Overall, researchers conclude that rosemary combined with other botanicals (Annona squamosa and Zanthoxylum Clava-Hercules) might improve the appearance of cellulite on the body.
Try For Yourself
If you want to try out a recipe with one of the above essential oils, here's what you'll need:
Ingredients
• 1/2 cup of sugar
• 1/2 cup of coffee grounds, can be fresh or used
• 1/2 cup oil (could be almond, olive, coconut, etc.)
• 15-20 drops of the essential oil you chose from above
Directions
1. Mix ingredients in a bowl, stirring together to mix and create a thick paste thoroughly.
2. Continue to add oil or sugar to get the desired consistency.
3. Store tightly in a lidded container. This should last several months.
4. To use your creation, apply to problem areas on the skin and scrub in circular motions.
---
Ready. Set. Boss. Our daily email is pouring out inspiration with the latest #BlackGirlBossUp moments, tips on hair, beauty and lifestyle to get you on track to a better you! Sign up today.