Beyoncé served up a second helping of #BEYCHELLA realness this weekend and we are still here for it! Unlike weekend one, round two of the concert of a lifetime was not live-streamed for the Beyhive around the world. However, thanks to the power of social media, we were able to catch the highlights and share them below.
Beychella weekend 2. pic.twitter.com/LVnHshED4c

— RAVEN B. (@RAVIEB) April 22, 2018
Although many of our favorite things from the first set remained the same (such as the incredible band, the songs performed and some of the guests who joined Queen Bey on stage), some slight, masterful changes kept viewers in awe and wondering what was to come.
Many fans who geared up to attend #BEYCHELLA part two took advantage of Beyoncé's pop-up shop, which featured t-shirts, hoodies and jackets that mimicked her style and her band, dancers and singers from the first performance. As they showed up ready to match the on-stage talent, Beyoncé and her team flipped the script.
Yellow / Pink #Beychella pic.twitter.com/E2taYP1Nno

— Beyoncé News (@TheYonceNews) April 22, 2018
Instead of the bumblebee yellow they wore last week, they sweetened the stage with their fuchsia pink ensembles. Also throughout the wardrobe changes, there seemed to be a lot more silver compared to the gold that dominated the first time around.
Harmonies 🙌🏾 #Beychella #Round2 pic.twitter.com/l6NKoih2CD

— BEYONCÉ LEGION (@Bey___Legion) April 22, 2018
In addition to the outfits, Beyoncé brought out a new guest to bring even more energy to her performance of "Mi Gente (Remix);" that's right! J. Balvin himself came out to give us that Colombian flair we love so much!
Ok here is the J Balvin moment. The amount of times she's said "where you at" 😭 pic.twitter.com/u39O4NIm9z

— queen miskeen (@agerenesh) April 22, 2018
Now, from the amount of times she shouted out "Where you at?!" makes us question whether or not a cue was missed or she was hyping up the crowd. Either way, once he hit the stage the playfulness between the two and the excitement quickly wiped away the thought of a possible slip-up. And speaking of slips, Beyoncé and Solange also had a falling out on stage, but it's not what you think.
Another fave moment was when Bey tried to pick up Solange and they fell lol pic.twitter.com/VWhkJqHXqS

— queen miskeen (@agerenesh) April 22, 2018
In true sibling fashion, Solange looks to leap into her big sister Beyoncé's arms and, whatever triggered it, they both fell onto the floor. It's hard to think the moment was not planned because they both kicked their legs in the air and rolled over into a moment of blissful laughter. It gave everyone watching all the feels. The Knowles girls prove time and time again they love to have fun with one another, no matter the time or place.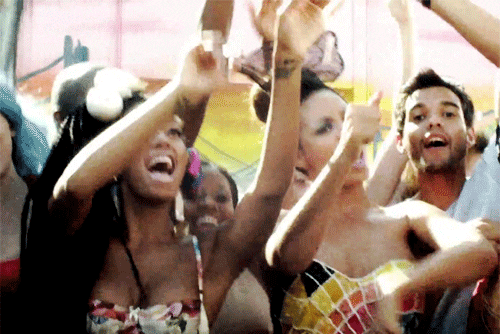 And we have to bring attention to this moment captured by a fan in the audience. Now, what is a Beyoncé performance or moment without a good fan and hair toussling. Well, it looks like one fan-man was not paying attention, which caused the queen to adjust the fan herself to achieve her Beyoncé wind.
Person who was supposed to man that fan is fired. #Beychella pic.twitter.com/T4LezJAJd1

— Adultish Gambino (@LEBENFOUR) April 22, 2018
Ha! Maybe he was so mesmerized he didn't notice? We don't blame him, since we would be too. Overall, week two proved to be just as magical as week one and although #BEYCHELLA is now over, the Beyhive is gearing up for OTRII and are ready to keep the party going because, well…
Beyoncé's choir and BGVs singing "Party" before hitting the stage at #Coachella🎉 #Beychella #Round2 pic.twitter.com/ltdMUQTFR7

— BEYONCÉ LEGION (@Bey___Legion) April 22, 2018