Each year is a chance for a clean slate if you will. To me, that means incorporating lots of fresh options into my cooking. It's essential that we all try to eat more wholesome foods, and no, I am not talking about microwave meals for dinner, sis. I am talking about creating a whole new way of thinking in terms of cooking meals at home, and that starts with meal prepping and creating your customized menus based on our tastes and budgets.
Simplifying mealtime is always something I am trying to do, now that I have to work crazy hours every day. By the time I come home at around 6 p.m., I don't have a lot of energy to expand on preparing a full-course meal. That is why I have decided on creating one significant portion of a particular recipe that can be split into a few pieces throughout the week.
And, prepping ahead is critical. On the menu, this week is grilled chicken fajita meal prep bowls. So I made sure to go out and buy frozen chicken strips and all of my ingredients on a Saturday to make sure everything is ready to go on Sunday, meal-prep day. I love this recipe, in particular, because I enjoy the combo of onion and grilled chicken strips served on top of quinoa and dusted with my favorite toppings like avocado, corn and salsa.
As far as meal prep bowls, this is one of the easiest to make, if I do say so myself. Spending roughly 30 minutes, once a week, making these bowls means I have a hearty, delicious and wholesome lunch (or dinner) on hand to help me stay on track with my goals of saving money and not eating out.
Get to cooking now with this Chicken fajita recipe.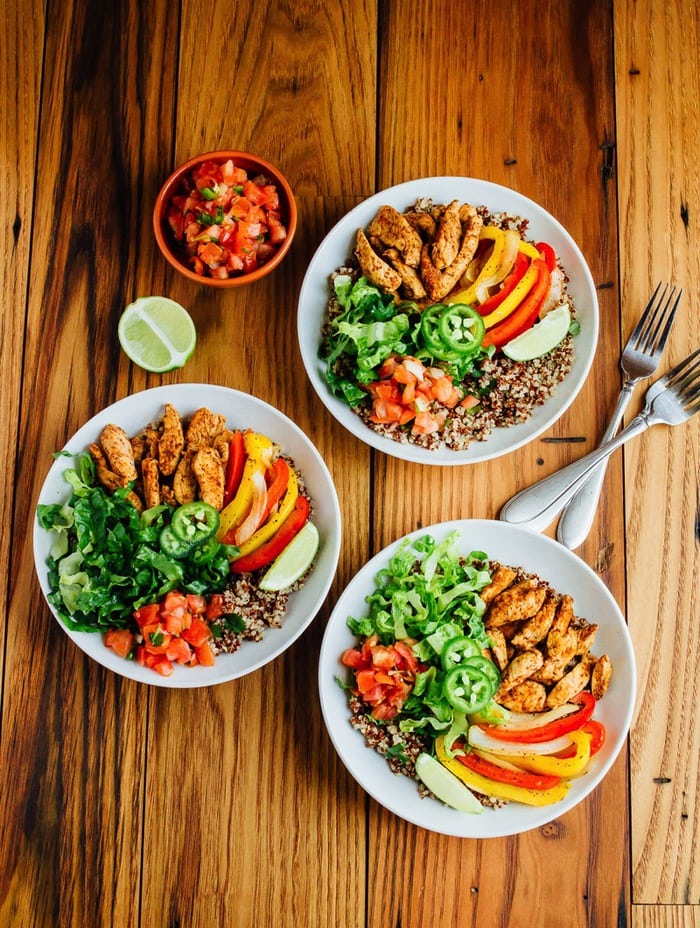 Photo: Pinterest
Ingredients
– 4 cups cooked quinoa or brown rice
– 2 tablespoons avocado or olive oil
– 1 medium red onion, halved and thinly sliced
– 1 pound Fully Cooked Grilled Fajita Chicken Strips or chicken breast, sliced
– 1 tablespoon fajita seasoning
– 2 tablespoons fresh lime juice
– Salt and pepper, to season
– 5 tablespoons queso fresco or cotija cheese, crumbled
– 5 microwave-safe meal prep containers
Instructions
1. Heat your skillet over medium-high heat. Add oil to the pan and heat for a few seconds. Then, add sliced red onion and bell peppers to the pan. Sauté for 5-10 minutes, or until the veggies are turning golden on the edges and are cooked to desired crispness. Remove from heat.
2. Add some chicken strips and heat until fully cooked. Mix everything with the fajita seasoning and squeeze fresh lime juice over the top. Toss well. Add salt and pepper to taste. Let cool to room temperature.
3. Create your meal prep bowls: Have your containers on-hand. Divide your base evenly between the five containers; about 3/4 cup each of either quinoa or rice. Divide the chicken and vegetable medley evenly. Sprinkle a little bit of crumbled cheese on top of each bowl. Top with desired toppings and you are finished!
To serve: reheat in the microwave, if desired, or eat chilled.
---
Ready. Set. Boss. Our daily email is pouring out inspiration with the latest #BlackGirlBossUp moments, tips on hair, beauty and lifestyle to get you on track to a better you! Sign up today.