To gear up for our Summit21 Conference this year in Atlanta, 21Ninety has scored exclusive interviews with some of this year's participants.
Photo: Indigenous Intentions x Chupcoco
Read 21Ninety's exclusive interview below:
21Ninety: Can you give us a little of your background? What inspired you to create Indigenous Intentions?
Tomasino Chupco: The concept of Indigenous Intentions was birthed when I was 5. I grew up in a predominantly Indigenous (Native American) household and started making jewelry and beadwork with my grandmother. She was a Native Designer and Creator, so I was her sidekick traveling everywhere with her to showcase and sell her beautiful art.
21N: What was the vision behind it?
TC: The concept of Indigenous Intentions came from a cultural standpoint. I am both Native American and Black. My two cultures inspire style. Native Americans believe in handling everything we touch as precious jewels that God blessed us with. We aspire to show appreciation and respect for all that is around us. The Black side gives it that extra element of taste. We make jewelry with the intention that it can help inspire those who wear it. Whether it's for a moment or a lifetime, jewelry lasts forever, and so should the spirit of inspiring others.
Photo: Indigenous Intentions x Chupcoco
21N: How long have you been creating jewelry? Was this always your chosen career path?
TC: I've been creating jewelry ever since I was able to hold my grandmother's needle and thread so since age 5 [laughs].
21N: What was the process like in building the business and how long did it take to get it up and running? What inspired the name choice?
TC: The building process has been AMAZING. I work with a team that compromise of my close friends and family, who all have gifts and skills worth doing a successful business. Everyone has something to offer, and it's a wonderful space to work in.
It took a few years because the conceptual process was, but the logistics were complicated yet manageable. We're still building the business to one day become a global success. I love mixing my passion for creating and my formal education. I have a Doctorate in Education. We have recently added Chupco Co, a transformative consulting business and lifestyle brand that focuses on community, holistic healing, and the growth of your inner queen. My upbringing inspired the name. I am an Indigenous and Black woman who tries to navigate through life with the best intent to inspire others through the art of jewelry.
Photo: Indigenous Intentions x Chupcoco
21N: What kind of work goes into the process of creating these products? What types of materials do you use?
TC: Artisan and design work is very important to us. The materials used are precious metals, and some are made with Native American glass beads. My creative director happens to be my best friend. She is a Black woman entrepreneur who specializes in photography and digital media, so the design and marketing process in promoting the Indigenous Intentions products has been very high energy and fulfilling exchange.
21N: Which products were the most fun to create? Any favorites for clients?
TC: The most fun had to be the inspirational double cuff bracelets. Native people, especially the women, love to push boundaries and share the same sentiments when it comes to the "idea" of America today. "Decolonize and Indigenize" isn't just for Native Americans — it's for all who want to remove the boundaries of systematic oppression.
My clients love the beaded cuff because it's a classic style in the Indigenous community but have the modern element of metal while fusing the phenomenal and inspirational encouragement that Black women emote so well.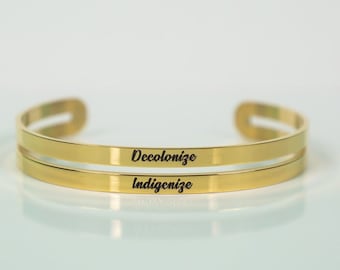 Photo: Indigenous Intentions x Chupcoco
21N: What do you think makes your business unique over others like it?
TC: I believe my shop is unique because it has the intent and blessings to inspire. It's more than just jewelry with a lifestyle and mission. The identity of the two ethnicities gives me a different perspective on life. We are connected, and I believe we are all very much creative, but having culture tied in with your creative process along with the story behind the jewelry makes it very unique.
21N: What do you love most about the work you do?
TC: What I love the most about the work I do is having the ability to design, inspire, and share it with others. As both Indigenous and Black people, we are not raised to be selfish and self-serving, but keeping our gifts and talents to ourselves serves no purpose.
21N: What do you hope to gain from Summit21 this year?
I hope to gain a community of women who genuinely empower and motivate each other, with that comes a lucrative business.
---
Ready. Set. Boss. Our daily email is pouring out inspiration with the latest #BlackGirlBossUp moments, tips on hair, beauty and lifestyle to get you on track to a better you! Sign up today.