After the release of Janelle Monae's music video for "Pynk" from her latest album, Dirty Computer, fans were struck by the pink pants worn by Monae and a few of her dancers. Since then, the pants have been affectionately named "vagina pants."
While at a YouTube event for her album, Monae told People magazine that a mass production of the now iconic pants may be on the horizon.
"I'm so tickled and honored that people are talking about the 'Pynk' pants, I think that it's so cool to have discussions around women's issues and women's bodies, I think it's amazing," Monae said to People.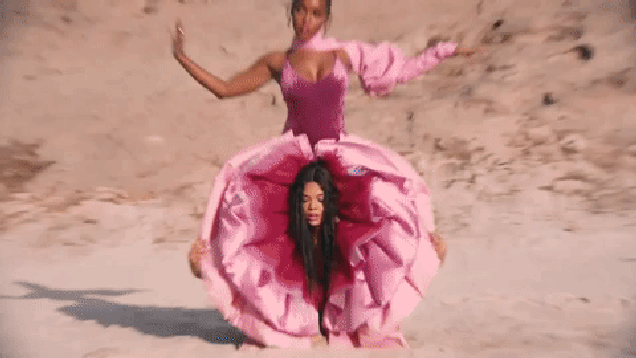 Duran Lantik, the Dutch designer who created the pants, is planning to display the bottoms in a New York exhibit this coming September at The Museum at the Fashion Institute of Technology titled Pink: The History of a Punk, Pretty, Powerful Color. Lantik also told Vanity Fair that he would be on board for a mass production of the pants, if Monae chooses to do so.
A timeline as to when the pants could go into production has not be set by Monae or her team, but she told People, "I am trying. I may be working on it."

PHOTO: Vogue
Monae also shared with People that the pants play into a larger message beyond just fashion, since the pants serve as a visual representation of women and celebrating their similarities and differences.
"Sometimes I think people interpret those as vagina pants, they call them vulva pants, they call them flowers, but it just represents some parts of some women," she said to the magazine. "There are some women in the video that do not have on the pants, because I don't believe that all women need to possess a vagina to be a woman. I have one I'm proud of it, but there's a lot of policing and controlling that people are trying to have over our vaginas and when you think about female genital mutilation, when you think about all these women's issues, I wanted to make sure we were discussing these issues but we were also celebrating each other. I wanted Pynk to be a celebration of women who are unique, distinct, different, may be different from one another but when they come together they create something magical and special."
Join us in ATL for the most magical black girl conference, Summit21. Click here to get your ticket today!