Meghan Markle has had to change a lot of things since becoming the Duchess of Sussex — no selfies, no autographs, no social media, no dark nails, no shellfish and no sleeping until the Queen is asleep are just a few — but something she's been able to hold on to are her favorite meals.
In an interview with Delish, the Duchess dished on her favorite meals to have on a day to day basis. Keep scrolling to check out what Meghan Markle opts for when it's time to eat:
Breakfast:
Markle has started her days with hot water and lemon since she's been acting. While it does help soothe your throat for a day's worth of talking, it also soothes your stomach and helps aid and improve digestion.
When it comes to time have breakfast, Markle opts for steel-cut oats with sliced bananas and a drizzle of agave syrup. While topping your oatmeal with agave may not be the healthiest option (it's nutritional value is that of high-fructose corn syrup), you can opt for cinnamon or nutmeg to add extra sweetness to your morning meal.
Lunch:
When it comes to lunch, the former actress dives into a high-protein salad. Adding protein like fish or chicken to your salad, along with a good amount of veggies, is great for ensuring you're energized throughout the rest of the day while keeping cravings to a minimum. Try to stay away from greens like kale and broccoli during lunchtime seeing as they're harder to digest which can cause bloating and fatigue.
Snacks:
Everyone snacks, including the Duchess, who remains healthy in her snacking choices with options like apples with almond butter, green juice, or a handful of raw almonds. The natural sugar in apples is great for kicking sweet tooth cravings to the curb. As for green juice, Markle claims "is a food-as-medicine philosophy" for her, meaning she'll reach for a green juice if she's in need of a midday boost, never to replace a meal. Markle also swears by a handful of raw almonds — she claims they keep her skin clear.
Dinner:
While Meghan Markle does keep a gluten-free diet, for the most part, she still enjoys a good ol' bowl of pasta. Her go-to recipe is pasta with a zucchini-infused sauce that has the taste and texture of buttery deliciousness, sans the butter. To make the sauce, Markle cooks zucchini for four-five hours until it becomes "filthy, sexy mush," according to Delish.
Markle also loves herself some wine. Back before her Duchess days, she had written about her love for wine on her personal blog and it turns out, some things never change. The Duchess would still prefer wine with her dinner than a chocolate alternative afterwards. Just imagine how big the glasses would be if she spent an evening with Olivia Pope.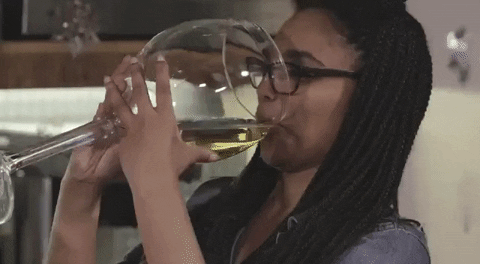 Ready. Set. Boss. Our daily email is pouring out inspiration with the latest #BlackGirlBossUp moments, tips on hair, beauty and lifestyle to get you on track to a better you! Sign up today.