One of my favorite looks for this time of year is having incredibly dewy skin. Some girls are good with a subtle glow, but I like a highlight that can be seen from space. 2018 was the year of the highlight for me, and I'm here to share with you my favorite highlighters ATM:
Fenty Beauty Diamond Bomb All-Over Diamond Veil-Pure Platinum Sparkle – $38
PHOTO: Fenty Beauty
I tried hard not to fall for the Fenty Beauty hype when it launched, but I knew I had to support one of my favorite artists into her transition from singer to beauty guru.
If you are looking for something with an absurdly luminescent effect, then this is the highlighter for you. This diamond dusted highlighter goes on like a 3D glimmering veil that can be used over the face and the body.
Charlotte Tilbury Bar of Gold Highlighting palette – $58
PHOTO: Charlotte Tilbury
This is another highlighter that I will forever be in love with. This is such a dewy product that melts onto your face, giving an almost wet-looking glow. I like to apply a bit of this to the inner corner of my eyes and cheeks to make my eyes pop and to give my skin an overall healthy glow.
Colourpops Crush on you Palette – $18
PHOTO: Colourpop
For a more affordable option that can still pack a punch, I highly recommend trying Colourpop's highlight palette. The signature super shock highlighter formula now comes in four new pigmented shades in one sleek compact. Now, you can take it on the go and glow whenever you want sis.
Givenchy Teint Couture Shimmer Highlighter in Radiant Gold – $42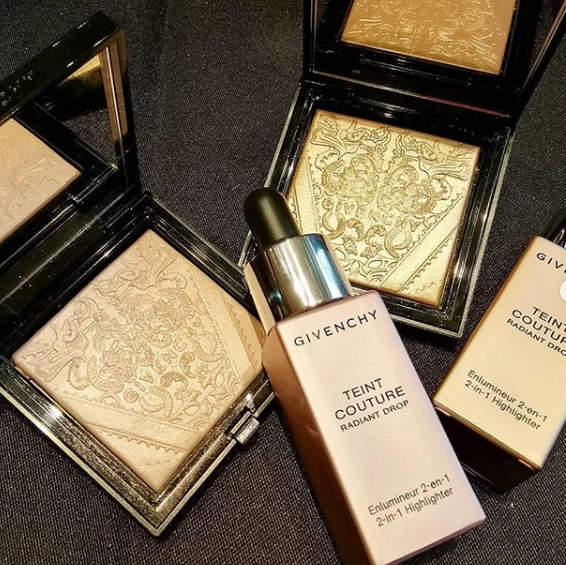 PHOTO: Givenchy
You are sure to turn a lot of heads with this highlighter, ladies. This illuminating face powder is excellent for all skin types and glides on effortlessly for an all over transparent glow.
Black Up Sublime Light Powder in color Gold – $36
PHOTO: Black Up
This compact highlighter was created in mind for beauties with tan to dark skin complexions. It has a balanced measure of pigment and pearls, according to the official site. It will mix gently with your skin, instantly bringing a warm glow to your skin.
What's your blinding highlight of the moment?
---
Ready. Set. Boss. Our daily email is pouring out inspiration with the latest #BlackGirlBossUp moments, tips on hair, beauty and lifestyle to get you on track to a better you! Sign up today.