The CFDA Awards were hosted by actor, writer and producer Issa Rae — the first person of color to host the event and the first woman to host since 2009. Her Kanye joke made for as many articles as her outfits did, all of which were created by black designers. Jason Rembert, Issa Rae's stylist, chatted with Elle via email and we learned all the goods about the evening.
Photo: Taylor Hill/FilmMagic
Issa's first look was by Kerby Jean-Raymond of Pyer Moss, who has been friends with Rembert since college. Jean-Raymond prepared some sketches that ranged from over-the-top to some more muted. Issa chose something that provided both comfort and a statement.
"It was a subtle reminder that we can do anything and go anywhere. We are not just tragic figures," said Rembert about the belt Rae wore with the title of Boris Gardiner's song "Every N—- Is a Star."
Rembert also chose all black designers for Rae's outfits for the evening because they wanted to be authentic and honest to Rae.
"Issa was the underdog. She has been the underdog and she continues to prevail and make a way for so many other people. I think that we know we can help people who just don't have— you can help them just by simply having her walk on a stage in their look. Simply by walking on a stage and wearing it. We reached out to some amazing black designers who embraced the idea and really wanted to be a part of it. We just really appreciate them," Rembert continued to share with Elle.
Issa's other looks consisted of a green suit by Sergio Hudson, a custom black gown by Jason Rembert, an after party dress by Victor Glemaud and jewelry by Sneely Jewelry and JLANI Jewels. Check out all of her outfits below: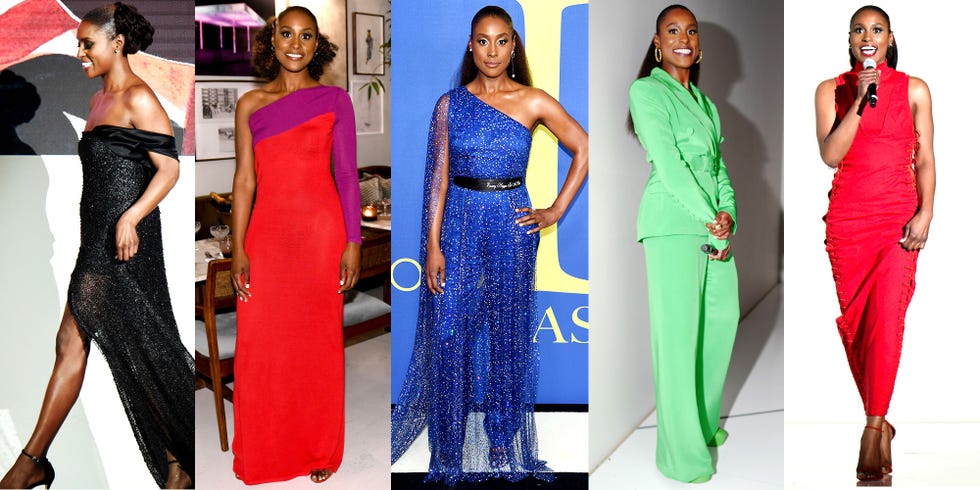 Photo: Shutterstock/Getty
Rae uses her platform to lift other artists, something that only be done with confidence. When Rae sat with Cosmopolitan, she shared that "confidence comes from knowing your shit is good," and that she's confident when it comes to her work and trying to fulfill her dreams.
As for her haters, she told Cosmo that there comes a point when you have to block it out and remain humble — something she's still learning to navigate. Rae has also been named the face of CoverGirl, which is well-deserved and is impactful in that it definitely gives young girls of color a role model and representation. Rae makes a conscious effort to ensure dark-skinned women are presented as more desirable on screen.
"I prioritize making dark-skinned women desirable," she said. "You don't see a lot of dark-skin representation. That's been overlooked. Also, seeing them as beautiful, in addition to desirable, which are two very different things."
Representation is always key and Rae nails it on her show as much as she did on stage at the CFDA Awards.
Join us in ATL for the most magical black girl conference, Summit21. Click here to get your ticket today!