Unless you've been living under a rock, you probably know that this weekend actress Meghan Markle married Prince Harry, officially becoming the Duchess of Sussex. Not only is Markle an American, but she is also bi-racial which made the nuptials one of the most anticipated royal weddings yet. While there was some Markle family drama prior to the wedding, the grand event did not disappoint one bit. Seeing #blackexcellence present throughout the entire event was heartwarming. Some may have thought Meghan would not modernize the royal family, but the actual wedding begs to differ. Check out some of our fave looks and more from the royal wedding below:
DUCHESS OF SUSSEX
Photo: Getty Images
Meghan Markle wore a minimalist, three-quarter sleeve length, double-bonded, white Givenchy gown with a boat neck that framed her shoulders perfectly. The dress was elegant yet simple enough to leave room for Meghan to still be Meghan. While the dress didn't have any intricate stitching or designs, her 16-foot white silk veil included floral embroidering from all 53 countries of the commonwealth. Meghan also perfected the no-makeup makeup look with a sheer finish foundation which allowed her freckles to peek through and a nude lip. She finished off the look with her hair parted down the middle and pulled back into a messy bun.
DORIA RAGLAND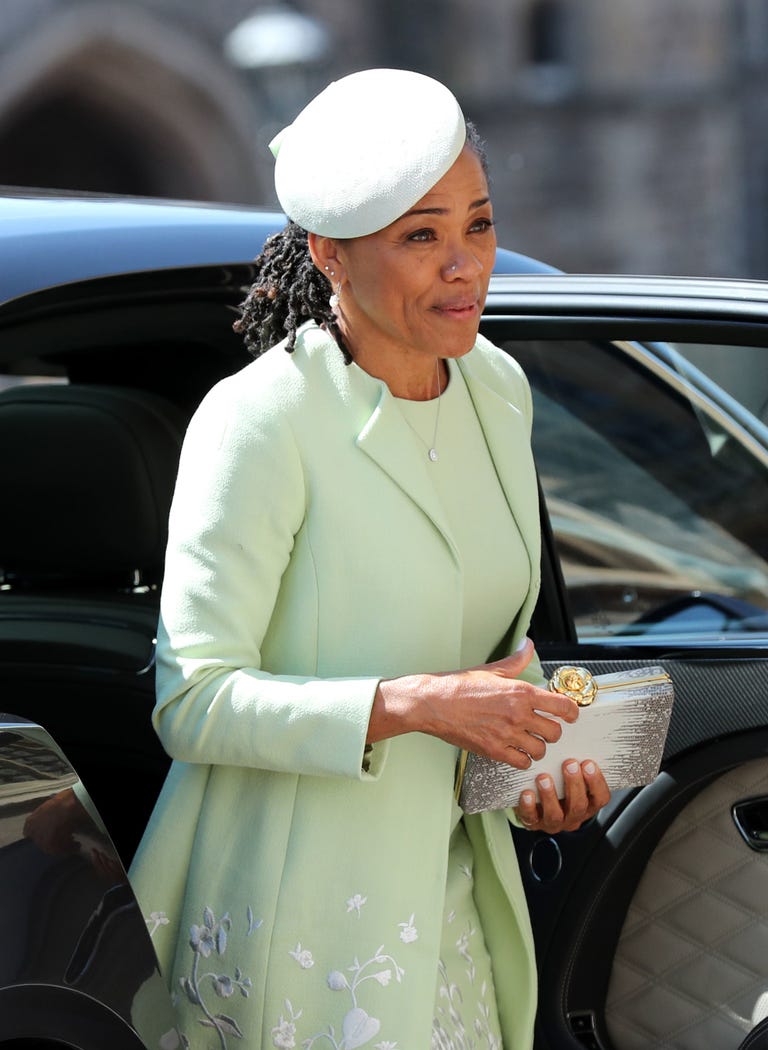 Photo: Getty Images
Meghan's mother, Doria Ragland, arrived in a mint green dress with white floral embroidery by Oscar de la Renta. She completed the look with a matching cocktail hat over her locs, which were gently pulled back into a high ponytail.
OPRAH WINFREY
Photo: Getty Images
Oprah wore a pink Stella McCartney dress with a lace trim and matching mule pumps. She completed the look with a feathered hat. It turns out that Oprah's original dress did not fit the dress code for the wedding being that it would photograph "too white." According to an Instagram post, Oprah said Stella McCartney and her team was up all night finishing the dress that she ended up wearing to the event.
SABRINA DHOWRE
Photo: Getty Images
Idris Elba and his fiancée arrived at the wedding looking like a very scrumptious couple. Sabrina arrived in a full Gucci outfit, from her dress to her bag and shoes. Sabbi, as Idris so kindly calls her, opted for a natural makeup look with a subtle light pink lip.
GINA TORRES
Photo: Getty Images
Fellow Suits cast member, Gina Torres, arrived to the wedding wearing a mid-length red lace gown with three-quarter length sleeves. The dress featured intricate floral lace patterns with a plunging panel which exposed a peak of her cleavage. She completed the look with nude stilettos and a matching nude clutch. Gina opted for a subtle cat-eye and a pink lip.
SERENA WILLIAMS
Photo: Yahoo Images
Serena Williams arrived to the wedding with her husband, Alexis Ohanian, donning a blush Versace shift dress with matching fascinator. Serena wore her hair in cornrows which lead to a ponytail of twists and then fell to her thighs. She paired the dress with a statement necklace and simple diamond earrings.
AMAL CLOONEY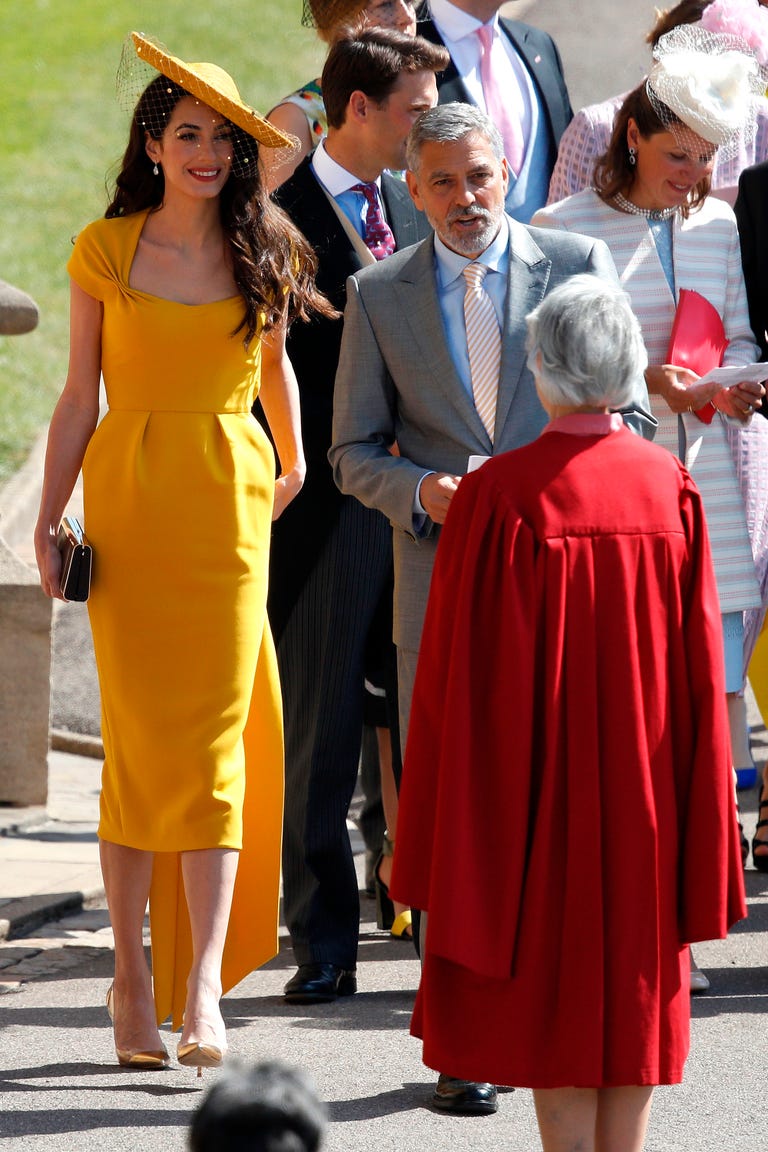 Photo: Getty Images
Amal Clooney wore a chic mustard yellow Stella McCartney dress, according to Us Weekly. The dress featured a square neckline, cap sleeves and a midi-length with a train which fell right to her ankles. Amal completed the look with Gianvito Rossi nude pumps and a veiled hat.
KATE MIDDLETON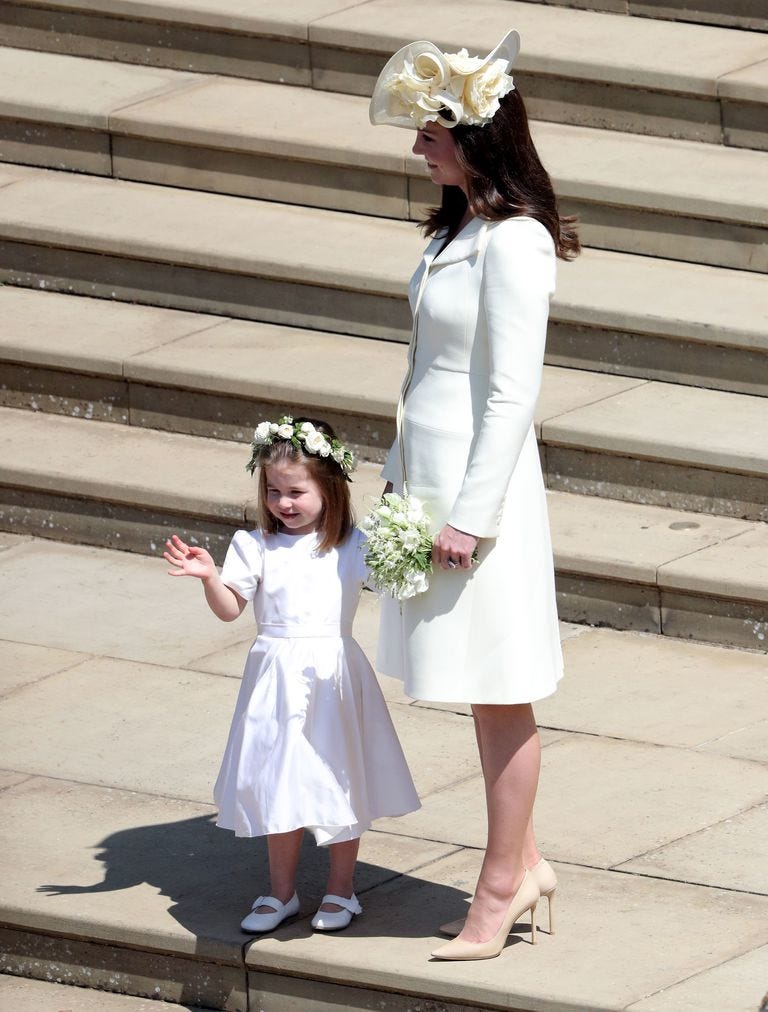 Photo: Getty Images
Kate Middleton wore a pale yellow Alexander McQueen dress and Philip Treacy hat with nude heels. The dress she wore to the wedding happens to be a dress she's worn before, which has managed to give Kate a lot of props for doing an amazing job at not upstaging the bride-to-be.
THE GOSPEL CHOIR
Photo: W Magazine
Let's talk about a #slay! The gospel choir wore an array of lavender and pink shades with hairstyles that varied from crotchet braids, twists, big chops, ponytails and cornrows. They not only looked stunning but sounded heavenly with an amazing "Stand By Me" cover.
While we couldn't personally be there, it was definitely beautiful witnessing history in the making with Meghan and Harry's royal wedding.
Join us in ATL for the most magical black girl conference, Summit21. Click here to get your ticket today!