Adwoa Aboah is more than just a model, she is an activist and founded the non-profit organization Gurls Talk after overcoming a drug addiction and dealing with depression. Byrdie recently sat with Aboah to talk about all things Gurls Talk, mental health, diversity in the beauty industry, her British Vogue cover and her favorite beauty indulgences. Here's the lowdown:
On Gurls Talk:
Adwoa Aboah started her very own nonprofit organization back in 2015 with the purpose of providing a safe haven for young girls to discuss things like mental health, race and sexual identity amongst other important topics. After overcoming a drug addiction and dealing with depression, she realized that there wasn't a safe space to discuss these kinds of issues, leading her to feel like she was alone on her journey. "I thought I was the only other person who felt sad all the time, and then I met these other girls who feel the same emotions and who go up and down like me," said Aboah to Byrdie. The platform she created opens up a space to be vulnerable and open about personal issues with other women who will be supportive of one another. "Our last Gurls Talk event was completely intersectional, and it really advocated how lovely all the ladies are," said Aboah. She considers the girls that are part of Gurls Talk her tribe.
Photo: @adwoaaboah
On mental health:
Aboah makes sure to take a moment for herself each day. She mentions being someone who needs her own space and time to be able to process things. The fact that things are very fast paced in her life and she works a lot, that living in Brooklyn helps her get away from the hecticness in the city. "I definitely exercise a lot, but that's because it sorts my head out. If I have a free day, I'll be at the gym. Like lots of other people in the world, I suffer from anxiety, and I need to be able to quiet myself and concentrate on something else," mentions Aboah to Byrdie. On days where she isn't feeling her best, she's very honest with her team about it, "I'm really lucky to have an understanding and emotionally mature team around me that gets that I like to be present."
On the beauty industry:
There's a constant dilemma that occupies Aboah's mind when it comes to the work she does in the fashion industry and how it aligns with the work she puts time into outside of the industry. She mentioned never seeing people that look like her in magazines, leading her to believe it was all inaccessible. Aboah had many insecurities when she was younger — she'd wear hats and braids because she wasn't comfortable with her hair and once she stopped wearing hats, she began relaxing her hair. She never felt her hair was perfect so her shaved head came from wanting a fresh start. "I was always doing stuff to fit in until I stopped giving a shit and started doing my own thing. I can't care too much about what people think because that's so detrimental to how I live my life," said Aboah. She hopes that her presence in the industry gives young girls and women the security and confidence to feel that they're beautiful.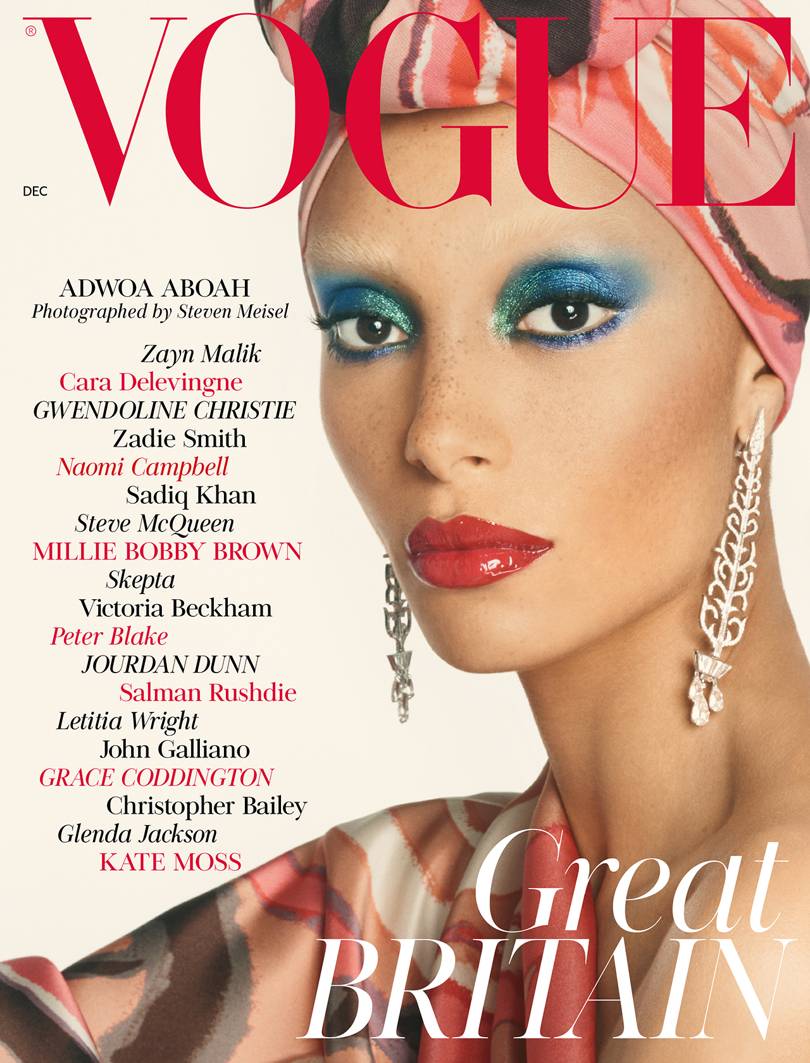 Photo: Vogue.co.uk
On her British Vogue cover:
"I hope that a girl will look through a magazine and see my face and know that it's possible for them," said Aboah about her British Vogue cover. She's grateful that she has the opportunities to do things like magazine covers — it's the thing that keeps her working her at her job, experiencing new things and saying yes a lot more. "I've got to do it for my community."
On her beauty indulgences:
Adwoa Aboah is a face mask lover, her favorite mask being the GlamGlow SuperMud Mask because she sees an immediate change in her skin which gives her instant gratification. She also loves oils and layers them over her lotions, "I always use a mixture of things. I'll layer on cocoa butter with my oils and then put on my Aesop deodorant, so I always smell like a million different things." If she ever has an acne spot, Aboah opts for a little tea tree oil to clear it up.
For more on Adwoa Aboah, keep up with her here!
Join us in ATL for the most magical black girl conference, Summit21. Click here to get your ticket today!